Countdown to TradeCentre: Shattenkirk-Bolts trade nixed?
Wednesday's Trade Deadline is fast approaching and teams are making decisions on whether to buy, sell, and decide which players can make the biggest difference and hold the greatest value. Check out today's trade rumours and speculation from around the NHL beat.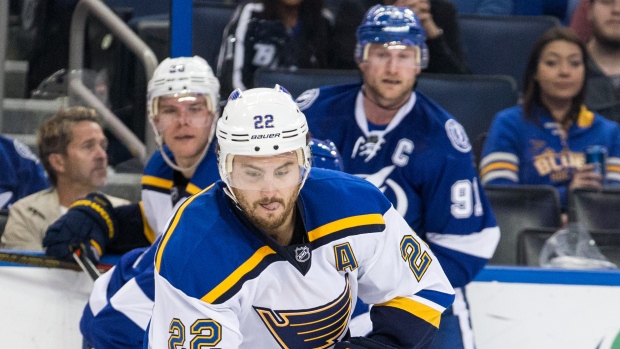 Wednesday's Trade Deadline is fast approaching and teams are making decisions on whether to buy, sell, and decide which players can make the biggest difference and hold the greatest value. Check out today's trade rumours and speculation from around the NHL beat.
--
Available for Rent
Kevin Shattenkirk has spent most of the season on the St. Louis Blues' trade block, and, according to TSN Hockey Insider Bob McKenzie, three potential trades have fallen through over the past eight months on contract negotiations.
The Blues have attempted to create a deal involing a long-term contract for Shattenkirk with a new team to maximize their return for the defenceman. However, McKenzie notes deals with the Edmonton Oilers (over the summer), and two other teams (one in November and one in the last month) fell through because Shattenkirk could not reach a contract agreement.
According to McKenzie, the latest offer to Shattenkirk was believed to be a seven-year deal worth $42 million contract with a $6 million AAV.
The St. Louis Post-Dispatch reports the offer is believed to have come from the Tampa Bay Lightning.
Now, with finding a suitor who is willing to meet Shattenkirk's price unlikely, the Blues are looking to trade the defenceman as a rental for the playoffs.
Shattenkirk, who will hit the open market on July 1, is playing in the final season of a four-year, $17 million contract ($4.25 million AAV). He does not have a no-trade clause.
McKenzie wonders whether the New York Rangers could be a fit for the defenceman. However, the price remains high - estimated at a first-round pick, a strong prospect, and another element - and the Rangers may not be able to fit Shattenkirk under the cap.
The 28-year-old owns 11 goals and 31 assists in 60 games this season.
--
What do to with Drew?
According to ESPN's Craig Custance, the Winnipeg Jets are getting calls on forward Drew Stafford ahead of the trade deadline.
Stafford, 31, is set to become an unrestricted free-agent this summer and the Jets could elect to move him now rather than lose him for nothing this summer.
The right winger has four goals and 12 points in 39 games with the Jets this season. He scored 21 goals and added 17 assists last season.
Stafford missed the team's previous three games due to illness.
The Milwaukee native carries a cap hit of $4 million.
--
Trust the Process
The price for the Boston Bruins to acquire a big-name player such as Gabriel Landeskog or Matt Duchene, has reportedly included 20-year-old Brandon Carlo.
Bruins general manager Don Sweeney told the Boston Globe that any player could be traded, but he plans to build from within his organization.
"I've had conversations with players that … look," Sweeney told the Globe, "the old line is that Wayne Gretzky was traded, OK? But the commitment of our organization, to how we are trying to build, to the times we've done it correctly — you know, Bergy [Patrice Bergeron], [David] Krejci, [Brad] Marchand, [David] Pastrnak — that's where you want to be.
"We want to be a team that believes it has internal fixes, that you are growing those players."
Carlo was the 37th overall pick of the 2015 NHL Draft and owns four goals and nine assists in 59 games with the Bruins this season.
--
No Capital Gains?
The Washington Capitals aren't looking to mess with success.
Sitting atop the Eastern Conference with 87 points, general manager Brian MacLellan said Thursday the Capitals are not planning to make any major moves.
"We're not going to mess with lines or defence pairs," MacLellan said, per the Washington Post. "If we could upgrade on the fringes, we might do it."
In fact, the Capitals are looking to acquire a player who they hope won't even have to a play for a team – a third-string goaltender. MacLellan said he has been trying "for a while" to acquire another netminder as insurance behind Braden Holtby and Philipp Grubauer.
"It's a hard market," MacLellan said. "If you're a playoff team, you don't want to give up your (No.) 3 because you want your depth, just like we want to have a depth guy, too.
"There's not many names available in that market."
The Post points out Los Angeles Kings goaltender Jeff Zatkoff as a possible trade option. Since Zatkoff cleared waivers Thursday, he could report immediately to the Hershey Bears in a trade.
Any goaltender acquired could be needed to serve as Holtby's backup next season. MacLennan noted Grubauer, 10-4-2, this season is drawing interest around the NHL, and likely is being considered by the Vegas Golden Knights as a possible draft target.
"He sure looks like he's playing well," MacLellan said. "Sample size is probably small, but he has a good look when he's in the net. He's calm, he's making saves, his numbers are all good.
"I think the more games he gets and the numbers stay the same there's going to be a lot of interest in him as a No. 1."
--
Bolster the Backup?
While Sweeney doesn't sound interested in making a big splash at the trade deadline, the Bruins general manager is open to adding a backup goaltender to replace Anton Khudobin.
Khudobin, 30, has posted the worst save percentage of his career to date this season at .896 and his goals-against average sits at 2.84. His career save percentage sits a .916 and he's surrendered an average of 2.46 goals against per game through 110 NHL contests.
Sweeney told the Boston Globe he the team could add a backup for their playoff run, if the price isn't too high.
"Yep, we could," said Sweeney, when asked by the Globe if the team could add a backup before March 1. "It's tough to find at this time, but they exist. But it's just a matter of teams are like, 'Well, what are you giving up for it?' That's a big part of it."
Khudobin shined against the Los Angeles Kings on Thursday night, one day after Sweeney spoke to the Globe, stopping 27 of 28 shots in a 4-1 victory. Thursday's win brought Khudobin's record on the year to 3-5-1.
Boston owns 68 points through 61 games, they're tied in points with the Toronto Maple Leafs for third in the Atlantic Division and with the New York Islanders for the final wild-card spot, though both teams own a game in hand on the Bruins.
--
Open to a Trade
Calgary Flames defenceman Dennis Wideman has slipped out of the lineup over the past two weeks with the signing of Matt Bartkowski and the addition of Michael Stone.
Wideman, who is the final year of his contract, said Thursday he's open his waiving his no-movement clause in a trade.
"If that's something that (the Flames) want to do, then they can call and I definitely would be open to it," Wideman told the Calgary Herald. "I think, as a player, you don't want to be anywhere that you're not wanted. So if they want to move you and someone wants to take you, then it's nice to go somewhere like that if that's the case.
"And if I don't hear anything, then I guess I'm here."
Wideman said he has not been approached by the team's management about waiving his no-move clause by the team.
The 33-year-old is playing in the final season of a five-year, $26.25 million contract and carries a hefty cap hit of $5.25 million. He owns three goals and 16 points in 52 games this season.
He is not believed to have a trade market.
--
Time to Move
The Detroit Red Wings sit 15th in the Eastern Conference with 58 points through 60 games and it's safe to say their 25-year playoff streak is in serious jeopardy.
The Red Wings are currently on their bye week and could slip to last in the Eastern Conference if the Carolina Hurricanes defeat the Ottawa Senators on Friday night.
With the prospects of the playoffs looking dim, Brendan Savage of MLive.com writes the sales should begin now.
Atop the list of players who could be traded are Thomas Vanek, Steve Ott and Brendan Smith, all of whom are set to become free agents this summer.
Savage also wonders whether defenceman Mike Green will be dealt, or if his $6 million cap hit for next season will scare off interested parties.
--
Who's Out in Tampa?
McKenzie notes the Tampa Bay Lightning are headed for a cap crunch with Tyler Johnson, Jonathan Drouin and Ondrej Palat all set to hit restricted free agency this summer. He wonders who will get moved in order to keep them, or which of the three could be traded.
Bruce Garrioch of the Ottawa Sun has also written on the subject, as mentioned in Sunday's Countdown to TradeCentre.