Countdown to TradeCentre: Wings could keep players
Follow the latest trade rumours and speculation leading up to the Feb. 25 trade deadline with TSN.ca's Countdown to TradeCentre. Saturday's roundup includes the pending UFAs the Red Wings could keep, and the players the Stars and Golden Knights could target.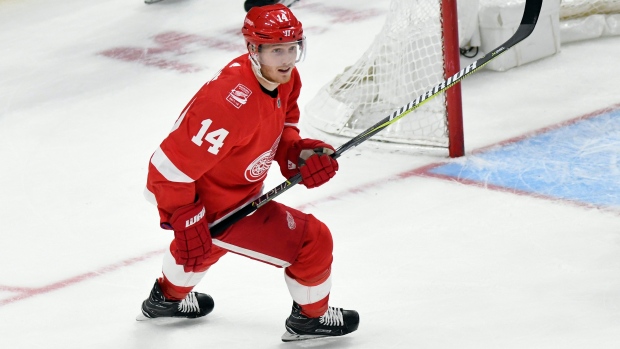 The National Hockey League's Trade Deadline is 3 p.m. ET on Monday, Feb. 25, and teams will be making decisions on whether to buy or sell and decide which players can make the biggest difference and hold the greatest value. Check out the latest trade rumours and speculation from around the NHL beat.
---
Pre-Deadline Business
Currently second last in the Atlantic Division and with seven pending unrestricted free agents, the Detroit Red Wings could be one of the busier teams leading up to the Trade Deadline.
But according to a report from Ansar Khan of MLive.com, the Red Wings hope to keep at least a few of their pending UFAs.
"The Red Wings have seven pending UFAs, three of whom they would like to sign – goaltender Jimmy Howard, forward Gustav Nyquist and defenseman Nick Jensen," Khan wrote.
But, Khan added, contract talks doesn't necessarily mean the trio won't be in play come Feb. 25.
"If (GM Ken) Holland doesn't at least have the parameters in place for deals with any of these three, then he might be inclined to move them rather than risk losing them for nothing on July 1."
The team's other pending UFAs are Niklas Kronwall, Thomas Vanek, Martin Frk and Luke Witkowski. Khan notes Kronwall is expected to retire this summer.
---
Realistic Additions?
If Nyquist remains unsigned by the Trade Deadline, the Dallas Stars could be one of the teams calling Detroit for his services.
The Athletic's Sean Shapiro writes indications are the Stars are not done making deals this season and lists Nyquist as one of two realistic trade options for the team.
"Nyquist has been putting up points on a bad Detroit team and with his speed he could add to the pace that Dallas wants to play with. He's also a Red Wing who (Stars GM Jim) Nill helped draft back in 2008. The deal likely wouldn't cost Dallas a first-round pick."
The other trade option Shapiro mentions is Jakub Silfverberg of the Anaheim Ducks.
Shapiro mentions the team using the long-term injured reserve to free up cap space for additional players.
"At this moment the Stars have only used the long-term injured reserve designation on Marc Methot ... The Stars could also end up with additional cap space if they opt to put any of the other three injured players on long-term IR."
Adding Production
---
The Vegas Golden Knights are currently third in the Pacific Division and figure to involved on Trade Deadline Day, if only to test the waters, according to The Athletic's Jesse Granger.
"We'll be active in terms of knowing what's going on in the market and talking to everyone, but I couldn't tell you right now what we'd be planning on doing," (Golden Knights GM George) McPhee said, per Granger. "What we'd like to do is see if we can get this club healthy and then see if it needs anything."
Granger said the team's biggest need is likely adding production outside the top six.
"The Golden Knights' most pressing issue is finding production from the third line. It's been a problem for quite some time in Vegas."
His suggested targets were Wayne Simmonds (Philadelphia Flyers), Mats Zuccarello (New York Rangers), Nikolay Goldobin (Vancouver Canucks), and Mark Stone (Ottawa Senators).