Cowboys activate Brent after ban following conviction
The Dallas Cowboys have activated defensive tackle Josh Brent, another step toward his return to the field almost two years after a drunken-driving crash that led to his conviction for intoxication manslaughter. Brent was placed on the 53-man roster Tuesday.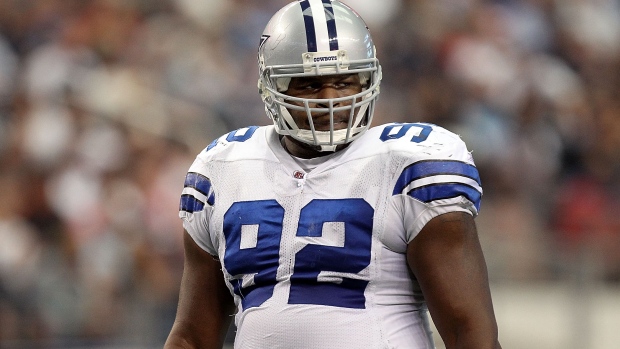 IRVING, Texas - Josh Brent is a big step closer to playing football again, almost two years after a drunken-driving crash that killed a teammate and led to his conviction for intoxication manslaughter.
The Dallas defensive tackle was activated Tuesday, a day after the end of a 10-game suspension imposed by the NFL when he was reinstated before the season.
Coach Jason Garrett says Brent, listed at 320 pounds, is overweight and hasn't indicated whether he will be ready for the Cowboys' next game Nov. 23 at the New York Giants. Dallas has its bye this week after beating Jacksonville 31-17 in London.
The 26-year-old Brent's last game was Dec. 2, 2012, six days before the crash that killed teammate Jerry Brown in the Dallas suburb of Irving. He has been practicing for two weeks.
"Really, it's just his football readiness," Garrett said. "He's been away from it for a little bit, but he's working hard. He's trying to get his body right. You can see his football instincts and feel for the game coming back, but he still needs to practice and get himself acclimated to football."
Cowboys owner Jerry Jones didn't rule out Brent being ready against the Giants. He's been fielding questions for weeks about the perception of giving Brent another chance in Dallas under the circumstances.
Jones' answer never changed much and frequently included references to Brown's mother wanting her son's friend and former teammate at Illinois to return, and Brent wanting to play for a young daughter Brown left behind.
"He had some experiences since he's last been on the field ... that make him appreciate every second he gets to be on the football field and gets to be contributing and he's got some real goals," Jones said Tuesday night at an event publicizing the team's new headquarters. "He wants to help that little girl very much, which is Jerry Brown's daughter."
Brent was a backup filling in as the starter for an injured Jay Ratliff the last time he played for the Cowboys. This time, he brings size the front otherwise lacks in defensive co-ordinator Rod Marinelli's scheme, which puts a premium on quickness.
"I think he brings something that really the other guys don't have in terms of his size and physicality, especially if you start thinking about teams who might want to line up and run the ball on us," executive vice-president Stephen Jones said. "I think Josh will be a good complement to what we have."
Brent avoided a lengthy prison stay in the crash that killed Brown, instead getting a 180-day jail sentence when a 10-year prison term was suspended. After his release and reinstatement by the league, he was allowed to be at the practice facility earlier in the season but couldn't be involved with the team.
Brent's return comes two weeks after rookie defensive end DeMarcus Lawrence was activated. The second-round pick missed the first eight games after breaking his right foot during training camp.
The Cowboys waived linebacker Tim Robbins to make room for Brent, but now face another decision involving a defensive lineman with Amobi Okoye. He is on the non-football injury list with a brain disorder that he's been recovering from since last year, and Dallas either has to activate him by Thursday or keep him on the reserve list for the rest of the season.
___
Online:
AP NFL website: www.pro32.ap.org and www.twitter.com/AP_NFL
___
Follow Schuyler Dixon on Twitter at https://twitter.com/apschuyler