Cowboys rise to No. 1 in NFL Power Rankings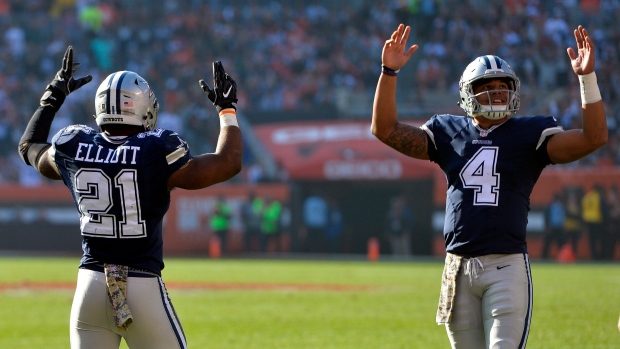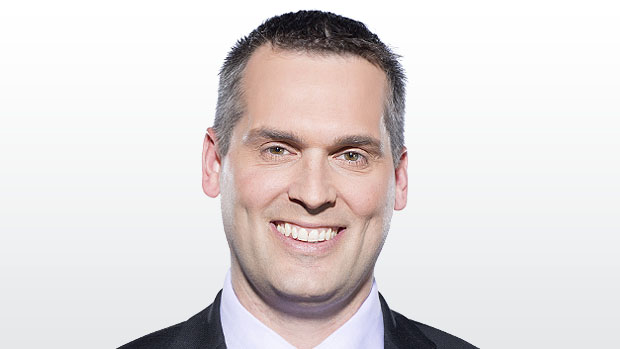 The Dallas Cowboys have overtaken the New England Patriots for top spot in the TSN.ca NFL Power Rankings.
The Cowboys continue to deliver, week after week, on their way to a 10-1 record, and pull ahead of the Patriots, who lost tight end Rob Gronkowski for the next couple of months.
Teams rising include the Miami Dolphins, Buffalo Bills and Tampa Bay Buccaneers, while the Philadelphia Eagles and Arizona Cardinals drop.
Dallas Cowboys
THIS WEEK: 1 LAST WEEK: 2 RECORD: 10-1
PF: 316 PA: 213
YDS/GM: 407.6 YDSA/GM: 362.2 TO DIFF: +3
Not only have the Cowboys won 10 in a row, but they have scored at least 24 points in each of those 10 wins. Looking at their remaining schedule, this could very well be a 14 or 15-win team, which is utterly remarkable with two rookies touching the ball more than anyone else.
Key Injuries: G La'El Collins (toe), CB Morris Claiborne (sports hernia).
New England Patriots
THIS WEEK: 2 LAST WEEK: 1 RECORD: 9-2
PF: 293 PA: 197
YDS/GM: 386.2 YDSA/GM: 353.2 TO DIFF: +3
Losing Rob Gronkowski for the next eight weeks is a big hit for a Patriots offence that hasn't been overwhelming in back-to-back wins at San Francisco and the Jets. They are still a powerhouse team, but more vulnerable than they were when they were steam-rolling midseason.
Key Injuries: T Nate Solder (biceps), TE Rob Gronkowski (back).
Oakland Raiders
THIS WEEK: 3 LAST WEEK: 3 RECORD: 9-2
PF: 307 PA: 275
YDS/GM: 391.0 YDSA/GM: 390.4 TO DIFF: +10
The Raiders have won eight of the past nine games, and they have been doing it through the air, as third-year QB Derek Carr is improving across the board, completing 5% more of his passes, and his interception rate has nearly cut in half (from 2.3% to 1.2%).
Key Injuries: None.
Atlanta Falcons
THIS WEEK: 4 LAST WEEK: 7 RECORD: 7-4
PF: 358 PA: 302
YDS/GM: 411.5 YDSA/GM: 381.0 TO DIFF: +3
When the Falcons are rolling, they can put the opposition on their heels, scoring 35 or more points in five of their seven wins. QB Matt Ryan leads the league with 9.3 yards per pass attempt.
Key Injuries: None.
Denver Broncos
THIS WEEK: 5 LAST WEEK: 5 RECORD: 7-4
PF: 266 PA: 219
YDS/GM: 337.4 YDSA/GM: 313.9 TO DIFF: +4
A home OT loss against Kansas City puts the Broncos' playoff chances in peril. They're on the road for the next two weeks, but need wins over Jacksonville and Tennessee, because the next three (home to New England, at Kansas City and home vs. Oakland) are a tough path to walk to the postseason.
Key Injuries: RB C.J. Anderson (knee).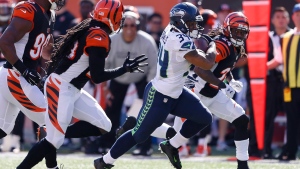 Seattle Seahawks
THIS WEEK: 6 LAST WEEK: 4 RECORD: 7-3-1
PF: 224 PA: 187
YDS/GM: 341.9 YDSA/GM: 335.6 TO DIFF: +5
Things looked to be rolling along nicely for the Seahawks, but all of a sudden they get into Tampa Bay and stumble out with a 14-5 loss. With QB Russell Wilson appearing to have regained his mobility – funny what good health can bring in the NFL – the Seahawks still appear to be the best challenger for the Cowboys in the NFC.
Key Injuries: RB C.J. Prosise (shoulder).
Kansas City Chiefs
THIS WEEK: 7 LAST WEEK: 6 RECORD: 8-3
PF: 252 PA: 214
YDS/GM: 328.3 YDSA/GM: 381.9 TO DIFF: +14
The Chiefs have won six of seven after taking that OT win in Denver, and their top wideout is fifth-round rookie Tyreek Hill, who has 39 targets over the past five weeks and has carried the ball in six straight games.
Key Injuries: RB Jamaal Charles (knee), WR Jeremy Maclin (groin).
New York Giants
THIS WEEK: 8 LAST WEEK: 8 RECORD: 8-3
PF: 231 PA: 213
YDS/GM: 335.9 YDSA/GM: 353.8 TO DIFF: -5
Big Blue have won six straight, and while their record does seem a little mythical, they'll have a good chance to prove they are for real with a trip to Pittsburgh and a home game against Dallas in the next two weeks.
Key Injuries: None.
Pittsburgh Steelers
THIS WEEK: 9 LAST WEEK: 10 RECORD: 6-5
PF: 266 PA: 222
YDS/GM: 364.8 YDSA/GM: 358.7 TO DIFF: +4
The Steelers have won back-to-back games, and none too soon because the season looked like it was getting away from them. The challenge down the stretch is to find reliable members of the supporting cast because, as great as they are, RB Le'Veon Bell and WR Antonio Brown can't do it all.
Key Injuries: DE Cameron Heyward (hamstring).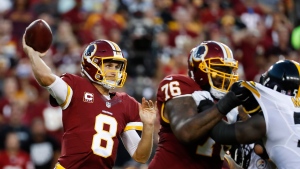 Washington
THIS WEEK: 10 LAST WEEK: 9 RECORD: 6-4-1
PF: 280 PA: 264
YDS/GM: 426.4 YDSA/GM: 369.6 TO DIFF: +1
Even with a loss at Dallas on Thanksgiving, Washington has to be pretty pleased with the quality of play they are getting from QB Kirk Cousins, who has a couple of 400-yard passing games this season. It's enough for them to be competitive, and maybe push for a playoff spot, down the stretch.
Key Injuries: FS DeAngelo Hall (knee), T Trent Williams (suspension), TE Jordan Reed (shoulder).
Detroit Lions
THIS WEEK: 11 LAST WEEK: 13 RECORD: 7-4
PF: 247 PA: 238
YDS/GM: 329.5 YDSA/GM: 353.5 TO DIFF: +3
Somehow, some way, the Lions have won six of the past seven games, but their plan of attack, which includes consistently trailing in the fourth quarter, does seem suspect as a long-term approach.
Key Injuries: RB Ameer Abdullah (foot), LB DeAndre Levy (quadriceps).
Miami Dolphins
THIS WEEK: 12 LAST WEEK: 15 RECORD: 7-4
PF: 249 PA: 240
YDS/GM: 332.4 YDSA/GM: 361.9 TO DIFF: +2
Well, this is unexpected. After starting the year 1-4, the Dolphins have won six straight to climb into the playoff picture. Some soft opposition during that streak (including the Rams and 49ers the past two weeks) might be holding back some from jumping on the bandwagon.
Key Injuries: TE Jordan Cameron (concussion), CB Xavien Howard (knee), S Reshad Jones (shoulder).
Tennessee Titans
THIS WEEK: 13 LAST WEEK: 11 RECORD: 6-6
PF: 308 PA: 296
YDS/GM: 382.3 YDSA/GM: 362.7 TO DIFF: 0
The Titans have been alternating wins and losses for a while, which is certainly respectable given the expectations coming into the season, but with Denver and Kansas City up in the two weeks following this week's bye, it's make or break time if they are going to carry this into a playoff push.
Key Injuries: S Rashad Johnson (neck).
Baltimore Ravens
THIS WEEK: 14 LAST WEEK: 12 RECORD: 6-5
PF: 218 PA: 201
YDS/GM: 334.2 YDSA/GM: 297.8 TO DIFF: +4
Can the league's best run defence help the Ravens make a late charge for the playoffs? Maybe if QB Joe Flacco upped his game a bit, that would do it, because WR Steve Smith Sr. is healthy and Baltimore could use a little better from the QB who has 11 touchdowns and 10 interceptions in 11 games.
Key Injuries: TE Ben Watson (Achilles).
Minnesota Vikings
THIS WEEK: 15 LAST WEEK: 14 RECORD: 6-5
PF: 218 PA: 192
YDS/GM: 294.9 YDSA/GM: 307.0 TO DIFF: +12
The Vikings have lost five of six and their inability to score appears to be a major problem that is catching up to them. Early in the year, the defence dominated enough that Minnesota won their first five games, and a bit of a decline on D has been too much to overcome.
Key Injuries: RB Adrian Peterson (knee), QB Teddy Bridgewater (knee), LT Ryan Kalil (hip).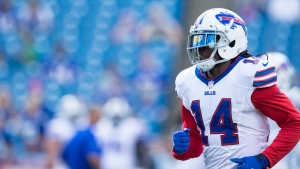 Buffalo Bills
THIS WEEK: 16 LAST WEEK: 23 RECORD: 6-5
PF: 281 PA: 236
YDS/GM: 339.9 YDSA/GM: 341.9 TO DIFF: +8
Back-to-back wins might lure a few more Bills fans back into the fold for the stretch run, but they travel to Oakland this week and host Pittsburgh the following week – either of which could derail any longshot playoff dreams. But, if RB LeSean McCoy and WR Sammy Watkins can stay healthy (psst, it's not likely), then maybe.
Key Injuries: T Cordy Glenn (ankle), S Aaron Williams (concussion).
Tampa Bay Buccaneers
THIS WEEK: 17 LAST WEEK: 26 RECORD: 6-5
PF: 249 PA: 264
YDS/GM: 363.5 YDSA/GM: 369.3 TO DIFF: +2
Another unexpected development here, but the Bucs have one regulation loss in the past seven games, with wins over Kansas City and Seattle the past two weeks. The Jameis Winston-Mike Evans combo gives them a dangerous passing game, but a healthy RB Doug Martin rounds out the attack.
Key Injuries: WR Vincent Jackson (knee), G J.R. Sweezy (back).
New Orleans Saints
THIS WEEK: 18 LAST WEEK: 18 RECORD: 6-5
PF: 334 PA: 307
YDS/GM: 434.1 YDSA/GM: 370.5 TO DIFF: +1
It sure seems that the Saints are going to ultimately regret some of their crushing close defeats (by one to Oakland, by three at the Giants, by two to Denver and three at Carolina) because they are once again a high-octane offence capable of dropping 40 points-plus in a given week. The defence has shown slight improvement too.
Key Injuries: None.
Green Bay Packers
THIS WEEK: 19 LAST WEEK: 21 RECORD: 5-6
PF: 274 PA: 289
YDS/GM: 364.9 YDSA/GM: 350.8 TO DIFF: -5
Just when it looked like the Packers were ready to get this season packed and wrapped, they snapped a four-game losing streak with a convincing win at Philadelphia. They're getting healthy and oft-criticized QB Aaron Rodgers has averaged 314.0 passing yards in the past seven games.
Key Injuries: RB Eddie Lacy (ankle).
San Diego Chargers
THIS WEEK: 20 LAST WEEK: 22 RECORD: 5-6
PF: 313 PA: 291
YDS/GM: 371.2 YDSA/GM: 361.1 TO DIFF: 0
The Chargers are good enough to play a competitive game, but ultimately come up short against good teams. They'll take care of the others, though.
Key Injuries: WR Keenan Allen (knee).
Houston Texans
THIS WEEK: 21 LAST WEEK: 20 RECORD: 6-5
PF: 194 PA: 236
YDS/GM: 316.9 YDSA/GM: 316.7 TO DIFF: -9
The Texans are fading, as one might expect with such poor quarterback play, but they aren't completely done since the AFC South is such an open division. On the road at Green Bay and Indianapolis the next two weeks could be problematic, however.
Key Injuries: DE J.J. Watt (back), T Derek Newton (knees).
Indianapolis Colts
THIS WEEK: 22 LAST WEEK: 25 RECORD: 5-6
PF: 270 PA: 301
YDS/GM: 352.4 YDSA/GM: 395.0 TO DIFF: -5
Not surprisingly, Scott Tolzien, making his first start at quarterback, wasn't able to keep the Colts competitive with Pittsburgh, but the expectation is that Andrew Luck will be good to go against the Jets on Monday night.
Key Injuries: None.
Philadelphia Eagles
THIS WEEK: 23 LAST WEEK: 16 RECORD: 5-6
PF: 254 PA: 213
YDS/GM: 336.0 YDSA/GM: 339.4 TO DIFF: +3
The Eagles have lost four of five and the offence is sputtering. One potential bright spot? WR Dorial Green-Beckham has caught 11 passes for 136 yards and a touchdown in the past two games.
Key Injuries: RB Ryan Mathews (knee).
Arizona Cardinals
THIS WEEK: 24 LAST WEEK: 17 RECORD: 4-6-1
PF: 245 PA: 228
YDS/GM: 369.1 YDSA/GM: 294.0 TO DIFF: -1
The caveat I issued when ranking the Cardinals number one in the preseason was that it depended on QB Carson Palmer matching his 2015 performance. He had 35 touchdowns and 11 interceptions with 8.7 yards per pass attempt last season and has 15 touchdowns, 11 interceptions and 7.1 yards per pass attempt this year. Not quite the same as the Cardinals have one win in the past five games.
Key Injuries: S Tyrann Mathieu (shoulder), T Jared Veldheer (triceps).
Carolina Panthers
THIS WEEK: 25 LAST WEEK: 24 RECORD: 4-7
PF: 276 PA: 281
YDS/GM: 352.8 YDSA/GM: 354.6 TO DIFF: -5
Another of the league's major disappointments, the Panthers have dropped off defensively, but QB Cam Newton isn't nearly as dangerous as he was while winning MVP in 2015.
Key Injuries: C Ryan Kalil (shoulder).
Cincinnati Bengals
THIS WEEK: 26 LAST WEEK: 19 RECORD: 3-7-1
PF: 213 PA: 245
YDS/GM: 368.4 YDSA/GM: 366.5 TO DIFF: +1
It's easy enough to say that the Bengals are too talented to have this record, but it also doesn't much matter. They're sunk and missing their most dangerous player.
Key Injuries: WR A.J. Green (hamstring), RB Gio Bernard (knee).
Los Angeles Rams
THIS WEEK: 27 LAST WEEK: 27 RECORD: 4-7
PF: 170 PA: 236
YDS/GM: 295.1 YDSA/GM: 339.8 TO DIFF: -4
The Rams have lost six of seven, with the lone win coming in an ugly 9-6 affair at the Jets. Calls for the ouster of head coach Jeff Fisher have been getting louder, especially with Rams Hall of Famer Eric Dickerson joining the fray.
Key Injuries: None.
New York Jets
THIS WEEK: 28 LAST WEEK: 30 RECORD: 3-8
PF: 196 PA: 266
YDS/GM: 335.1 YDSA/GM: 348.7 TO DIFF: -14
One positive in a season full of negatives for the Jets? WR Quincy Enunwa is turning into a bona fide receiver, and he had a career-high 109 receiving yards against the Patriots last week.
Key Injuries: WR Eric Decker (hip), QB Geno Smith (knee).
Jacksonville Jaguars
THIS WEEK: 29 LAST WEEK: 28 RECORD: 2-9
PF: 214 PA: 293
YDS/GM: 334.2 YDSA/GM: 320.9 TO DIFF: -15
This isn't any kind of fancy stat, but it's probably bad when your quarterback is known for his ability to put up yardage and scores after the outcome of the game has long since been decided, aka "fantasy garbage time".
Key Injuries: None.
Chicago Bears
THIS WEEK: 30 LAST WEEK: 29 RECORD: 2-9
PF: 178 PA: 264
YDS/GM: 350.2 YDSA/GM: 343.2 TO DIFF: -8
Tough times for a 2-9 team that has lost two starters to PED suspensions. Not enhancing the performance enough, apparently. A tiny sliver of a silver lining is that QB Matt Barkley was better in his second game of the season, though the bar he set with the first one was pretty low.
Key Injuries: WR Kevin White (fibula), WR Alshon Jeffery (suspension), QB Jay Cutler (shoulder), ILB Jerrell Freeman (suspension).
San Francisco 49ers
THIS WEEK: 31 LAST WEEK: 31 RECORD: 1-10
PF: 228 PA: 344
YDS/GM: 324.6 YDSA/GM: 424.5 TO DIFF: -5
It's obviously been a lost season for the Niners, but it has been interesting to see QB Colin Kaepernick getting a chance to play again. He was a threat in the loss at Miami last week, passing for 296 yards and three touchdowns, and rushing for 113 yards on 10 carries.
Key Injuries: None.
Cleveland Browns
THIS WEEK: 32 LAST WEEK: 32 RECORD: 0-12
PF: 197 PA: 352
YDS/GM: 313.8 YDSA/GM: 400.0 TO DIFF: -9
It's one thing to be bad, and the Browns are, but they aren't even competitive. They've scored a total of 39 points in the past four games, and there isn't an obvious W on the board in the next four games. This week at home against injury-depleted Cincinnati may be their best chance.
Key Injuries: QB Robert Griffin III (shoulder), G Joel Bitonio (foot), CB Jordan Poyer (kidney).
Scott Cullen can be reached at scott.cullen@bellmedia.ca