Cowen frustrated Leafs put him on waivers
Maple Leafs defenceman Jared Cowen has been out with hip injury since being acquired from the Ottawa Senators in the Dion Phaneuf trade. On Friday, the blueliner was frustrated when his new club put him on waivers.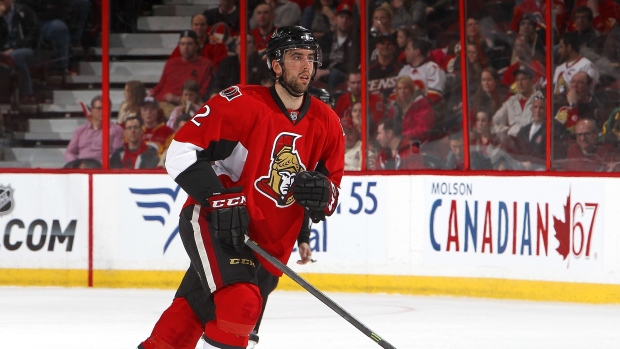 TORONTO – Jared Cowen was placed on waivers by the Toronto Maple Leafs on Friday in a move that caught the defenceman off guard.
"I haven't been told much so I'm not even sure," Cowen, acquired from the Ottawa Senators in the Dion Phaneuf trade earlier this month, said when asked what the plan was going forward.
Cowen, who practiced with the Leafs on Friday, had been on the injured list with hip tightness since arriving in Toronto.
"I feel much better," Cowen said. "I feel good enough to play. I thought I was going to play, so it's a little disappointing.
"It's frustrating and disappointing at the same time."
Head coach Mike Babcock didn't divulge much when asked how Cowen fits into the Leafs' future plans.
"I imagine [GM] Lou [Lamoriello] will address that. I don't think that's my spot, but obviously a disappointing day for him," Babcock said. "It's been disappointing in some ways just because he's getting healthy here now. They've really worked hard on his hip; he's healthy now and ready to go. So, whether it's down for conditioning, I don't know. Speak to Lou."
Per Leafs media relations, Lamoriello will not take questions about Cowen at this time and only plans to address reporters if Toronto makes a trade or the deadline passes.
TSN insider Bob McKenzie weighed in on the situation via Twitter:

PARENTEAU LAUGHS OFF TWITTER STORM
P.A. Parenteau left practice after just a couple minutes Friday, creating a buzz on Twitter with fans and journalists alike wondering if the forward had been traded. It was later revealed that Parenteau was simply dealing with "soreness." The pending UFA got a good laugh out of creating a stir on social media.
"It's just the frenzy of the trade deadline," Parenteau said shaking his head. "Every year it's the same thing."
Parenteau said he's ready to play tomorrow in Montreal against his old team.
Babcock said the Leafs have no plans to pre-emptively scratch players who may be traded.
KADRI COULD BE A 'STAR'
Parenteau offered a scouting report on some of his teammates.
First Nazem Kadri: "I'm a big fan of his game. The way he skates, the way he competes and he's got so much skill too. Sky's the limit for Nazem. If he keeps playing like that, keeps taking it seriously like he has been doing this year, he's going to be real good, maybe a star."
On Josh Leivo, who has scored in four straight games: "I think he has a future in this league. He reminds me a lot of me when I came up, you know, not that young anymore (Leivo is 22 while Parenteau was 26 when he first broke into the NHL), he's a righty, sees the ice well, has a good release. If he works hard he has a place in this league for sure."
HUNWICK, KOMAROV POISED TO RETURN
Viktor Loov was loaned to the Marlies on Friday. Matt Hunwick practised with the Leafs and appears poised to return the lineup after missing the last four games with a lower-body injury.
Rich Clune was also loaned to the Marlies. Leo Komarov is eligible to return from his three-game suspension Saturday and will take his spot in the lineup. Komarov practised in his regular place alongside Kadri and Michael Grabner.
MICHALEK JOINS PRACTICE
Milan Michálek, who broke a finger on his right hand in a game on Jan. 22, took part in his first full practice with the Leafs. He hopes to return to game action sometime next week.
THE MEAT OF THE ARGUMENT
Babcock, a noted fan of smoked-meat sandwiches, recently tried out Caplansky's Deli in Toronto for the first time.
"That's outstanding. I was pretty impressed with that so I'll be a regular there," he said following Friday's practice.
Meanwhile, Schwartz's Deli remains his favourite place in Montreal.
"There's no question about it. When I say that people always say, 'Hey, you're going to the wrong spot,' but I disagree 100 per cent. Schwartz is the place it's at."