Cowen, Wiercioch have different takes on Murray's challenge
Ottawa defencemen react to public pressure from general manager to improve their play.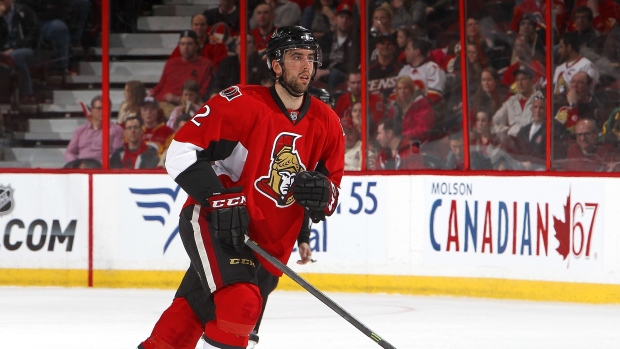 Speaking to reporters on Wednesday, Bryan Murray made it crystal clear he's putting pressure on two of his defencemen to step up and improve their play.
"We expect more from Wiercioch and Cowen, without a doubt," the general manager told reporters. "If we're trying to fill one spot, either Patrick or Jared have to take a step and demand to get that role and take advantage of it."
Prior to Thursday's game against the Columbus Blue Jackets, both Jared Cowen and Patrick Wiercioch responded to the pointed comments made by their general manager. The two defencemen had different reactions to the challenge from Murray.
Cowen says he has tuned out the media coverage around the team right now and as a result, didn't read or hear Murray's quote.
"I don't hear it. I don't pay attention to that stuff because it doesn't really matter. I think you could say the same thing about a lot of guys, so I don't take it too personal," said Cowen.
Wiercioch, on the other hand, seemed to agree with the assessment made by his general manager.
"I think that's fair. I think my play last year probably raised the expectations of what everyone would expect from me on a daily basis," Wiercioch told TSN. "And that's the level I'm trying to achieve and that's what I'm working towards."
"Obviously, I think I've got to be better. As a team we're still trying to find that rhythm and consistency and I think right down through the lineup, each of us is trying to find that in our own game."

Adding intrigue to the situation is that Cowen will be a healthy scratch on Thursday for the first time this season. He missed the previous two games with a foot injury, but says he's healthy and could have played against the Blue Jackets.
Wiercioch — who was a healthy scratch against Vancouver on the night Cowen was injured — will remain in the lineup. It will be intriguing to see how the decision will affect Cowen's mental state moving forward; especially considering he told reporters that he hasn't had any one-on-one discussions with head coach Dave Cameron lately.
"It's hard to play when you're thinking about getting pulled out of the lineup and all that kind of extra junk," Cowen admitted. "I haven't missed a game yet so it's not like it's been bothering me, so I haven't had to think about sitting out. So hopefully, this is a one-and-done thing."
Wiercioch knows all about being a healthy scratch. Under Paul MacLean, Wiercioch often found himself watching games from the press box — sometimes for weeks at a time. He said he has a much better connection with Cameron who appears patient enough to help him work through his struggles.
"I think Dave and I have a terrific relationship," Wiercioch said. "He's understanding of my situation in Ottawa and what I've gone through and I think he's been up front and honest. I think that communication is something that we've lacked here in years past. With him, there's an open-door policy where you are watching video clips and even the negative ones, they are there to make you a better player and a better teammate."