Coyle, Johansson could make Bruins trade deadline winner
When the panels broke down Deadline Day's winners and losers after TradeCentre two months ago, there was no love for the Boston Bruins. But Charlie Coyle and Marcus Johansson may have made the biggest difference after all. TSN Senior Hockey Writer Frank Seravalli has more.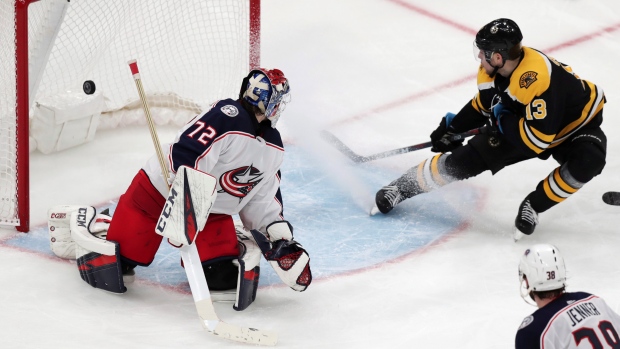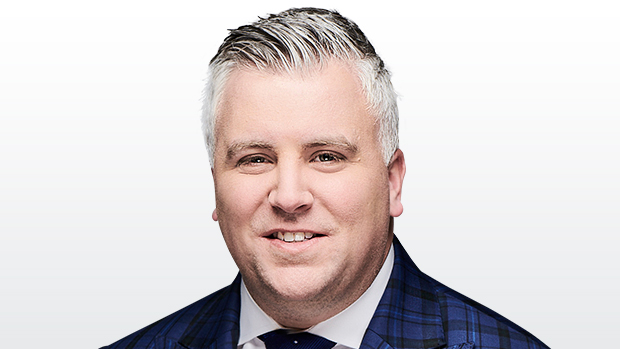 BOSTON — When the panels broke down Deadline Day's winners and losers after TradeCentre two months ago, there was no love for the Boston Bruins.
Praise was heaped on Jarmo Kekalainen swinging for the fences in Columbus, or Mark Stone's arrival in Vegas, or the Winnipeg Jets and Nashville Predators bulking up their lineups.
The Blue Jackets are the only team still standing among that group - in no small part to the addition of Matt Duchene and the suddenly clear headspace of pending free agents Sergei Bobrovsky and Artemi Panarin.
Meanwhile, Columbus' newcomer Ryan Dzingel appears to be a healthy scratch for Game 2, and the Bruins' two most important wins of the season so far have come off the sticks of their two trade deadline acquisitions.
Marcus Johansson scored the game-winner to knock off the Maple Leafs in Game 7, then threaded the needle to find linemate Charlie Coyle for the overtime triumph on Thursday night that gave the Bruins a 1-0 series edge over Columbus.
Who would have imagined that a year ago?
Last year at this time, Harvard product Ryan Donato was a Boston darling. The Bruins traded Donato and a fifth-round pick to Minnesota for fellow Boston native Coyle five days before the trade deadline on Feb. 20.
Meanwhile, Johansson blasted now Bruins teammate Brad Marchand after he missed two months with a concussion after a blatant elbow to the head. Johansson called the hit "stupid" and said it's "sad that there are still guys out there trying to hurt other guys."
Marchand called Johansson to apologize in the first hours after the Bruins acquired him from New Jersey on Deadline Day for a second and fourth-round pick.
Suddenly, the Bruins were armed with two high-skilled players in their prime on their third line who put up 56 and 58 points in 2016-17, but had fallen on hard times either due to injury (Johansson) or opportunity (Coyle).
Neither Coyle nor Johansson made a dent in their regular season introduction, but the Bruins' new guys are brewin' up something special in the Stanley Cup playoffs.
It's been hometown boy Coyle, from Weymouth, Mass., who has been the biggest revelation. Coyle scored just two goals in his first 21 games as a Bruin, but has five in eight playoff games so far, one of the league's postseason lead.
"I just think that if you're going to be a successful team in the playoffs, there's always going to be a story about a guy who kind of rises up. Maybe a guy you deem a secondary scorer. Right now, it's him for us," Bruins coach Bruce Cassidy said. "It's been a good story."
Cassidy said the Bruins discussed internally for months the idea of acquiring a centre who could elevate in the lineup should one of David Krejci or Patrice Bergeron go down. They were ready to do that for Game 2 on Saturday night at TD Garden, since Krejci left Game 1 with injury, but it appears he will play.
Coyle, 27, has nearly as many goals (five) in these playoffs as he did in his previous 44 playoff games combined (seven). He has embraced the moment.
"Playoffs come around and it's a big man's game," Coyle said Saturday. "You want to stand up to the challenge. It's more responsibility, more opportunity. I think as a team we've done a great job responding to that challenge and I just want to do my part."
It's not easy playing at home, where the spotlight is always on.
"His buddies probably expect him to get a hat trick next game, that's the problem," Cassidy said.
The hope is that the rest of the Bruins' scorers can step up and help shoulder the load now. David Pastrnak has been unusually quiet, held without a goal for four straight games. Jake DeBrusk has just one in the playoffs. Brad Marchand does not have a point in two straight games, but had three glorious chances in Game 1.
That's where Coyle and Johansson have come in. Johansson had the primary assist on both of Coyle's goals in Game 1.
It had been a tough go for Johansson in Boston. He was briefly hospitalized on March 5, less than a week after arriving, with a lung contusion after a hard hit from Carolina's Micheal Ferland. Then he missed two games in the first round against Toronto with an illness.
His last three years have been like a player stuck in traffic. Stop. Start. It's been one setback after another. Now two months from free agency, Johansson has an incredible opportunity to reboot his career in the NHL with a strong Stanley Cup playoffs.
"I don't want to dwell too much about it, but being injured and being sick, that bothers me a little bit," Johansson admitted. "But I feel like the last few games have been pretty good and it's going in the right direction. Most of all, it's fun to be part of this group, we have a really good hockey team here so it's fun to be part of."
Johansson and Coyle serve as yet another reminder that the trade deadline can't be won in February. Their clutch contributions could well make GM Don Sweeney the ultimate winner.
"We need it," Cassidy said. "Our guys that have scored all year haven't found that level yet. We're all assuming they will, but until they do, we need that to stay in the mix."
Contact Frank Seravalli on Twitter: @frank_seravalli