Coyne Schofield hangs with the boys in watershed Skills Competition
U.S. women's national hockey team member Kendall Coyne Schofield became the first woman to participate in the NHL's Skills Competition at All-Star Weekend on Friday and held her own competing in the fastest skater event against Connor McDavid and others in a night in San Jose she'll never forget, TSN Senior Hockey Reporter Frank Seravalli writes.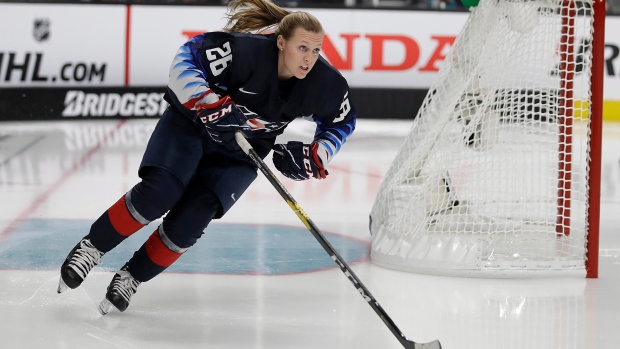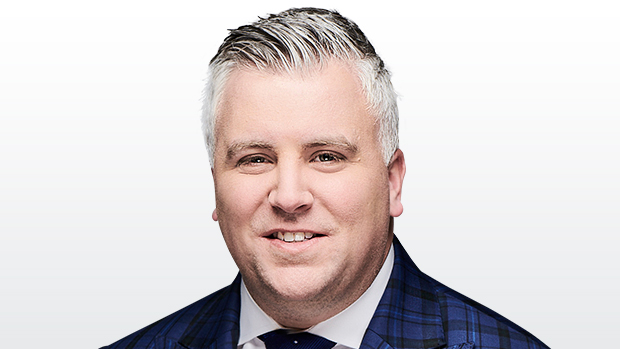 SAN JOSE, Calif. — Kendall Coyne Schofield owns one Olympic and five World Championship gold medals, but Friday night was one for posterity.
"This is definitely a top three moment in my career," she said.
It was so much more than that. Friday night was a watershed moment for women athletes everywhere, proof that as much as the NHL says it, hockey really is for everyone.
Coyne Schofield became the first woman to participate in the NHL's Skills Competition at All-Star Weekend in San Jose.
Previously, the NHL used the top Canadian and American women stars only to demonstrate the Skills Competition drills.
But in a Fastest Skater competition in which the All-Star veterans have bowed out in recent years because they didn't want to be embarrassed by Connor McDavid, Coyne Schofield readily laced up her skates in place of injured Colorado Avalanche star Nathan MacKinnon.
A shot at McDavid and the boys? Heck yeah, Coyne Schofield said. Bring it on.
"It was a no-brainer," she said. "My first impression was I can do this. My speed is my strength. But I knew this was a moment that would break a lot of barriers and change the perception of our game and show support to our game. It was so exciting."
Coyne Schofield, 26, was first out of the gate because, as she said, "beggars can't be choosers." Chants of U-S-A, U-S-A echoed in the roaring Shark Tank. She glided up to the line and took her starting position.
Then the 5-foot-2 fireball turned on the jets.
"When she took off, I was like 'Wow'," McDavid said. "I thought she might've won the way she was moving."
She rocketed off the line like she was shot out of a gun, hitting a peak speed of 24 mph. Her short strides crossed over with a ferocity not normally seen from NHLers at All-Star Weekend. Coyne Schofield skated like she wanted to "prove to the world we belong," she said.
Coyne Schofield proved women don't merely belong. She beat an NHL All-Star.
Coyne Schofield zoomed around the rink at 14.346 seconds, finishing seventh of eight skaters and ahead of Arizona Coyotes forward Clayton Keller, who skated his lap at 14.526 seconds.
"She was flying," Auston Matthews said. "She came out for warmups, was buzzing around, and everyone was taking notice because she just looks fast."
McDavid became the first player to win the Fastest Skater contest in three consecutive years with a blazing time of 13.378 seconds. He reached a top speed of 26 mph, according to the NHL's new player tracking technology, narrowly edging out the player drafted behind him in 2015 in Jack Eichel (13.582) who clocked 25 mph.
"She's a really good skater and I would say it's an amazing thing for the game to see her participate like that in an event like this," McDavid said.
As much as McDavid pushed to retain his title as Hockey's Fastest Man, there was no question Coyne Schofield stole the show.
"I was blown away," said Hockey Hall of Famer Cammi Granato, who was watching from home. "I thought it was incredible and inspiring. She was within a second of Connor McDavid.
"We've always wanted to be known as hockey players, not women trying to play a man's sport. This was another huge step forward."
Really, the significance of Coyne Schofield's performance cannot be overstated. Think about the last time a woman beat the boys in the NBA's Three Point shooting contest, or a woman crushed a ball in a Longest Drive contest on the PGA Tour.
It's never happened. Not on a stage like this one. Not anywhere.
"I think today the NHL took a stance, they made that statement," Coyne Schofield said. "I was fortunate to be a part of a lot of people pushing for it. A lot of hard conversations have been had. I'm fortunate for the opportunity and I think it went pretty well."
The amazing thing is Coyne Schofield's Friday night time was actually slightly slower than her practice run of 14.226 seconds from testing on Thursday in San Jose, when she arrived off a five-hour flight with no warmup. She can flat out fly.
For Coyne Schofield, a staple on the U.S. Women's National Team since 2011, she is used to the competition.
She broke another smaller barrier as the first woman to play in the Chicago Pro Hockey League with 80 other pros in the summer of 2018. Coyne Schofield, a Chicago native, met her husband - Los Angeles Chargers offensive lineman Michael Schofield - training at a local gym.
They went to the same high school but didn't begin to date until they both were in university, where Coyne Schofield won the Patty Kazmaier Award as the top female college hockey player in the United States while at Northeastern University.
Coyne Schofield's husband was rooting hard for her Friday from home, just like he was in the stands in PyeongChang at the 2018 Winter Olympics.
But the power of the transcendent moment meant that so too were rivals from the Canadian Olympic team they beat in that gold medal game.
Ditto little girls everywhere, who will wake up on Saturday and head to their local rink to skate with the boys armed with a whole new kind of powerful confidence.
"I would say to especially young girls, follow your dreams," Coyne Schofield said. "Believe in yourselves. There's nothing you can't accomplish. I think tonight was definitely an example of that."
Contact Frank Seravalli on Twitter: @frank_seravalli