Craig's List: Caufield scores his way into Top 5
The diminutive goal-scoring machine takes a big leap up TSN Director of Scouting Craig Button's final prospect ranking ahead of the 2019 NHL Draft.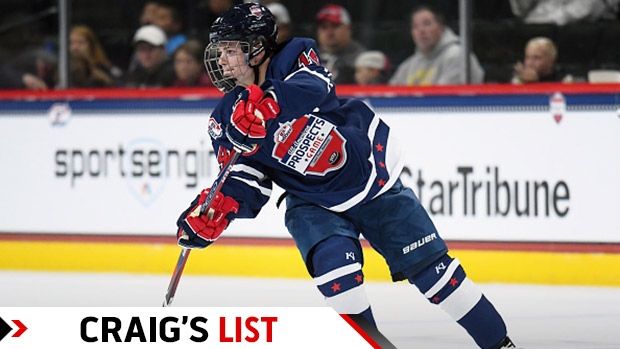 By Darren Yourk
Jack Hughes and Kaapo Kakko remain in a class of their own as the top two prospects in their draft class, but Cole Caufield's prodigious scoring exploits have propelled him into the top five in the final edition of Craig's List heading into the 2019 NHL Draft.
The diminutive sniper took a big leap up TSN Director of Scouting Craig Button's ranking, finishing the year behind only American centre Hughes (No. 1), Finnish right winger Kakko (No.2) and Vancouver Giants defenceman Bowen Byram (No. 3). Caufield ranked No. 10 in Button's March list.
The 5-foot-7, 163-pound right winger was a goal-scoring machine this season for the USA Hockey National Team Development Program, finding the back of the net 72 times in 64 games while often skating on a line with Hughes. The highlight was his MVP performance at the World Under-18 Championship in Sweden, where he tied Alex Ovechkin's tournament record by scoring 14 goals in seven games.
"Caufield is an elite scorer," Button said. "The elite scorer needs an elite playmaker [Hughes] but it cuts both ways because the playmaker can't be prolific in his game without the finisher. Caufield has an excellent scoring IQ and arrives at the right places at the right times. He's the best pure goal scorer available in this draft."
While Caulfield often gets compared to 41-goal scorer Alex DeBrincat of the Blackhawks – a 5-foot-7, 165-pound left wing who had 65 goals for the OHL's Erie Otters in his draft year but still lasted until the 39th pick in 2106 ­– Button believes his skill deserves far more focus than his height.
"The obvious comparison is DeBrincat because of the size, but when I watch Caufield play it's his ability to score in multiple ways that captures my attention," Button said. "He handles the puck with ease, beats obstacles, breaks down goalies and has a lethal release that makes him very difficult to stop. That's the description of an elite goal scorer. I think Caufield should be compared to those types of players, not just the ones who may be of a similar height."
Caufield is followed in the top 10 by his US NDTP teammates Matthew Boldy (No. 5), a left winger, and Trevor Zegras (No. 6), a centre. Swedish defenceman Philip Broberg (No. 7) is the only other blueliner to crack Button's top 10.
Another big riser in the final rankings is Winnipeg Ice centre Peyton Krebs, who jumped all the way up to No. 8 after being at No. 17 in March. Krebs had 19 goals and 68 points in 64 games for an Ice team that missed the Western Hockey League playoffs and relocated from Kootenay to Winnipeg at season's end.
"Krebs reminds me a lot of Ryan O'Reilly," Button said. "Coaches have a sense of calm when he's on the ice because they know he has all aspects of the game under control."
The top 10 is rounded out by Russian right wing Vasili Podkolzin (No. 9), who was ranked as high as third by Button earlier this season, and US NDTP forward Alex Turcotte.
Outside of the top 10, Button has US NDTP goaltender Spencer Knight (No. 15) in position to become the first goaltender selected in the top 15 since the Dallas Stars took Jack Campbell with the 11th overall pick in 2010.
"I don't see Knight going this high as a gamble at all," Button said. "He's calm, poised and has every athletic attribute necessary to excel. Combine that with his excellent hockey sense and you have a future No. 1 goalie."
The Top 31

1. Jack Hughes
C | USA U18 (USHL) | 5'11 | 171 lbs. | May 14, 2001 | Last Rank: 1
2018-19 Statistics
GP

50

G

34

PTS

112

+/-

46
THE SKINNY: U.S. Program all-time scoring leader, surpassing likes of Phil Kessel and Patrick Kane


2. Kaapo Kakko
RW | Turku (SM Liiga) | 6'2 1/4 | 194 lbs. | Feb. 13, 2001 | Last Rank: 2
2018-19 Statistics
The Skinny: Scored World Junior winning goal and set Finnish Liiga record for goals by U-18 player

3. Bowen Byram
D | Vancouver (WHL) | 6'0 3/4 | 194 lbs. | Jun. 13, 2001 | Last Rank: 5
2018-19 Statistics
The Skinny: Led CHL defencemen with 26 goals and WHL playoffs in scoring with 26 points

4. Cole Caufield
RW | USA U18 (USHL) | 5'7 1/4 | 163 lbs. | Jan. 2, 2001 | Last Rank: 10
2018-19 Statistics
GP

64

G

72

PTS

100

+/-

41
The Skinny: 2019 World U-18 MVP equaled Alex Ovechkin's tournament-record 14 goals

5. Matthew Boldy
LW | USA U18 (USHL) | 6'2 | 196 lbs. | Apr. 5, 2001 | Last Rank: 7
2018-19 Statistics
The Skinny: Earned MVP honours at All-American Prospects Game with two goals and assist

6. Trevor Zegras
C | USA U18 (USHL) | 6'0 1/4 | 173 lbs. | Mar. 20, 2001 | Last Rank: 4
2018-19 Statistics
The Skinny: Elite playmaker collected 9 assists in 5 games at 2019 World U-18 tournament

7. Philip Broberg
D | AIK (SWE-Als) | 6'3 1/4 | 200 lbs. | Jun. 25, 2001 | Last Rank: 11
2018-19 Statistics
The Skinny: Led defencemen with 3 goals for runner-up Sweden at 2018 Hlinka Gretzky Cup

8. Peyton Krebs
C | Winnipeg (WHL) | 5'11 1/2 | 183 lbs. | Jan. 26, 2001 | Last Rank: 17
2018-19 Statistics
GP

64

G

19

PTS

68

+/-

-50
The Skinny: 2016 WHL No. 1 pick named team MVP at CHL Prospects Game with 2 points

9. Vasili Podkolzin
RW | St. Petersburg (MHL) | 6'0 3/4 | 196 lbs. | Jun. 24, 2001 | Last Rank: 3
2018-19 Statistics
The Skinny: Scored 8 goals - 3 more than anyone else - at 2018 Hlinka Gretzky Cup

10. Alex Turcotte
C/LW | USA U18 (USHL) | 5'11 1/4 | 186 lbs. | Feb. 26, 2001 | Last Rank: 8
2018-19 Statistics
The Skinny: Averaged 1.68 points per game, second only to Jack Hughes on U.S. U-18

11. Thomas Harley
D | Mississauga (OHL) | 6'3 | 193 lbs. | Aug. 19, 2001 | Last Rank: 16
2018-19 Statistics
GP

68

G

11

PTS

58

+/-

-15
The Skinny: 58 points represent second most among first-time draft-eligible defencemen

12. Kirby Dach
C/RW | Saskatoon (WHL) | 6'4 | 198 lbs. | Jan. 21, 2001 | Last Rank: 15
2018-19 Statistics
The Skinny: 6-foot-4 student of the game credited with one of highest hockey IQ's in draft

13. Arthur Kaliyev
C | Hamilton (OHL) | 6'2 | 194 lbs. | Jan. 26, 2001 | Last Rank: 9
2018-19 Statistics
GP

67

G

51

PTS

102

+/-

-13
The Skinny: Elite goal-scorer earned precisely same number of assists (51) as goals

14. Dylan Cozens
C | Lethbridge (WHL) | 6'3 1/4 | 183 lbs. | Feb. 9, 2001 | Last Rank: 6
2018-19 Statistics
The Skinny:
2018 WHL top rookie ranked 1
st
in skating tests at 2019 CHL Prospects Game

15. Spencer Knight
G | USA U18 (USHL) | 6'3 1/2 | 193 lbs. | Apr. 19, 2001 | Last Rank: 13
2018-19 Statistics
GP

39

GAA

2.36

SV%

.913

SO

2
The Skinny: Could become highest-drafted goalie since Jack Campbell (No. 11) in 2010

16. Cam York
D | USA U18 (USHL) | 5'11 1/4 | 172 lbs. | Jan. 5, 2001 | Last Rank: 19
2018-19 Statistics
The Skinny: Earned U.S. Program single-season defenceman-record 65 points in 63 games

17. Raphael Lavoie
LW/RW | Halifax (QMJHL) | 6'4 | 199 lbs. | Sept. 25, 2000 | Last Rank: 18
2018-19 Statistics
The Skinny: The 199-pounder scored Quebec League playoff-high 20 goals in 23 games

18. Alex Newhook
C | Victoria (BCHL) | 5'10 1/2 | 192 lbs. | Jan. 28, 2001 | Last Rank: 27
2018-19 Statistics
The Skinny: Newfoundlander led BCHL in regular season and post-season scoring

19. Ilya Nikolaev
C | Yaroslavl (MHL) | 5'11 3/4 | 190 lbs. | Jun. 26, 2001 | Last Rank: 12
2018-19 Statistics
The Skinny: Scored 5 goals and added 3 assists for 8 points in just 6 playoff games

20. Bobby Brink
C/RW | Sioux City (USHL) | 5'10 | 163 lbs. | Jul. 8, 2001 | Last Rank: 21
2018-19 Statistics
The Skinny: USHL forward of the year averaged league-high 1.58 points per game


21. Egor Afanasyev
Left Wing | Muskegon (USHL) | 6'3 1/4 | 204 lbs. | Jan. 23, 2001 | Last Rank: 24
2018-19 Statistics
The Skinny: More than quadrupled point total season over season from 14 to 62

22. Connor McMichael
C/LW | London (OHL) | 5'11 3/4 | 182 lbs. | Jan. 15, 2001 | Last Rank: 32
2018-19 Statistics
The Skinny: Longest pointless streak of season with London was just 2 games

23. Phillip Tomasino
C | Niagara (OHL) | 5'11 3/4 | 183 lbs. | Jul. 28, 2001 | Last Rank: 38
2018-19 Statistics
The Skinny: Voted one of best skaters and most improved players in OHL Coaches Poll

24. Vladislav Kolyachonok
D | Flint (OHL) | 6'1 | 189 lbs. | May 26, 2001 | Last Rank: 33
2018-19 Statistics
The Skinny: Blueliner named top 3 player for Belarus at 2019 World U-18 Tournament

25. Victor Soderstrom
D | Brynas (SHL) | 6'0 | 182 lbs. | Feb. 26, 2001 | Last Rank: 20
2018-19 Statistics
The Skinny: Only U-18 player to have regular role in Swedish League this season

26. Moritz Seider
D | Mannheim (DEL) | 6'3 | 208 lbs. | Apr. 6, 2001 | Last Rank: 30
2018-19 Statistics
The Skinny: German Elite League rookie of year played most of season as 17-year-old

27. Tobias Bjornfot
D | Djurgardens (J20) | 6'0 1/4 | 193 lbs. | Apr. 6, 2001 | Last Rank: 23
2018-19 Statistics
The Skinny: Captained Sweden to gold medal performance at 2019 World U-18 Tournament

28. Nicholas Robertson
LW | Peterborough (OHL) | 5'8 3/4 | 162 lbs. | Sept. 11, 2001 | Last Rank: 26
2018-19 Statistics
The Skinny: Point-a-game player voted East Conference's best stickhandler in OHL Coaches Poll

29. Ryan Suzuki
C | Barrie (OHL) | 6'0 3/4 | 180 lbs. | May 28, 2001 | Last Rank: 28
2018-19 Statistics
The Skinny: 2017 OHL No. 1 pick tied for Hlinka Gretzky Cup lead in assists with 7 in 5 games

30. Brett Leason
RW | Prince Albert (WHL) | 6'4 | 210 lbs. | Apr. 30, 1999 | Last Rank: 31
2018-19 Statistics
The Skinny: 20-year-old with 89 points in 55 games ranks as oldest elite prospect in draft

31. Matthew Robertson
D | Edmonton (WHL) | 6'3 1/4 | 200 lbs. | Mar. 9, 2001 | Last Rank: 29
2018-19 Statistics
The Skinny: Edmonton defenceman went from minus-18 last season to plus-18 this season
No. 32 - 93
| RK | Player | Team | POS | HT | WT | GP | G | P |
| --- | --- | --- | --- | --- | --- | --- | --- | --- |
| 32 | Jamieson Rees | Sarnia (OHL) | C | 5'10 ¼ | 182 | 37 | 10 | 32 |
| 33 | Jakob Pelletier | Moncton (QMJHL) | C/LW | 5'9 ¼ | 165 | 65 | 39 | 89 |
| 34 | Brayden Tracey | Moose Jaw (WHL) | LW | 6'0 ½ | 170 | 66 | 36 | 81 |
| 35 | Hunter Jones | Peterborough (OHL) | G | 6'4½ | 202 | 57 | 3.31 | .902 |
| 36 | Ville Heinola | Lukko (SM Liiga) | D | 5'11 ¾ | 178 | 34 | 2 | 14 |
| 37 | Marshall Warren | USA U18 (USHL) | D | 5'11 | 170 | 58 | 8 | 34 |
| 38 | Ryan Johnson | Sioux Falls (USHL) | D | 6'0 | 170 | 54 | 6 | 25 |
| 39 | Jayden Struble | St. Sebastians (USHS) | D | 6'0 ¼ | 205 | 28 | 10 | 40 |
| 40 | Shane Pinto | Lincoln (USHL) | C/RW | 6'2 | 195 | 56 | 28 | 59 |
| 41 | Albin Grewe | Djurgardens (SWE J20) | RW | 5'11 ¼ | 190 | 25 | 13 | 34 |
| 42 | Nathan Legare | Baie Comeau (QMJHL) | RW | 6'0 ¼ | 206 | 68 | 45 | 87 |
| 43 | Simon Holmstrom | HV71 (SWE J20) | RW | 6'0 ¾ | 193 | 31 | 7 | 20 |
| 44 | Pavel Dorofeyev | Magnitigorsk (MHL) | C | 6'0 ¾ | 176 | 19 | 17 | 31 |
| 45 | John Beecher | USA U18 (USHL) | C/LW | 6'3 ¾ | 212 | 63 | 15 | 43 |
| 46 | Patrik Puistola | Tappara (SM Liiga Jr) | RW | 6'0 ½ | 175 | 25 | 11 | 22 |
| 47 | Vladislav Firstov | Waterloo (USHL) | LW | 6'0 | 180 | 62 | 26 | 58 |
| 48 | Nolan Foote | Kelowna (WHL) | LW | 6'3½ | 195 | 66 | 36 | 63 |
| 49 | Jackson LaCombe | S. St. Mary's (USHS) | D | 6'1 ¾ | 187 | 46 | 19 | 67 |
| 50 | Pyotr Kochetkov | Ryanzan (MHL) | G | 6'3½ | 180 | 18 | 2.13 | .930 |
| 51 | Yegor Spiridonov | Magnitigorsk (MHL) | C/LW | 6'2 | 190 | 43 | 15 | 41 |
| 52 | Samuel Poulin | Sherbrooke (QMJHL) | C/LW | 6'1 | 212 | 67 | 29 | 76 |
| 53 | Alex Vlasic | USA U18 (USHL) | D | 6'5 ¾ | 198 | 61 | 4 | 27 |
| 54 | Karl Henriksson | Frolunda (SWE J20) | C | 5'9 ¼ | 176 | 45 | 13 | 49 |
| 55 | Harrison Blaisdell | Chilliwack (BCHL) | C/LW | 5'11 | 186 | 51 | 33 | 58 |
| 56 | Marcus Kallionkieli | Sioux City (USHL) | LW | 6'2 | 195 | 58 | 29 | 53 |
| 57 | Lassi Thomson | Kelowna (WHL) | D | 6'0 | 186 | 63 | 17 | 41 |
| 58 | Alex Campbell | Victoria (BCHL) | LW | 5'10 ¼ | 154 | 53 | 21 | 67 |
| 59 | Robert Mastrosimone | Chicago (USHL) | LW | 5'10 | 159 | 54 | 31 | 60 |
| 60 | Kaedan Korczak | Kelowna (WHL) | D | 6'3 | 194 | 68 | 4 | 33 |
| 61 | Nils Hoglander | Rögle (SHL) | LW | 5'9 ½ | 188 | 50 | 7 | 14 |
| 62 | Colten Ellis | Rimouski (QMJHL) | G | 6'1 | 188 | 46 | 2.47 | .910 |
| | | | | | | | | |
| 63 | Leevi Aaltonen | Kalpa (SM Liiga Jr) | RW | 5'8 ½ | 154 | 29 | 12 | 36 |
| 64 | Nikita Alexandrov | Charlottetown (QMJHL) | C | 6'0 ½ | 190 | 64 | 27 | 61 |
| 65 | Semyon Chistyakov | Ufa (MHL) | D | 5'10 | 167 | 32 | 1 | 11 |
| 66 | Matias Maccelli | Dubuque (USHL) | LW | 5'11 | 165 | 62 | 31 | 72 |
| 67 | John Farinacci | Dexter Academy (USHS) | C | 5'11 | 190 | 16 | 12 | 33 |
| 68 | Jordan Spence | Moncton (QMJHL) | D | 5'10 | 177 | 68 | 6 | 49 |
| 69 | Kirill Slepets | Yaroslavl (MHL) | RW | 5'10 | 165 | 17 | 12 | 18 |
| 70 | Layton Ahac | Prince George (BCHL) | D | 6'2 ½ | 190 | 25 | 2 | 11 |
| 71 | Henry Thrun | USA U18 (USHL) | D | 6'2 | 188 | 55 | 8 | 36 |
| 72 | Roman Bychkov | Yaro (MHL) | D | 5'11 ¼ | 170 | 40 | 2 | 15 |
| 73 | Zachary Jones | Tri-City (USHL) | D | 5'10 | 172 | 56 | 7 | 52 |
| 74 | Daniil Misyul | Yaroslavl (MHL) | D | 6'3 | 176 | 46 | 4 | 10 |
| 75 | Antti Saarela | Lukko Jr. (SM Liiga Jr) | C | 5'11 ¾ | 190 | 21 | 7 | 15 |
| 76 | Mikhail Abramov | Victoriaville (QMJHL) | C | 5'10 ¾ | 161 | 62 | 16 | 54 |
| 77 | Taylor Gauthier | Prince George (WHL) | G | 6'1 ¼ | 193 | 55 | 3.25 | .899 |
| 78 | Ronnie Attard | Tri-City (USHL) | D | 6'3 ¾ | 205 | 43 | 26 | 55 |
| 79 | Patrick Moynihan | USA U18 (USHL) | LW/RW | 5'11 ¼ | 183 | 55 | 19 | 42 |
| 80 | Cade Webber | Rivers Academy (USHS) | D | 6'5 ¼ | 205 | 29 | 12 | 26 |
| 81 | Ilya Mironov | Yaroslavl (MHL) | D | 6'3 | 201 | 36 | 1 | 6 |
| 82 | Reece Newkirk | Portland (WHL) | C | 5'10 ¾ | 172 | 68 | 23 | 59 |
| 83 | Antti Tuomisto | Assat (SM Liiga Jr) | D | 6'4 ½ | 193 | 45 | 9 | 35 |
| 84 | Hugo Alnefelt | HV71 (SWE J20) | G | 6'2 ¾ | 183 | 24 | 2.59 | .905 |
| 85 | Drew Helleson | USA U18 (USHL) | D | 6'3 | 194 | 55 | 5 | 20 |
| 86 | Quinn Olson | Okotoks (AJHL) | LW | 5'10 ½ | 170 | 54 | 20 | 66 |
| 87 | Trevor Janicke | Central Illinois (USHL) | C | 5'10 | 190 | 52 | 20 | 42 |
| 88 | Samuel Bolduc | B-Boisbriand (QMJHL) | D | 6'4 ¼ | 209 | 65 | 9 | 37 |
| 89 | Samuel Fagemo | Frolunda (SHL) | LW | 6'0 | 190 | 42 | 14 | 25 |
| 90 | Alex Beaucage | R-Noranda (QMJHL) | RW | 6'1 ¾ | 192 | 68 | 39 | 79 |
| 91 | Michael Vukojevic | Kitchener (OHL) | D | 6'3 ¼ | 212 | 68 | 3 | 29 |
| 92 | Trent Miner | Vancouver (WHL) | G | 6'1 | 187 | 32 | 1.98 | .924 |
| 93 | Max Crozier | Sioux Falls (USHL) | D | 6'1 ¼ | 195 | 60 | 10 | 43 |