Craig's List: Dahlin dominating, one Canadian in Top 10
It's not shaping up to be a banner year for Canada in the top half of the NHL Draft, Craig Button writes, with Barrett Hayton of the Sault St. Marie Greyhounds the lone Canadian in the top 10 of his November rankings.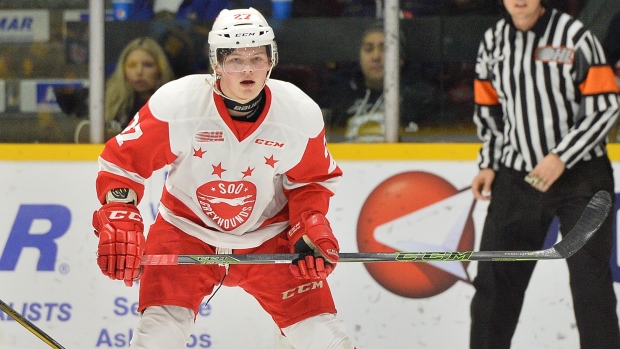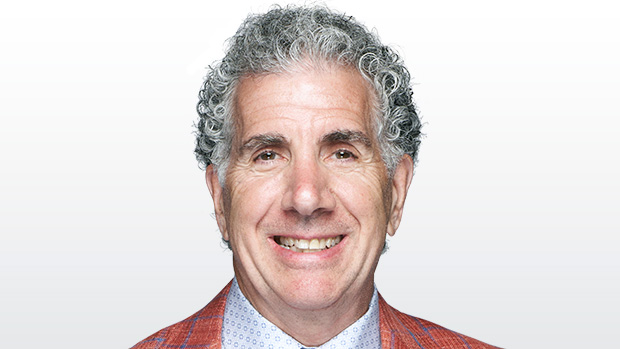 Swedish blueliner Rasmus Dahlin is the undisputed best player available in the 2018 NHL Entry Draft. In fact, there's no other player close to him.
The Frolunda HC blueliner is to this draft and to teams looking for an elite No. 1 defenceman what Connor McDavid and Auston Matthews were to their respective drafts as elite No. 1 centres. When you watch him play it's easy to forget he's just 17 because his command of the game is so complete.
His participation in the Olympics may have looked like a long shot at the beginning of the season, but his play in the Swedish Hockey League and, most recently, with the Swedish national team at the Karjala Cup make it look more and more like a very real possibility.
Fellow Swedish defenceman Adam Boqvist remains in the second spot in our rankings. The top five is rounded out by injured Barrie Colts right wing Andrei Svechnikov (No. 3), who is recovering from wrist surgery, Boston University left wing Brady Tkachuk (No. 4) and Halifax Mooseheads right wing Filip Zadina, who jumps to No. 5 from No. 10 in our September rankings after racking up 16 goals and 30 points in his first 21 games this season.
Elsewhere in the top 10, Bode Wilde of the U.S. National Team Development Program vaults up to No. 6 from No. 25 in September. The defenceman was a bit under the radar at the start of the season, but there's nothing he can't do on the ice. His confidence is increasing, which has translated to a great command of any game he plays in.
This is not shaping up to be a banner year for Canada in the top half of the draft. While the quantity is very good, the quality in the top 10 includes just one Canadian player – Barrett Hayton of the Sault St. Marie Greyhounds (No. 9). While not putting up gaudy numbers (8-8-16 in 19 games), he's a very good two-way centre who is productive in a manner similar to Boston Bruins star Patrice Bergeron.
Ryan Merkley of the Guelph Storm (No. 13) is a gifted defenceman who has magnificent creativity and poise with the puck that allows him to do things as the play evolves. When you watch him play, he looks like the type of defenceman that is having success in today's NHL. He could find himself in the top 10 of the draft when it's all said and done. Merkley (6-18-24 in 19 games) continues to make strides and will be a very interesting player for NHL teams to monitor as the season progresses.
Saint John Sea Dogs centre Joe Veleno (No. 25) was granted exceptional status in the QMJHL as a 15-year-old. While his skills are good (4-17-21 in 22 games), there isn't a level of play that is in the same class as previous exceptional status players John Tavares, Aaron Ekblad and McDavid, who were all selected first overall in their respective NHL drafts.
Craig's List - November Ranking
| RK | Player | Team | POS | HT | WT | GP | G | P |
| --- | --- | --- | --- | --- | --- | --- | --- | --- |
| 1 | Rasmus Dahlin | Frolunda (SHL) | D | 6'2 | 181 | 16 | 3 | 7 |
| 2 | Adam Boqvist | Brynäs (SWE J20) | D | 5'10 ¾ | 168 | 13 | 5 | 11 |
| 3 | Andrei Svechnikov | Barrie (OHL) | RW | 6'1 ½ | 188 | 10 | 10 | 14 |
| 4 | Brady Tkachuk | Boston U (NCAA) | LW | 6'2 | 194 | 12 | 0 | 8 |
| 5 | Filip Zadina | Halifax (QMJHL) | RW | 6'0 | 198 | 21 | 16 | 30 |
| 6 | Bode Wilde | USA NTDP (USHL) | D | 6'2 ½ | 197 | 17 | 3 | 13 |
| 7 | Quinn Hughes | Michigan (NCAA) | D | 5'9 | 167 | 10 | 1 | 6 |
| 8 | Rasmus Kupari | Kärpät (SM Liiga) | C | 6'1 ¼ | 183 | 17 | 3 | 4 |
| 9 | Barrett Hayton | S.S. Marie (OHL) | C | 6'1 | 186 | 19 | 8 | 16 |
| 10 | Oliver Wahlstrom | USA NTDP (USHL) | C | 6'0 ¾ | 195 | 17 | 12 | 24 |
| 11 | Joel Farabee | USA NTDP (USHL) | LW | 5'11 | 152 | 17 | 11 | 21 |
| 12 | Jack McBain | Toronto (OJHL) | C | 6'3 ¼ | 196 | 25 | 11 | 34 |
| 13 | Ryan Merkley | Guelph (OHL) | D | 5'11 | 170 | 19 | 6 | 24 |
| 14 | Isac Lundestrom | Luleå (SHL) | C/LW | 5'11 ¼ | 178 | 16 | 3 | 7 |
| 15 | Jacob Olofsson | Timra (SWE-Als) | C | 6'2 | 185 | 15 | 4 | 5 |
| 16 | Ryan McLeod | Mississuaga (OHL) | C/LW | 6'2 | 190 | 19 | 7 | 23 |
| 17 | Noah Dobson | Acadie-Bathurst (QMJHL) | D | 6'2 ½ | 178 | 22 | 1 | 18 |
| 18 | Ty Smith | Spokane (WHL) | D | 5'10 ¼ | 176 | 20 | 3 | 21 |
| 19 | Jared McIsaac | Halifax (QMJHL) | D | 6'1 | 195 | 20 | 0 | 10 |
| 20 | Evan Bouchard | London (OHL) | D | 6'1 ½ | 190 | 18 | 4 | 19 |
| 21 | Jett Woo | Moose Jaw (WHL) | D | 5'11 ¾ | 205 | 18 | 6 | 17 |
| 22 | Jesperi Kotkaniemi | Ässät (SM Liiga) | C | 6'1 ½ | 188 | 21 | 5 | 9 |
| 23 | Filip Hallander | Timra (SWE-Als) | C/LW | 6'0 | 178 | 15 | 4 | 10 |
| 24 | Benoît-Olivier Groulx | Halifax (QMJHL) | C | 6'0 ¾ | 192 | 21 | 11 | 18 |
| 25 | Joe Veleno | Saint John (QMJHL) | C | 6'1 | 195 | 22 | 4 | 21 |
| 26 | Akil Thomas | Niagara (OHL) | RW | 5'11 | 169 | 18 | 5 | 19 |
| 27 | Mattias Samuelsson | USA NTDP (USHL) | D | 6'3 ¼ | 209 | 16 | 4 | 9 |
| 28 | Dmitri Zavgorodny | Rimouski (QMJHL) | LW | 5'9 | 161 | 20 | 8 | 17 |
| 29 | Adam Ginning | Linköping (SHL) | D | 6'2 ¾ | 196 | 9 | 0 | 0 |
| 30 | Albin Eriksson | Skellefteå (SWE J20) | LW | 6'4 ¼ | 207 | 15 | 7 | 14 |
| 31 | Allan McShane | Oshawa (OHL) | C | 5'10 ½ | 190 | 20 | 8 | 4 |
| 32 | Rasmus Sandin | S.S. Marie (OHL) | D | 5'10 ¾ | 183 | 7 | 1 | 6 |
| 33 | Curtis Hall | Youngstown (USHL) | C | 6'2 | 194 | 12 | 6 | 10 |
| 34 | Alexander Khovanov | Moncton (QMJHL) | C | 5'11 | 187 | | | |
| 35 | Serron Noel | Oshawa (OHL) | RW | 6'4 | 200 | 16 | 10 | 14 |
| 36 | David Gustafsson | HV 71 (SHL) | C | 5'11 ½ | 196 | 15 | 1 | 2 |
| 37 | Jonatan Berggren | Skellefteå (SWE J20) | LW | 5'10 | 181 | 18 | 8 | 19 |
| 38 | Blake McLaughlin | Chicago (USHL) | LW | 5'11 | 156 | 11 | 4 | 15 |
| 39 | Calen Addison | Lethbridge (WHL) | D | 5'9 ¾ | 179 | 18 | 4 | 18 |
| 40 | Tyler Weiss | USA NTDP (USHL) | C/LW | 5'10 ¼ | 143 | 17 | 4 | 8 |
| 41 | Xavier Bouchard | Baie Comeau (QMJHL) | D | 6'3 ¼ | 191 | 20 | 0 | 5 |
| 42 | Alexander Alexeyev | Red Deer (WHL) | D | 6'3 ½ | 184 | 11 | 1 | 9 |
| 43 | Kryštof Hrabik | B. nad Jizerou (CZE WSM2) | LW | 6'3 | 209 | 18 | 1 | 7 |
| 44 | Grigori Denisenko | Yaroslavl (MHL) | LW | 5'11 | 163 | 17 | 2 | 10 |
| 45 | Axel Andersson | Djurgarden (SWE J20) | D | 5'11 ¾ | 178 | 18 | 2 | 14 |
| 46 | Olivier Rodrigue | Drummondville (QMJHL) | G | 6'0 ¼ | 155 | 17 | 2.74 | 0.891 |
| 47 | Jakub Lauko | Chomutov (CZE Extra) | LW | 6'0 | 169 | 18 | 1 | 3 |
| 48 | Nando Eggenberger | Davos (SUI NLA) | LW/RW | 6'2 | 185 | 15 | 2 | 4 |
| 49 | Filip Johansson | Leksands (SWE J20) | D | 6'0 ½ | 174 | 20 | 4 | 4 |
| 50 | Giovanni Vallati | Kitchener (OHL) | D | 6'1 | 176 | 17 | 2 | 10 |
| 51 | Jonathon Tychonick | Penticton (BCHL) | D | 5'11 ¼ | 166 | 19 | 5 | 11 |
| 52 | Kevin Bahl | Ottawa (OHL) | D | 6'5 ¾ | 225 | 21 | 0 | 9 |
| 53 | Gabriel Fortier | Baie Comeau (QMJHL) | LW | 5'9 | 164 | 20 | 10 | 22 |
| 54 | Adam Samuelsson | USA NTDP (USHL) | D | 6'5 ¾ | 240 | 17 | 3 | 1 |
| 55 | Oskar Back | Färjestads (SWE J20) | C | 6'2 ¼ | 192 | 15 | 3 | 11 |
| 56 | Luka Burzan | Moose Jaw (WHL) | C | 5'11 ¾ | 185 | 19 | 2 | 9 |
| 57 | K'Andre Miller | USA NTDP (USHL) | D | 6'3 ½ | 194 | 17 | 0 | 3 |
| 58 | Kody Clark | Ottawa (OHL) | RW | 6'0 ¾ | 172 | 21 | 9 | 17 |
| 59 | Declan Chisholm | Peterborough (OHL) | D | 6'0 ¼ | 183 | 21 | 1 | 10 |
| 60 | Jesse Ylonen | Espoo (FIN) | RW | 5'11 ¾ | 160 | 12 | 2 | 5 |
| 61 | Nico Gross | Oshawa (OHL) | D | 5'11 ¾ | 183 | 17 | 2 | 6 |
| 62 | Lukas Wernblom | Modo (SHL) | LW | 5'9 | 154 | 14 | 0 | 0 |
| 63 | Lukáš Dostal | Brno (Cze Jr) | G | 6'0 ¾ | 158 | | | |
| 64 | Philipp Kurashev | Quebec (QMJHL) | RW | 5'11 ½ | 181 | | | |
| 65 | Gavin Hain | USA NTDP (USHL) | C | 5'11 ¼ | 190 | | | |
| 66 | Alexis Gravel | Halifax (QMJHL) | G | 6'2 ½ | 226 | | | |
| 67 | Jake Wise | USA NTDP (USHL) | C | 5'9 ¾ | 185 | | | |
| 68 | Ty Dellandrea | Flint (OHL) | C/RW | 5'11 ¾ | 180 | | | |
| 69 | Jay O'Brien | Thayer (USHS) | C | 6'0 | 175 | | | |
| 70 | Anderson MacDonald | Moncton (QMJHL) | LW | 6'1 ½ | 205 | | | |
| 71 | Adam McMaster | North Bay (OHL) | C | 5'10 ½ | 165 | | | |
| 72 | Carter Robertson | Ottawa (OHL) | D | 6'2 | 178 | | | |
| 73 | Riley Sutter | Everett (WHL) | C | 6'2 ¾ | 202 | | | |
| 74 | Philippe Lapointe | Lincoln (USHL) | RW | 5'10 ½ | 193 | | | |
| 75 | Alec Regula | London (OHL) | D | 6'3 | 201 | | | |