Crosby: 'I didn't try to throw' water bottle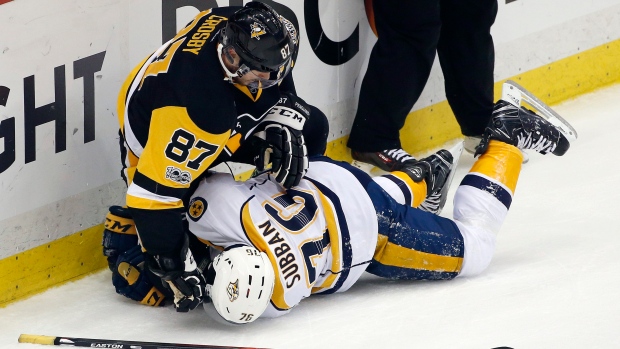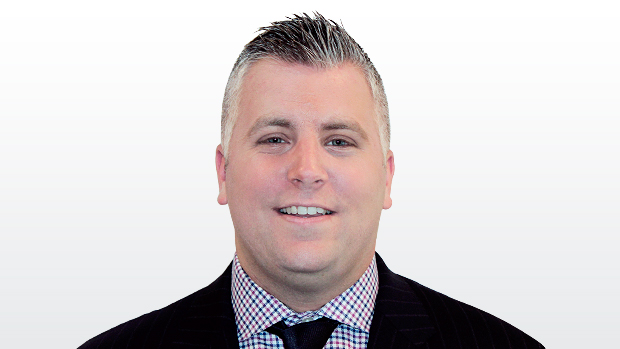 Sidney Crosby said he didn't mean to do it.
Yes, the water bottle went flying across the ice. Yes, Crosby admitted he "thought there was a penalty there" that went uncalled. But the Penguins' captain said he "didn't try to throw" the water bottle in the second period on Thursday night.
"I made a gesture and it came flying out of my hand," Crosby said. "I didn't try to throw it. I know it ends up on the ice, but I wouldn't start throwing bottles at this point. I haven't done it yet … To be honest, I can't even tell you the specific play, but I remember being surprised when it comes out of my hand."
Crosby tried to make light of the situation, saying: "I've got a better arm than that anyway."
Nonetheless, Crosby was not given a penalty for Thursday night's water bottle incident, which is a bench minor penalty according to Rule 75 for unsportsmanlike conduct. It was probably tough to distinguish who exactly threw the bottle.
Crosby did skate over to referees Wes McCauley and Brad Meier to smooth over the situation.
"I just wanted to let him know I didn't mean to do that," Crosby said. "Obviously if they see a water bottle on the ice, they're probably wondering how it got out there. I was trying to explain I had no intention of doing that."
Crosby, 29, is now one win away from trading a green Gatorade bottle for a third silver chalice of Lord Stanley. He passed Mario Lemieux for most Stanley Cup Final points (20) in franchise history in Game 5 and can one-up his owner in the terms of Cups won as a player by closing out the Predators.
Whenever it is over, though, this Stanley Cup Final will be remembered for the bizarre sideshow that has enveloped Crosby and P.K. Subban.
Subban shook his head on Thursday night, trying to find the words to rationalize it all.
There was Crosby, attempting to cross-check the bad breath out of Subban with repeated blows to the back of the head behind the net late in the first period, while simultaneously mashing his face into the ice.
"It's hockey, man," Subban said. "Just hockey."
Subban was not willing to engage in another war of words with Crosby after Game 5's 6-0 shellacking.
It was Subban, of course, who relayed that Crosby told him his breath smelled as they skated off the ice in Game 3. Crosby responded that Subban "made it up." Subban then arrived for Game 4 carrying a bag loaded with Listerine in plain sight - for hockey's biggest international media contingent to film and talk about.
Crosby was asked if Subban wrapping him up in the off-ice chatter made him hate his former Team Canada teammate like he hates the Flyers. Maybe not, but it seems close.
"Everyone is out there trying to compete," Crosby said. "He's out there trying to do his job and I'm trying to do mine. Both teams want the same thing and they're both doing their best to try and accomplish it."
Maybe, just maybe, Subban poked the bear. Since then, Crosby responded with a full-tilt Game 4 and breakaway goal, then three assists in Game 5 for his 56th career multi-point playoff game, which ranks him fourth all-time in NHL history.
Crosby said Subban lost his stick and had him in a leg lock while they were tangled in their Game 5 melee.
"He was doing some UFC move on my foot there," Crosby said. "I don't know what he was doing. I was trying to get out of there."
Both Crosby and Subban went to the box with coincidental minor penalties.
That isn't how Predators coach Peter Laviolette saw it, with the game's biggest name at the centre of all the action but his team no worse for wear.
"I don't understand it," Laviolette said. "I don't understand the call. I saw my guy get his head cross-checked in the ice 10 times. I don't even know what [Subban] did, I'm not sure. I disagree with the call."
Contact Frank Seravalli on Twitter: @frank_seravalli