Crosby on Kessel rumours: 'There's always going to be talk'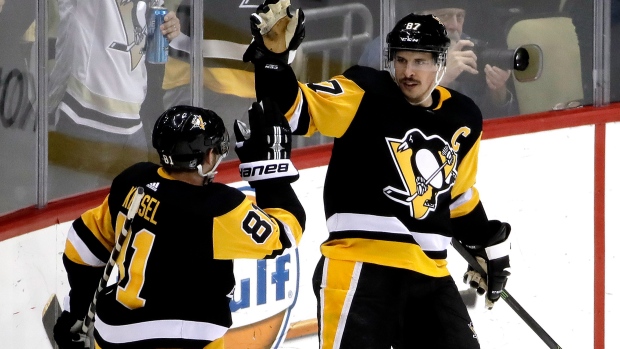 Phil Kessel may be tied for the Pittsburgh Penguins' scoring lead, but that hasn't stopped trade rumours from swirling around the winger once again this week.
Kessel scored two goals and posted four points in Thursday's win over the New York Islanders to bring his season totals to 12 goals and 33 points in 27 games. Playing on a line with Sidney Crosby after Patric Hornqvist sustained an injury, he ended a seven-game goal drought and combined with Crosby for seven points in the 6-2 win.
After the game, Crosby did his best to dispel the trade rumours around Kessel while praising the 31-year-old's contributions.
"There's always going to be talk," Crosby said, per The Athletic. "And there's always going to be some things said outside of this room, the kind of stuff that we don't really have any control over. All I know is, we appreciate all the things he brings to this team."
Kessel posted a career-high 92 points last season, but rumours surrounded his future in the off-season due to a reported rift with head coach Mike Sullivan over linemates. With about a third of the season complete, Kessel is on pace to record 100 points this season and top 35 goals for the first time since 2013-14.
"We definitely appreciate all the things he can do for us," Crosby continued. "Look at what he does, look at how much he produces, how dangerous he can be every night."
While it's unclear how long Hornqvist will be sidelined, Crosby made it clear on Thursday that he enjoyed aligning with Kessel, who started the game on a line with Derick Brassard and Zach Aston-Reese.
"Phil's really smart," Crosby said. "He always, always knows where to go. He knows when to go to the net. I thought he was really good tonight.
"We generated some good chances together."