Crosby reflective ahead of joining NHL's 1,000-point club
The career scoring milestone will serve as a natural reflection point on a journey that has been arduous at times for the Pittsburgh Penguins star, Frank Seravalli writes.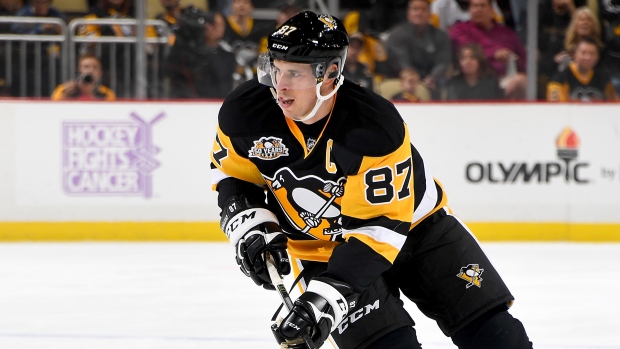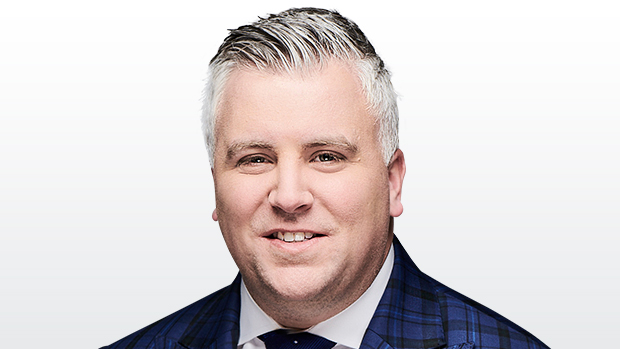 PITTSBURGH — The puck won't rest in Sidney Crosby's hands long. It never does.
After Penguins equipment manager Dana Heinze wraps the edge in white cloth tape, sharpies "1,000 POINTS" on the strand and Crosby poses for a photo or two, he will pass the puck to his father, Troy, for safekeeping.
"I'd put it somewhere and then find it a few months later," Crosby said, laughing.
Crosby doesn't know the precise location of the puck that netted his 500th career point or other milestones. They exist. Somewhere.
It's not that they don't matter. They just came earlier. And easier.
"I don't feel old," Crosby said. "But I think there are times when you are younger, where it feels like an extension of junior hockey and you get used to hitting certain milestones."
Crosby is three points shy of No. 1,000. He can reach the millennium mark as soon as Tuesday night when Pittsburgh hosts Calgary, a crowning achievement that has seemed a foregone conclusion since he burst onto the scene in 2005.
For some NHL players, 1,000 minutes – let alone 1,000 games - is a career achievement. For those of Crosby's ilk, 1,000 points is simply a minimum criterion for membership in the most elite scoring club. Eighty-five players have hit that plateau, including plenty who were more continuous compilers than genuine game-breakers.
Yet, for as much as the moment will seem like a celebration of the inevitable or a mere waypoint on the path to greater statistical heights, it will also serve as a natural reflection point on a journey that has been arduous at times.
Numbers normally don't mean much to Crosby. But this puck will not be taken for granted.
There are no guarantees of 1,000 points - even for the all-time greats. Ask Eric Lindros. Or Peter Forsberg.
"I think you look at it a little bit differently as you get older, you try and enjoy it a little bit," Crosby said. "I understand when you get to those numbers as you get older, there's only so many cracks you have at certain points like that."
The Penguins will play at Heinz Field later this month for the first time since Crosby's season was effectively ended there by Washington's David Steckel in 2011. Crosby said Monday that he still hasn't felt as good as he did before that hit.
In some of Crosby's darkest moments in 2011 or 2012, he wondered whether he would ever play again. Or, if he did, whether he'd get back to that level again.
"It's hard for it not to creep into your mind," Crosby said Monday. "A lot of different things go through your head as far as playing again. There [was] a lot of time sitting around waiting. It's hard for that not to cross your mind."
Crosby will soon join Alex Ovechkin and Henrik Sedin on a short list of players to net 1,000 points in the hardest post-expansion era ever to score - and none did it faster than Crosby. His career average of 1.33 points-per-game makes him the model of consistency, even more so when accounting for the era – and the 166 games Crosby has missed to multiple concussions, a neck injury, a fractured jaw and high ankle sprain.
Whenever Crosby hits 1,000, he will be listed in NHL annals as the 12th fastest player in history, possibly in as quickly as 753 games.
His milestone is actually more impressive than that. When adjusting the other 11 players to the same goals-per-game scored during Crosby's career, he is set to become the third-fastest of all-time, behind only Wayne Gretzky and Mario Lemieux. An average of 5.6 goals per-game have been scored in Crosby's 12 NHL seasons, compared to the 7.9 goals per-game average during the first half of Gretzky's career.
"I don't like to compare," Crosby said. "It's different. It's hard to compare. I have a lot of respect for all of those guys. One thousand points, no matter what era, is pretty good. There's always going to be debates. You can always look at different things and different scenarios. I think you just appreciate what you have."
Former teammate Bill Guerin, now the Penguins' assistant GM - and Crosby's current teammates - have noticed a change in how No. 87 has adapted to scoring on the way to No. 1,000. He has 368 goals and 629 assists, but he's scoring goals at his second-best clip in his career.
Crosby leads the NHL in goals (30) and trails Edmonton's Connor McDavid by one point in the scoring race. Eleven years ago, he used to score like McDavid does now.
"He would be splitting the D, sliding on the ice, crashing into the goalie," Guerin said. "He was ridiculous."
"Now, it's amazing to see how his game has evolved a little bit as he's gotten older and figured out different ways to score, aside from the end-to-end rush where he flies through everybody," Matt Cullen said. "It's pretty unbelievable when you think about it."
Guerin said Crosby makes his points look easier to come by now than when he was producing high-flying, highlight-reel assaults a decade ago. No NHL player has more goals than Crosby since Jan. 1, 2016. A high percentage of Crosby's goals now come from within a 15-foot radius around the net – but they are in all different varieties: one-timers, batting pucks out of mid-air, rebound put-backs, off-angle shots, and even a consistent few from behind the goal line.
It takes a more nuanced view to appreciate the under-the-radar difference-making moves in games that produce wins.
"He plays a mature, solid game," Guerin said. "There is no panic."
It wasn't always that way. Pittsburgh's cross-state rival, the Flyers, bounced Crosby and the Penguins out in the first round in 2012 because they knew how to rattle him. He was an easy target.
"You could always kind of play him," Guerin said. "You could get to him. Now, he doesn't show emotion as much. You wouldn't know if he's not enjoying his night. I think part of that is experience, like getting knocked out early in the playoffs and dealing with concussions. Part of it is just age and maturity."
Even during his career-worst slump last season under Mike Johnston, Crosby appeared to sometimes wear his disappointment on his sleeve. But Cullen said Crosby just "handles the adversity quite a bit better."
Those experiences, those trips to dark places, have made him more reflective. Closing in on 1,000, he said he's found himself thinking about teammates from years past, how fortunate he's been to play on good teams, and his health.
It's funny. You never really think about health until you don't have it.
"You definitely appreciate it," Crosby said. "One thousand, no matter how you look at it, is pretty good."
Contact Frank Seravalli on Twitter: @frank_seravalli