Crouse youngest at world junior camp but could make a big impact
Lawson Crouse is part of the youth contingent that must factor in for Canada to live up to expectations as the favourite on home ice. Aside from projected No. 1 pick Connor McDavid, Crouse is the only other 2015 NHL draft-eligible player at camp but isn't intimidated by that.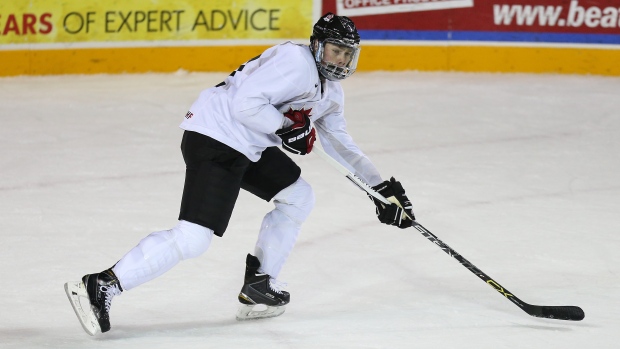 ST. CATHARINES, Ont. - Lawson Crouse looks around the ice and knows he's in unfamiliar territory. The youngest player in Canada's world junior camp hasn't skated alongside many of these teammates before because he's only 17.
But on an older team that will feature more than a dozen 19-year-olds, Crouse is part of the youth contingent that must factor in for Canada to live up to expectations as the favourite on home ice. Aside from projected No. 1 pick Connor McDavid, Crouse is the only other 2015 NHL draft-eligible player at camp but isn't intimidated by that.
"It's a different experience for myself, but I think I'm making the most of it right now," Crouse said. "Being a bigger body kind of helps. I'm bigger out there, so I kind of have a little bit more of an advantage to the smaller guys."
Crouse, who is six foot four and 211 pounds, brings a strong two-way game that could land him a solid spot on the 22-man roster. While this Canadian lineup is long on pure skill and speed, Crouse prides himself on his defensive game.
"I've figured out that it's not always about offence, but you have to manage both sides of the game," the Mount Brydges, Ont., native said Tuesday. "I'm obviously not going to be the guy that puts up 100 points. I'm going to do what I can and contribute all over the ice."
Last summer Crouse led Canada's under-18 summer team to gold at the Ivan Hlinka Memorial Cup by scoring a team-high six goals. Crouse also scored the game-winner to help Canada win bronze at the U-18 world championships in April.
If he makes the world junior team, Crouse understands he'll have a reduced role as a bottom-six winger.
"I feel like I'd have to be an energy guy, take advantage of the shifts I get if I make the team and always be positive on the bench and in the room," he said.
But Crouse isn't an insignificant piece of Canada's team, especially considering Bo Horvat won't be coming from the Vancouver Canucks and it's unlikely Curtis Lazar will be joining from the Ottawa Senators.
Crouse impressed coach Benoit Groulx during the recent Super Series against Russia in Kingston, Ont., and he continues to stand out in camp.
"He's a big body, knows how to play," Groulx said. "He's physically strong for 17 years old, skates well, plays with poise, and we like what he brings to the table."
Through the first two days of camp at Meridian Centre in St. Catharines, Crouse has skated on a line with Toronto Maple Leafs prospect Frederik Gauthier and Vancouver Canucks prospect Jake Virtanen.
So far, Crouse doesn't look like he's a step — or a year or two — behind anyone.
"He's playing up with us and he fits right in with the guys," Virtanen said. "He's really mature for his age. Just on the ice, he has a big presence on the ice and he's a bigger guy. He can throw the body around and he can shoot the puck. He pretty much has it all."
Certainly Horvat or Lazar would fit in nicely, as well. As of now, the only NHL player Canada has is New York Rangers right-winger Anthony Duclair.
The Canucks announced Monday that Horvat would be staying with them instead of playing at the world juniors, news that was a bit of a downer for Hockey Canada.
"It's disappointing, but I understand where they are," vice-president of hockey operations and national teams Scott Salmond said Tuesday. "The injury to (Zack) Kassian I think had a big impact on that."
Likewise, injuries to the Senators could be the reason they keep Lazar. With Chris Neil and Zack Smith hurt, it's increasingly unlikely Lazar will be released to play for Canada.
That's not stopping Salmond from hoping, though.
"They haven't said no. Until someone tells us no, I'm optimistic," Salmond said. "We're all happy with our group here. But Curtis Lazar could be a huge piece for us. He's a leader, he's a proven winner."
Of the 25 players left at camp after the first round of cuts, 16 of them are 19 years old, seven are 18 and just two are 17. With the 17-year-old McDavid a virtual lock to make it, Groulx said Crouse didn't have to stand out any more than anyone else to get noticed.
"He's here because he's a good player and he has a chance to be on that team," Groulx said. "We'll see how he does this week. Obviously it's going to be a big test for him (in Friday's exhibition game) against Russia."
That exhibition game will be played at Toronto's Air Canada Centre. McDavid, meanwhile, is not scheduled to play in Friday's game, Groulx said.
The team's brass still needs to make decisions on which player will serve as captain and who the No. 1 goaltender will be — Zach Fucale or Eric Comrie.
Groulx said the coaching staff is still in an "evaluation process" on the leadership group, watching players as they interact off the ice and at team meals. But now that the roster is in less of a state of flux with Horvat ruled out, the rest of the week is a chance for this group to gel.
"To be honest, we're comfortable with the players we have here," Groulx said. "My focus is really on this team here, on the players we have ... we're really happy with this group, with the way it works, the way they do things out there. I don't look anywhere else right now."
---
Follow @SWhyno on Twitter.
Note to readers: This is a corrected story. A previous version misspelled Crouse's hometown of Mount Brydges as "Mouth Brydges."