CTV's Broadcast of the 2017 Invictus Games opening ceremony delivers peak audience of 1.3 Million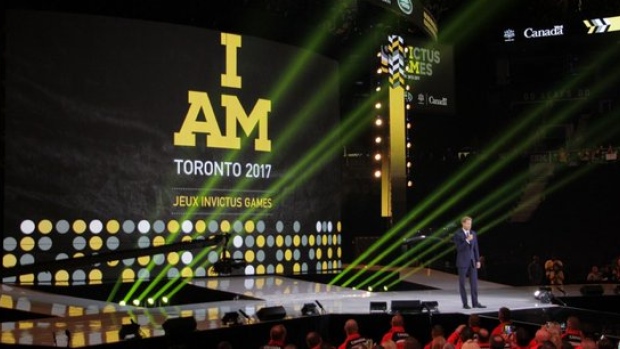 – INVICTUS GAMES TORONTO 2017 OPENING CEREMONY ranked as the #1 program of the day across all networks –

– CTV was home to the top two primetime broadcasts, with the premiere of UNCONQUERED: W5 INVICTUS GAMES SPECIAL attracting 440,000 viewers –
TORONTO (September 25, 2017) – Featuring powerful stories of heroism and sacrifice, prominent musical acts, and high-profile dignitaries, Saturday's moving INVICTUS GAMES TORONTO 2017 OPENING CEREMONY was a hit with Canadians across the country. Preliminary overnight data from Numeris confirms that CTV's exclusive broadcast of the Opening Ceremony delivered a peak audience of 1.3 million viewers (AMA of 987,000 viewers) as His Excellency the Right Honourable David Johnston, Governor General of Canada, declared the Games officially open at 10:23 p.m. ET.
The Opening Ceremony was the most-watched program of the day, and the #1 primetime broadcast in the key A18-49 and A25-54 demos. In total, 3.1 million Canadians tuned in to some part of the Opening Ceremony broadcast.
Leading into CTV's coverage of the Opening Ceremony, Canada's most-watched documentary series and North America's longest-running investigative series, W5, kicked off its 52nd season with the special one-hour UNCONQUERED: W5 INVICTUS GAMES SPECIAL attracting an average of 440,000 viewers and ranking as the #2 primetime broadcast for the night across all networks, solidifying CTV's position as home of the night's top two broadcasts.
Hosted by Brian Williams, TSN's live event coverage of the INVICTUS GAMES TORONTO 2017 continues throughout the week, before culminating with CTV's exclusive broadcast of the Closing Ceremony, headlined by music icon Bruce Springsteen, alongside Bachman & Turner, Bryan Adams, Coeur de Pirate, and Kelly Clarkson, on Saturday, Sept. 30 at 8 p.m. ET.
Established by Prince Harry in 2014, the INVICTUS GAMES is the only international adaptive sporting event for ill, wounded, and injured active duty and veteran service members.
Source : Numeris