Curling can be labour of love, even for sport's elite players
Just months before an Olympic gold medal turned him into a household name in his home province, Brad Gushue's team was booking one-way tickets to cashspiels and hoping the earnings would cover the cost of the flight back home.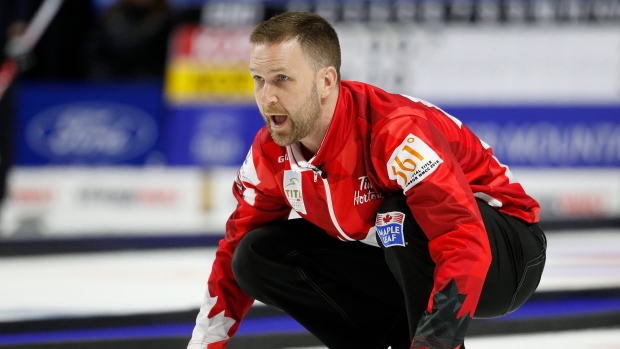 Just months before an Olympic gold medal turned him into a household name in his home province, Brad Gushue's team was booking one-way tickets to cashspiels and hoping the earnings would cover the cost of the flight back home.
Such is life on the Canadian curling scene at times. It can be a labour of love for just about everyone.
"We love playing together, we love the competition," Gushue said. "(But) we're not playing for the seven-figure salaries that some of the pro athletes are playing for."
Never mind seven figures. A six-figure salary would be a dream for many of the sport's top competitors.
Many have to rely on funding and sponsorship dollars to help make ends meet. Part-time or seasonal jobs are often the norm as curlers try to generate as much income as they can away from the ice.
"It's hard to have a regular job," said veteran skip Chelsea Carey. "There are some that still have what would technically be called a full-time job but it's harder and harder. I tried to do it a couple years ago and it's just not feasible.
"So part-time jobs, flexible hours, that kind of thing. But even that's hard to find when we're gone as much as we're gone in the winter."
Gushue's breakout season was kickstarted by a victory in Ottawa in 2005. With funds at a premium, the skip used his credit card to pay for his team's flight home to St. John's and crossed his fingers that they'd go deep in the competition.
"It turned out OK," Gushue said in a recent interview. "Back then the flights were a little bit cheaper and we only had to book one-way. I pretty well had the (credit) card maxed back then being a 24-year-old and really no income. It was a risk, for sure."
The team went on to win the event, earning $12,000 for the victory — more than enough to cover the bill for the flight. Gushue also picked up a berth in the Olympic Trials and pulled off a surprise win there before taking gold at the 2006 Turin Games.
Grand Slam appearances became more frequent and paydays improved. The team was getting more press and television facetime. Sponsors took notice.
Team Gushue was on its way and has remained one of the world's top rinks ever since.
"There were certainly some dry years after that and some years where we lost money after, but that was the breakthrough that we needed," said Gushue, who's also an entrepreneur and business owner. "So that sacrifice certainly paid off and it paid off in a pretty quick fashion really, a matter of probably two to three months."
While the top-flight Grand Slam series boasts prize money of $2.1 million over the seven-event season, playoff runs are still required to significantly boost a team's bottom line.
For example, the victors at last week's Tour Challenge in Thunder Bay, Ont., earned $20,000 while finalists took home $15,000. There were 15 men's teams and 15 women's teams in the event's Tier 1 field.
Top curlers can also earn decent money on the new Curling World Cup series and at some Season of Champions events. For example, next month's Canada Cup boasts an overall purse of $140,000.
However, payouts are significantly lower on the regular stops on the circuit.
Many events are held in local curling clubs and teams often stay four to a room in their hotels to cut costs. Entry fees, food and other expenses also have to be considered.
"It's only the guy that gets to the semi or to the final that's really generating any (meaningful) revenue," said TSN broadcaster and former curler Russ Howard. "Luckily for Gushue and (Kevin) Koe, those type of guys cash a cheque fairly often so they're doing quite nicely.
"But the poor guy that's 10th in Canada, he's lucky to break even at the end of the year."
Some international teams are fully funded by their home countries and are able to focus on the sport on a full-time basis. Canada has a number of deep teams and the funding is spread out.
In fact, many top domestic curlers still consider themselves to be amateur athletes even though they draw professional cheques.
"That is a tough one, I always would have said amateur until the last few years," said TSN broadcaster Cheryl Bernard, who won Olympic silver in 2010. "I would say a group of the top one per cent have moved into the professional realm but the funding isn't there for them to maintain that professionalism like (in other sports) ... we don't have that in curling yet. I think it's coming.
"The television exposure has been incredible. That's helping with sponsors and for teams to be able to get support that way. It's on the cusp."
ICE CHIPS
The field for the Dec. 5-9 Canada Cup in Estevan, Sask., was completed Tuesday with the addition of Regina's Matt Dunstone and Winnipeg's Alli Flaxey.
They secured berths thanks to their positions on the updated Canadian Team Ranking System standings list.
The Canada Cup men's and women's winners will earn spots in the 2021 Road to the Roar Pre-Trials. They will also qualify for a Curling World Cup event next season.
———
Pioneer Hi-Bred will be the title sponsor for the 2019 world men's curling championship in Lethbridge, Alta.
The agriculture company has been a Curling Canada partner for the federation's Season of Champions events.
The winner of the Tim Hortons Brier will represent Canada at the March 30-April 7 world playdowns.
———
Kerri Einarson holds the No. 1 position on the CTRS list after winning four events over the first two months of the campaign.
Rachel Homan is second and Jennifer Jones is third.
On the men's side, John Epping owns top spot. He's followed by Kevin Koe and Matt Dunstone.
———
Follow @GregoryStrongCP on Twitter.