Curry will play, Lowry out Saturday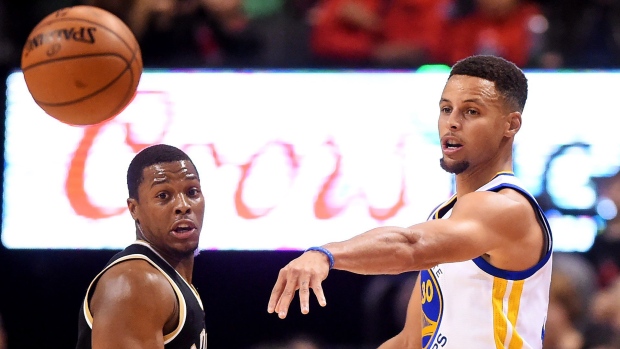 The Toronto Raptors will once again have to beat an elite team without one of their best players.
Injured point guard Kyle Lowry is out against the Golden State Warriors Saturday night with a bruised tailbone according to TSN's Josh Lewenberg.
On the other sides of things, Warriors superstar Steph Curry will play despite a right ankle injury.
Catch the Raptors and Warriors game tonight at 7pm ET/4pm PT on TSN 4/5 and TSN GO.
Curry has missed the last two contests, including Friday night's victory over the Milwaukee Bucks, with the injury.
Lowry has also missed the last two games after hurting his tailbone due to a nasty fall in overtime win against the Brooklyn Nets Monday night.
Toronto picked up their most impressive win of the season Thursday, thumping LeBron James and the Cleveland Cavaliers 133-99 without Lowry or Serge Ibaka, who was serving a suspension.
Lowry, 31, is averaging 16.2 points, 7.0 assists and 6.1 rebounds over 38 games this season.
Curry, 29, is averaging 27.9 points, 6.4 assists and 5.2 rebounds over 28 games in 2017-18.