Dahlin and Svechnikov top final NHL CS rankings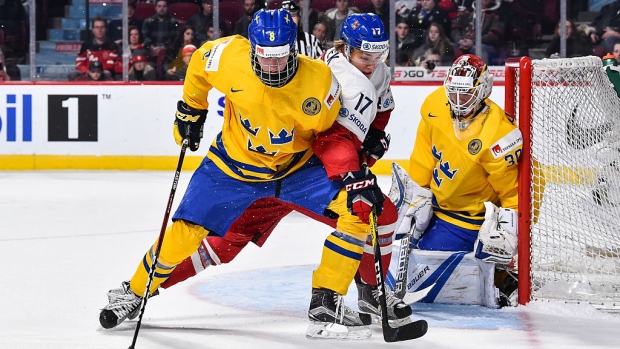 Swedish defenceman Rasmus Dahlin is No. 1 on NHL Central Scouting's final rankings of the top European skaters eligible for the 2018 NHL Draft.
Central Scouting revealed its final rankings of the top North American and International skaters and goaltenders on Monday. Barrie Colts winger Andrei Svechnikov tops the list of North American skaters.
Dahlin scored seven goals and tallied 20 points in 41 games with Frolunda of the SHL this season and also led all prospects in TSN Hockey draft rankings this season by Director of Scouting Craig Button and Hockey Insider Bob McKenzie. Button's final ranking will be unveiled on Monday, May 28 and McKenzie's final draft list will be revealed in late June prior to the draft.
"Dahlin is a legit, No. 1 generational-type defenceman," explained McKenzie in January's TSN Hockey mid-season draft ranking show. "He's going to be a No. 1 in the National Hockey League and he's going to be No. 1 in this draft."
Svechnikov scored 40 goals and tallied 72 points in 44 games for the Colts this season, despite missing 17 games because of a hand injury he suffered in October.
Drummondville's Olivier Rodrigue leads all North American goaltenders in the final ranking, while Czech netminder Lukas Dostal tops the final list of International goaltenders.
The 2018 draft will be held at the American Airlines Center in Dallas on June 22–23.
Click here for the full list of North American skaters.
Click here for the full list of International skaters.
Click here for the full list of North American/International goaltenders.