Dahlin, Svechnikov top NHL Central Scouting rankings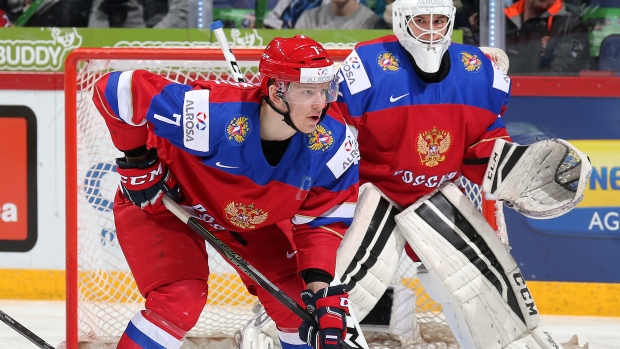 To no surprise, defenceman Rasmus Dahlin is No. 1 on NHL Central Scouting's midterm rankings of the top European skaters eligible for the 2018 NHL Draft.
Central Scouting revealed its midterm rankings of the top North American and International skaters and goaltenders on Monday. Barrie Colts winger Andrei Svechnikov tops the list of North American skaters.
Dahlin has five goals and 12 points in 30 games with Frolunda of the SHL and had six assists and a plus-7 rating in seven games to help Sweden win silver at the World Junior Hockey Championship.
He has also led all prospects in TSN Hockey draft rankings this season by Director of Scouting Craig Button and Hockey Insider Bob McKenzie. Bob's mid-season draft ranking will be unveiled Friday on TSN and on TSN.ca.
"Dahlin won't have a challenger to his status as the No. 1 overall pick in the 2018 NHL draft," explained Button earlier this month. "Last season we saw Nico Hischier use the World Juniors as a springboard to being the top selection at the entry draft. Dahlin will do the same."
Svechnikov has 19 goals and has 32 points in 24 games for the Colts this season, despite missing 17 games because of a hand injury he suffered in October. He also had five points in five games for Russia at the World Junior Hockey Championship.
The 2018 draft will be held at the American Airlines Center in Dallas on June 22–23.