Data shows fighting on the verge of extinction
Only 17 per cent of National Hockey League games this season have featured a fight, Travis Yost writes.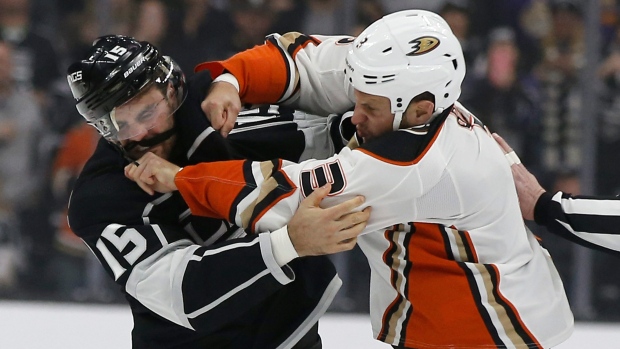 On Saturday night, the Los Angeles Kings and Anaheim Ducks played another testy Pacific Division affair. Ten different penalties were assessed, with six of those coming in the form of fighting majors within the first few minutes.
If you thought it felt like a game from another era, however briefly, you're not alone. The Kings and Ducks are notorious for these chippy games, in large part because they're local rivals that have played a substantial degree of meaningful hockey against one another in recent years. It's clear the two teams despise one another, and every so often that spills into an after-the-whistle skirmish.
Perhaps the most notable part of that Saturday game was how increasingly rare it has become. The league hasn't taken a forceful position on the future of fighting and perhaps for good reason. On one hand, they know that a certain segment of their fan base is drawn to fighting, and they know that some players support its existence. On the other hand, modern science is working against them – ongoing concussion litigation doesn't paint fighting (more specifically, the after effects of fighting) in a favourable light. And another portion of the NHL base, including players and organizational executives, either publicly or privately believes the act of fighting has become little more than an on-ice sideshow.
It's not a black-and-white topic and the NHL knows it. The biggest helper in moving the issue in one direction has undoubtedly been the increased pool of hockey talent worldwide. More talented skaters have all but killed the role of the enforcer in the modern era of hockey. The remaining players are increasingly gun-shy about engaging in the act of fighting – if not because it's out of their comfort zone, then because they're afraid of putting their team at a disadvantage.
It's hard not to conclude that the NHL is letting the issue resolve itself. And, based on the data from the 2017-18 season, it continues to look as if fighting is on the verge of extinction.
To illustrate this, I pulled fight data at the game level from as far back as 2000-01. I paced this year's data (we are at 677 games played out of a possible 1,271) to show how fighting has trended over time and where it's expected to land by season end 2017-18. The de-escalation is remarkable: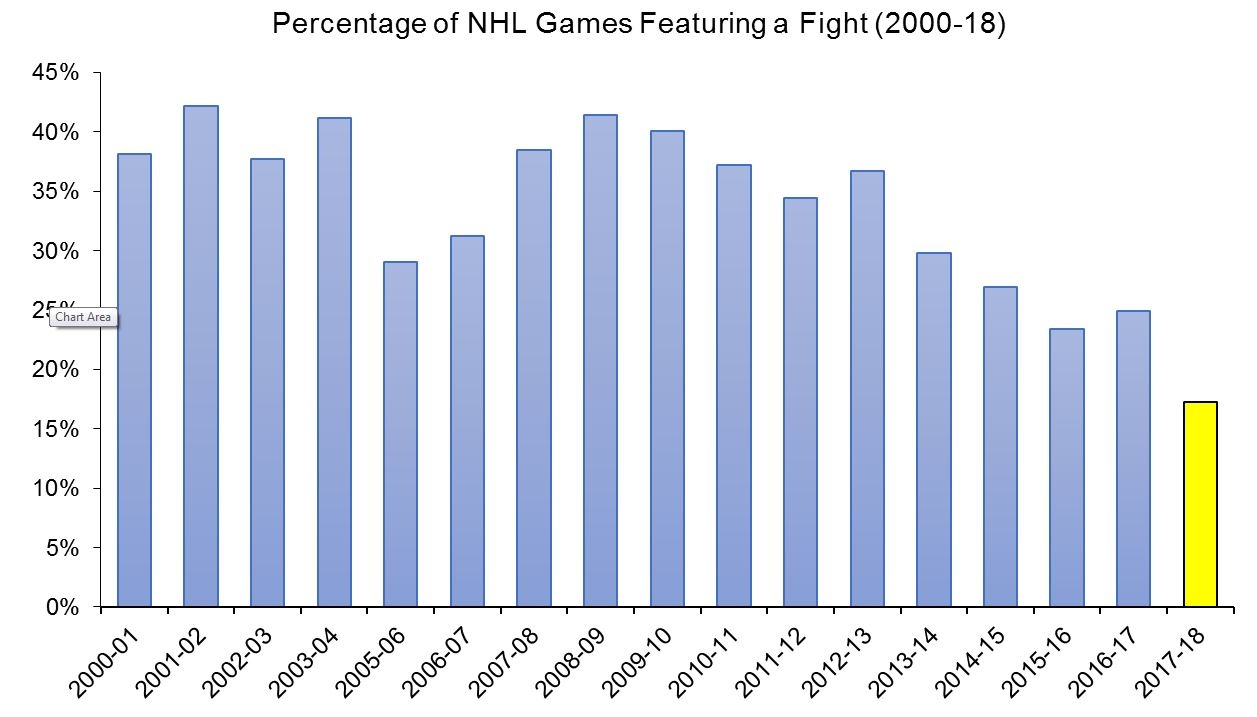 Before the cancelled 2004-05 season, you would expect to see fights in about 40 per cent of hockey games. That number sat around 36 per cent leading into the shortened 2012-13 season. Ever since the new CBA – from the 2012-13 season onward – we've seen a measured decline. This season, only 17 per cent of games have featured a fight, or 219 total games by year end. Another way of saying this: 83 per cent (or five of every six games played) in the NHL this season have not logged a single fight.
Not only are fighting majors way down, but "out-of-control" games are also down. Let's look at the same measurement period, but now only count the number of games where there was more than one fight – indicative of a "bad blood" type of game where players may be more frequently hunting one another. Here is the historical data again, with 2017-18 paced: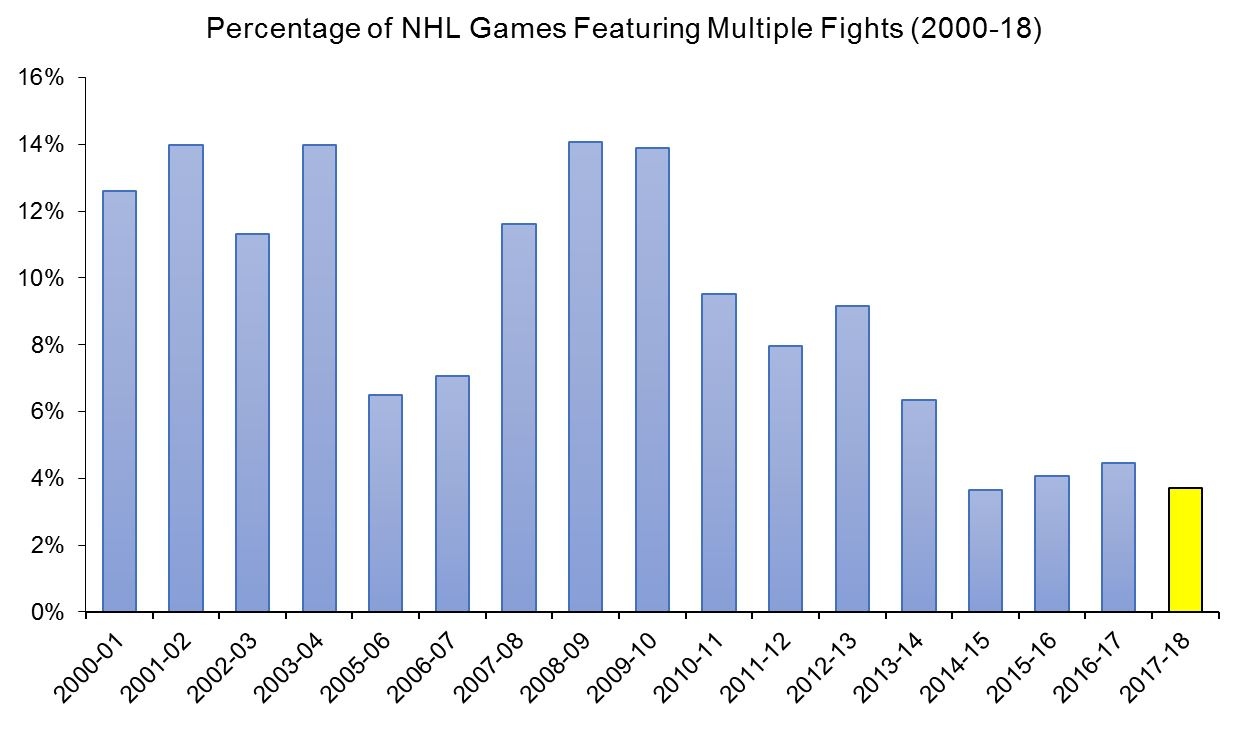 This drop-off is actually more disparate than the prior one. Only 3 per cent of games this season have seen multiple fighting majors. Eight years ago, that number was around 14 per cent. That drop-off would mean the NHL has seen 126 less games with multiple fighting majors.
At the player level, the number of regular fighters is exceptionally low. Only four players have more than five fighting majors this season – a season that's more than halfway over for most teams. That would include Micheal Haley (Florida, 11), Tom Wilson (Washington, seven), Ryan Reaves (Pittsburgh, six), and Cody McLeod (Nashville, six).
At the team level, you have a similar skew, with a disproportionately high number of fighting majors isolated to a small group of clubs. In fact, six teams – Anaheim, Florida, Edmonton, Boston, Nashville, and Los Angeles – are responsible for 67 per cent of fighting majors across the entire league. It's more evidence suggesting that the league continues to phase out the role fighting plays, though only some organizations are doing it at an accelerated rate.
One concluding thought: Considering the above and the sheer financial exposure sports leagues are facing related to CTE, you have to start wondering what this means for fighting as it relates to the next collective bargaining agreement.
Regardless of the position any individual executive, coach, or player has taken on the matter, the element is clearly being phased out. If someone raises the idea of giving out game misconducts for fighting, I'm not sure how forceful the objection would be.
It's something to keep an eye on as we head towards 2020.