Datsyuk, Kovalchuk hoist KHL's Gagarin Cup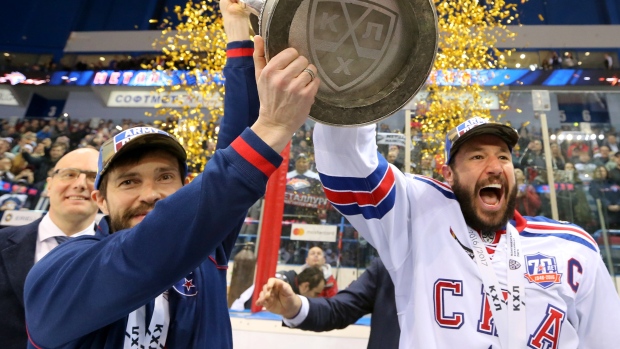 Pavel Datsyuk's move to the KHL paid off on Sunday as SKA St. Petersburg won the league's Gagarin Cup.
Datsyuk missed the game due to injury, but joined team captain, and fellow former NHLer, Ilya Kovalchuk on the ice to raise the cup.
St. Petersburg defeated Magnitogorsk in Game 5 of the best-of-seven series to win the title.
Datsyuk, who left the Detroit Red Wings to join St. Petersburg after last season, scored three goals and added five assists in the seven playoff games he appeared in. His last appearence came on March 12. During the regular season, the former Detroit Red Wing scored 12 goals and tallied 34 points in 44.
Kovalchuk, 34, scored six goals and tallied nine points in 18 playoff games. He scored 32 goals and added 46 points in 60 regular-season games. Sunday's win marked his second Gagarin Cup title in the past three seasons. He left the New Jersey Devils after the lockout-shortened 2013 season.
Vadim Shipachyov, who has drawn NHL interest in the past, was also a part of the championship team. He scored three goals and added five assists in seven playoff games. He tallied 12 goals and 34 points in 44 games during the regular season.