Datsyuk won't return to NHL next season
The Detroit Red Wings star Pavel Datsyuk announced his retirement from the NHL on Saturday. Datsyuk cited personal reasons for his retirement but said he will continue playing hockey in Russia.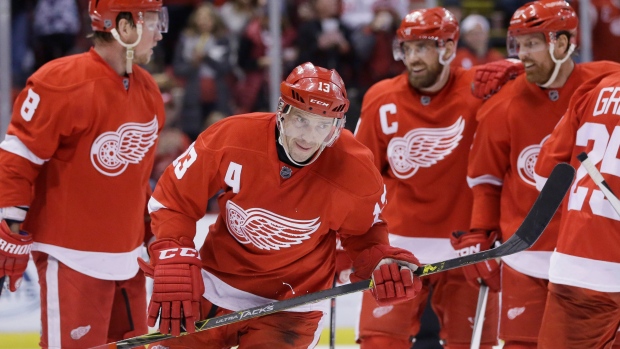 WEST BLOOMFIELD TOWNSHIP, Mich. - Pavel Datsyuk is leaving the Detroit Red Wings at least a year earlier than they'd like -- but with plenty of dazzling memories from 14 seasons in the NHL.
The smooth-skating Russian announced Saturday that he was heading back home to play in the Russia-based Kontinental Hockey League.
The 37-year-old Datsyuk has one year remaining on his contract with the Red Wings and finished second on the team with 49 points last season. He was drafted by Detroit in 1998 and helped the Red Wings win two Stanley Cups.
"My family and I are grateful for our time here in Detroit," Datsyuk said at a news conference at his youth hockey camp in the Detroit area. "This was not an easy decision, but it's time for us to return home."
The move was not a huge surprise. Toward the end of the season, he was quoted in a Detroit Free Press story saying he would retire from the NHL, but Datsyuk later told reporters there was a chance he could change his mind. He said Saturday his final decision came when he was on vacation with his family recently.
Even though he's headed overseas, Datsyuk will count $7.5 million against Detroit's salary cap next season, unless the Red Wings can trade the cap hit elsewhere.
"You'd be dreaming if you think having a $7.5 million cap hit on our cap space has no effect on our ability to do business," said Detroit general manager Ken Holland, who spoke with reporters at Joe Louis Arena a couple of hours after Datsyuk's announcement. "Of course you're going to be compromised."
Holland said he's not willing to give up one of Detroit's top young players just to free up Datsyuk's cap space for this coming off-season.
Datsyuk had one year remaining on a three-year, $22.5 million contract. He agreed to that deal in June 2013, with one year remaining on his previous contract. Holland said Saturday that almost immediately after his new deal began in 2014, Datsyuk expressed a desire to leave the NHL.
"In the first year of that deal, about September or October, Pav told me that was his last year in the National Hockey League, that he wanted to go home," Holland said.
Although the Red Wings could not have prevented Datsyuk from retiring, at that point, they were prepared to try to block him from playing in the KHL.
Holland said Datsyuk agreed to stay in Detroit for the 2015-16 season, with an understanding that the Red Wings wouldn't stand in his way if he wanted to leave after that. Now Holland says he's fine with the veteran centre playing overseas next season.
"We're in a tough spot," Holland said. "But I'd rather be in a tough spot with Pav gone for one year, than if he would have left last year, we would have been having this conversation a year ago with him having two years to go on his contract, and two years of cap space."
Datsyuk, a native of Sverdlovsk, Russia, says he intends to play in the KHL. He did not say for how much longer.
"I want to play like Gordie Howe, but sometimes it's not possible," Datsyuk said. "You never know how your body responds."
Datsyuk helped the Red Wings win the Stanley Cup as a rookie in 2002, and he was one of the franchise's stars when Detroit won another title in 2008. That was the year he won his first of three straight Selke Trophies as the league's top defensive forward. He's also a four-time winner of the Lady Byng Trophy, which goes to players who play at a high level with good sportsmanship.
Datsyuk has scored 314 goals with 604 assists in 953 NHL regular-season games. He's scored 42 goals with 71 assists in 157 post-season games.
This past season, Datsyuk helped Detroit extend its post-season streak to 25 seasons, although he missed the first month of the season while recovering from ankle surgery.
"I don't have any hard feelings. Not toward Pav. He's a great player," Holland said. "He gave us 14 years of incredible hockey. He never complained, he just played hard, he's a 200-foot player. I'd like him back for another year, but at the end of the day, I understand why we're standing here, and I'll deal with it."