Day 3: Green sees increased depth, skill in second camp as head coach
Through drafting and developing players, the Vancouver Canucks now have depth in their system that just didn't exist when Travis Green was at the helm of the minor league club not that long ago, Jeff Paterson writes.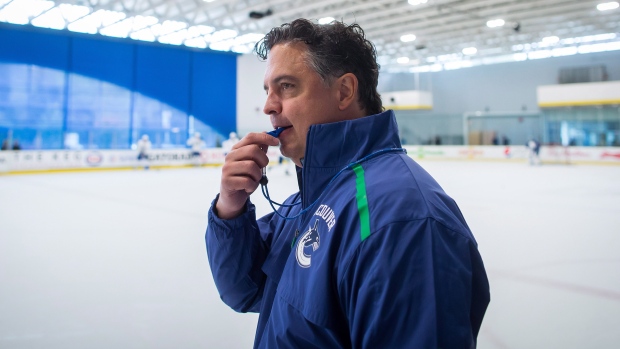 WHISTLER – For four years, Travis Green attended Vancouver Canucks training camp as the head coach of the Utica Comets. He remembers those years well because there wasn't a lot of talent on the big club roster and the trickle-down effect was that he didn't have much to work with at the minor league level. But times have changed and so has Green's job. Now in his second year behind the Canucks' bench, the head coach has the challenge of trying to formulate a lineup he'll work with this season in the National Hockey League, but he also sees a bigger picture at play.
With an eight-game National Hockey League pre-season beginning Tuesday, Green will have some difficult decisions to make about who will be on his opening night roster. But in so doing, he'll make life easier for Trent Cull, who now runs the show in Utica. Through drafting and developing players, the Canucks now have depth in their system that just didn't exist when Green was at the helm of the minor league club not that long ago.
"We were talking about that last night that I remember having some years in Utica where we had some young guys that had some skill but we wanted to surround them with skill, too," Green recalled after Sunday's on-ice sessions at Meadow Park Recreation Centre.
"And that's not always easy. You can see coming down the pipe that we're going to have some players that can make plays down there. Yet it's a real tough league. And they're going to need good leadership from some of the guys that we have already down there. But it's nice to see the depth that Jim (Benning) has put together."
Young draft picks like Kole Lind, Jonah Gadjovich and Petrus Palmu are all destined to start the season in the American Hockey League, adding to the talent pool in Utica. And depending on pre-season performances of some young veterans with NHL experience – some of whom may require waivers to get sent down – the Comets should have a strong hockey club this season.
Palmu was among the standouts in Sunday's scrimmage, scoring one of his team's three goals in a 3-1 victory. The 5-foot-6 Finn had a strong showing at the organization's summer showcase, looked good at Young Stars in Penticton last weekend and hasn't looked out of place with the veterans at main camp. Green was impressed by Palmu, but the coach quickly added he has been pleased with his entire group through the first three days of on-ice sessions.
"We've done a lot of structure stuff, but yet kept the pace really high in practice," he says. "I thought today I might see a bit of a drop-off. But the guys were skating hard again today and there was no letdown and they pushed through. Tomorrow we're going to have a full scrimmage with two-thirds of the camp and then probably do some special teams with some of the older guys."
As Green eyes the final day in Whistler on Monday, he's already formulating a game plan for three pre-season games in three nights starting Tuesday at home against Edmonton. Canucks fans can expect to see a strong dose of veterans for the first outing with a less-experienced crew taking the ice against Calgary on Wednesday night.
"We'll try to keep two groups," Green says when asked about possible roster reductions with a busy week ahead. "We'll probably play a younger group against Calgary because they've got their main group over in China."
At this time last year, it was the Canucks who were taking part in the China Games. While it was n experience he'll never forget, Green had his hands full in his first go-round as an NHL head coach trying to conduct a quick training camp before taking his team overseas.
There is a sense of normalcy to the proceedings this time around and Green's looking forward to being able to devote more attention to many of the young players looking to impress the coaching staff in the pre-season.
"It's been two different camps really," he explains comparing last year to this one. "Last year we had the one group skate for three days and take off and personally I didn't get to see a lot of the other guys play. So it'll be nice to have the whole training camp to work things through."
Green still hasn't seen free agent acquisition Antoine Roussel skate with the main group. The veteran forward has skated on his own all three days in Whistler as he recovers from a concussions suffered in an off-season workout last month. The club says there is no update on his condition, nor is there any indication when Roussel will be ready to take part in team drills. It's hard to imagine Roussel seeing any game action in the first week of the pre-season without a training camp or any formal skates with his new teammates.