De Grasse focused on next year after injury
Allan Perkins, TSN.ca staff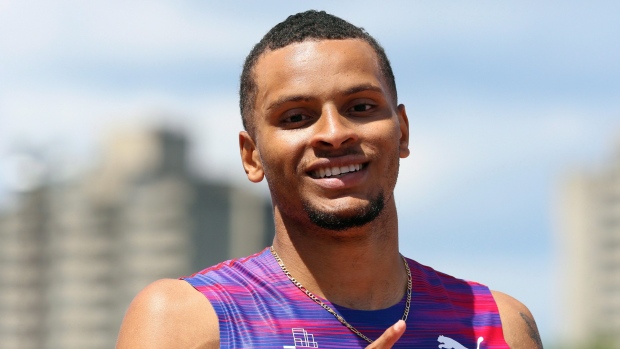 Just five days before the IAAF World Championships in London, Canada's Andre De Grasse felt a pop in his right leg while practising his start.
He underwent an ultrasound the next day which revealed a Grade 2 strain of his hamstring, an injury that typically requires weeks of recovery time. He flew to Munich the day after in search of treatment and the injury turned out to be even worse. It was a tear and not a strain, but the diagnosis was clear. He would have to miss his chance to compete on one of sprinting's biggest stages.
American Justin Gatlin won the event's crown jewel – the 100-metre – with a time of 9.92, defeating the legendary Usain Bolt in his final event. At the Olympics the summer before in Rio de Janeiro, De Grasse finished the 100-metre final with a time of 9.91, slightly better than Gatlin's World Championship-winning time.
In other words, De Grasse had a real shot if not for the injury, which at the time he called "unimaginable."
Over a month later, De Grasse's outlook has changed.
"It was definitely a disappointing feeling and after the two weeks were over, I dwelled on it and said to myself 'I can get ready for next year and can't think about the past now. I just have to move forward,'" De Grasse said Tuesday in Toronto while on a nationwide tour to promote awareness for the rare lung disease Idiopathic Pulmonary Fibrosis.
Still, De Grasse admits it's tough to look back on London and think about what could have been.
"I've beaten Gatlin before so I know I had a chance to go out there (and win)," he said.
"It was disappointing but I didn't really look at the time, I knew that it was cold in London as well so I mean that's actually when the times are pretty slow."
De Grasse said his recovery has come along nicely and he has been cleared to start training again.
Despite the disappointment this summer, De Grasse still has a lot to be proud of. In 2016, he became the first Canadian ever to win Olympic medals in all three sprinting events. He said his experience at the Olympics helped him take the next step in his career and offered some advice to Canadian athletes set to compete at February's Winter Olympics in PyeongChang, South Korea.
"When you get there it's going to be a little bit overwhelming, you're going to see a lot of things, but just try to stay in your element, stay ready. Listen to your coaches and block out all the distractions," he said.
And that comes from experience. When he arrived in Rio de Janeiro, De Grasse said it was tough to stay focused.
"There's going to be a lot when you get to the village or when you get in the stadium. It's going to be sold out and just try and be ready for that atmosphere. You've done it so many times, so just think of it as another competition," he said.
"Believe in yourself, continue to work hard, believe in all your training that you've done throughout the year and you'll be successful."
De Grasse and fellow Canadian sprinters Aaron Brown, Akeem Haynes and Brendon Rodney are travelling across the country this fall as part of the Roche Fight IPF Six-Minute Marathons initiative. IPF is a rare lung disease for which there is no cure that affects up to 30,000 people in Canada alone. For more information, visit FightIPF.ca.