Defining Gary Bettman
Four men who have worked closely with Gary Bettman during his time at the helm of National Hockey League share treasured memories that show a different side of the commissioner ahead of his induction into the Hockey Hall of Fame.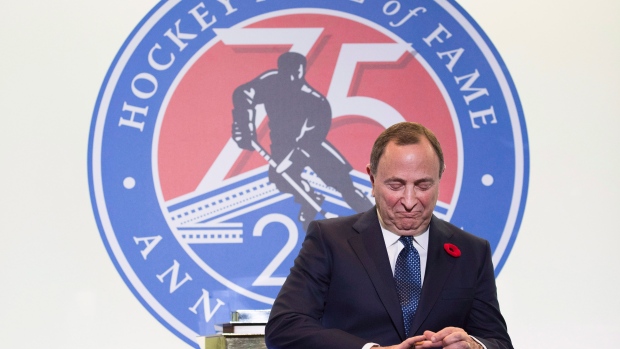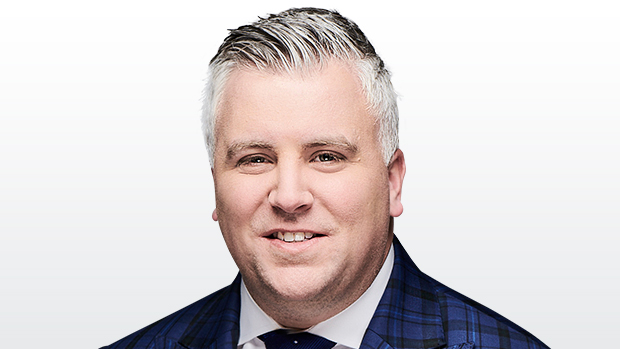 The first thing you learn when interviewing Gary Bettman is that the NHL commissioner will combat any attempt to paint him into a corner. He can be difficult to pin down on an answer.
Bettman, 66, can be equally difficult to define. He is many things to many people.
A visionary. Lord of three NHL work stoppages. The man behind skyrocketing franchise values. Hard-line negotiator. Demanding boss. Big-hearted benefactor. Canadian franchise thief. Intimidating brainiac. Avid skier and runner. Boo magnet. Private family man and doting grandfather.
On Monday night he will become a Hockey Hall of Famer.
As he gets set to enter the Hall, here is how four people define Bettman, through their interactions with the man at the helm of the NHL since 1993:
———
Before becoming the general manager for three of Canada's seven franchises, Brian Burke served as the NHL's executive vice-president and director of hockey operations under Bettman starting in 1993-94:
"When I first got to the NHL, we were a real small shop. I think we only had 40 employees, max. Our offices were on Fifth Avenue then.
"One day in that first year, I walked into the washroom and I saw Gary Bettman picking up newspapers and paper towels that had been thrown all over the place.
"I said to him, 'Um, boss, we have people for that.'
"He replied, 'Okay smart ass, what time do they get here? We have major sponsors and executives coming to our offices in an hour. We need to close this deal. This place needs to be spotless.'
"I've never left a washroom anything but spotless since then. It's a small story, but it's one that tells you he is thinking of everything. He cares about the league and wants to be successful.
"I think Gary is much more mellow now. He's still hungry for the job; you can tell he really loves what he does. He was a firefighter for the first 20 years of this job. We had owners in prisons, [John] Spano, [Bruce] McNall, that Boots guy [William Del Biaggio]. It was absolutely crazy.
"His grasp on every single part of this industry is staggering. I always say there is smart, then there is Bettman smart. Sit with him in his office for an hour. While talking to you, he will pick up the phone, answer an important question about a pension fund and quote the law saying, 'That won't work in California and Arizona.' Who knows pension rules in California and Arizona? Even if I had his job, I'd have to look it up.
"His memory, his ability to focus and multitask is legendary. One time we were watching a game together and a defenceman made a play. I said it was a terrible play and he said, 'I thought you told me that a defenceman is supposed to do that?' He remembered a specific play that we saw and talked about four years earlier. Four years earlier!
"Gary thinks of everything, often four or five steps ahead. One time we had to take a break and clear the room so everyone could clear their heads during the first Collective Bargaining Agreement negotiation [in 1994]. He was running circles around all of the lawyers, thinking of all the permutations down the line.
"I know fans blame him for the work stoppages. I can't stand how he's perceived publicly. There is not one person who has walked this planet that has done more for the game than Gary Bettman."
———
Bill Daly joined the league in 1997 and has been Bettman's right-hand man since 2005, when he was named the NHL's first deputy commissioner:
"My favourite Gary story comes from the 2011 Stanley Cup Final in Vancouver. That presentation of the Stanley Cup was the scariest one we've had from a safety perspective. Fans were hurling all kinds of bottles at him and a few narrowly missed by inches.
"We made a quick escape out through the arena and got out of downtown before things really started to get bad. The problem was we were really early for our flight.
"Gary said he was hungry and wanted to stop. So we went to this place called the Flying Beaver, it is two miles from the Vancouver airport.
"The Flyer Beaver is biker dive bar. We had a two-person security detail and they said to him, 'Um, Gary, are ya sure you want to go here?' He said, 'Yes I'm sure, I want a hamburger.'
"Vancouver is literally burning at this point. Here we are a bunch of league suits walking into a dive bar.
"It was an odd moment, like the music stopped when we walked in. Everyone turned their head and was like, 'Am I really seeing this right now?' The man who just handed out the Stanley Cup is here while we're watching the riots on TV.
"Sure enough, fans started to come over one by one for his autograph or to take a photo or chat. It was perfectly pleasant. That to me is my definition of fearless."
——
Albert Young, affectionately known as "Big Al," is a former New York Police Department detective and was hired by the NHL in 1994, one year after Bettman joined the league. He led Bettman's personal security detail for a number of years and now does the same for Daly:
"I would say that over all these years, for all the booing that we've heard, there have only been a handful of interactions with fans that I would say are inappropriate. There are no crazy stories with fans, certainly nothing that came close to assault or physical contact.
"Fans only really say something when they think they can be anonymous. A few times, I've had to go up to someone badgering him at a game and say, 'Hey listen, that's not appropriate to say.' It's never been because Gary has pointed at someone and said, 'Get them out of here.' He has never complained once about a fan. We've never thrown anyone out for that. He understands it's part of the job. He is comfortable in his own skin and knows not everyone is going to like him.
"I think people stop when they realize he is a human being. I've seen a lot of things in my rear-view mirror. I see how he is as a husband; I've seen his kids grow up. He is a great family man. He always tells everyone, 'family first' and to make sure life doesn't pass you by as you're doing this job.
"Part of my job when we get to a city is to drive various routes. I need to have my routes down to get us where we're going. One night in Ottawa, a number of years ago, there was traffic leaving the game. I stayed off the highways. The problem was I missed a left turn. We're driving and driving and driving. Finally, Gary says in the back, 'Al, I think we should've been at the airport by now.' I was so embarrassed. He says, 'Let's just pull over at a gas station and get some help.' I've worked with a lot of people who would've reamed me out over that. I still beat myself up over it.
"Gary still likes to give me a hard time about it. He'll get in the car and say, 'Are you sure you know where we're going?' I guess he didn't hold it against me.
"Six years ago, my father passed away. The funeral was in Long Island – not exactly close to Manhattan. In walks Gary Bettman. I'd like to say I was shocked, but that's just something he would do. It wasn't even that he made time; it was the way he acted. He stayed entire three hours, not just an in-and-out. He spent time with my mom like he knew her for 30 years. I will never forget that."
——
Mark Chipman is the executive chairman of True North Sports and Entertainment, the man who helped bring the Jets back to Winnipeg and one of 10 governors on the NHL's executive committee:
"In 2010, we spent a week in New York and, for all intents and purposes, completed a deal to buy the Phoenix Coyotes and bring them back to Winnipeg. It was contingent on the City of Glendale not coming up with a ton of money, which they did.
"On the day you find out you're not getting the team after an intense process, normally you would be crushed – it was almost in our grasp. We even went as far as planning a press conference for the next day in Winnipeg to make the announcement. But there was actually a great deal of relief when we found out the Coyotes were staying.
"Gary said something to me like, 'I'm giving you a coupon for the next NHL franchise.'
"We joked, 'Does that coupon have an expiry date?' I was relieved because there was no doubt whatsoever. We were getting a team – because he said so. His word was sacred there.
"I think we just had trust in what we were doing. We were patient. I first told Gary to keep us in mind at the Salt Lake City Olympics in 2002. We then made a presentation to the NHL in 2007 with representatives from Las Vegas, Seattle, Houston and Kansas City. We kept those discussions highly confidential, one, because I didn't want to get the hopes up of the people in Winnipeg, and two, I didn't want to put the league in a very difficult position with an unnecessary point of strain. We understood that if you follow Gary's lead, his kind of protocol, in a very quiet way, that it will work out.
"It bothers me that a lot of people have such a poor public understanding of him. It's disturbing and undeserved. Working with him on the executive committee, I don't see any difference in him. He is extremely confident in who he is. That's a gift, especially when managing 31 different personalities.
"The people in our city should be thankful. I truly believe that, at the bottom of it, the reason the NHL is back in Winnipeg is because Gary wanted to right a wrong. He gave us a crack again."
——
Contact Frank Seravalli on Twitter: @frank_seravalli