Derek Ryan, Soshnikov join TSN's Trade Bait board
The numbers game with the Toronto Maple Leafs' lineup makes Nikita Soshnikov a new candidate on our TradeCentre Trade Bait board compiled by TSN Senior Hockey Reporter Frank Seravalli.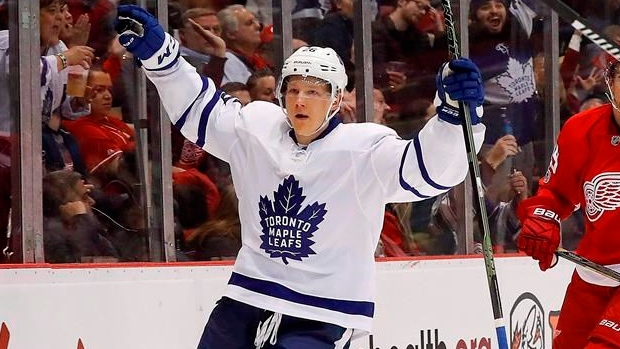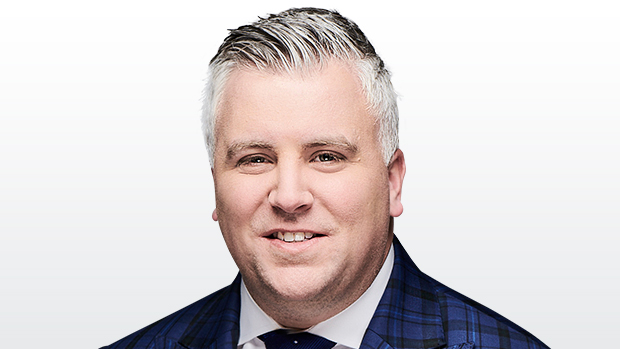 Goodbye and good riddance to January, the least active January for NHL trades since 2010.
Hello there to February, where the rubber meets the road for the 2018 trade deadline. Fewer than four weeks remain until TradeCentre on Feb. 26.
Conversations between general managers are beginning to percolate following All-Star Weekend, with the parity-filled standings starting to crystallize for buyers and sellers. Some GMs plan to take as much time as necessary to make a final determination one way or the other.
Two new names joined TSN's Trade Bait board in Carolina Hurricanes centre Derek Ryan and Maple Leafs winger Nikita Soshnikov.
In their quest for a third-line centre to replace Nick Bonino, the Pittsburgh Penguins are believed to be sniffing around on Ryan, a pending free agent. Ryan, 31, is on track for 19 goals and 45 points centreing Carolina's third line. He is also 11th in the league in faceoff win percentage (56.3) among centres with a minimum of 300 draws taken.
The Penguins could also be interested in bringing back centre Mark Letestu for another tour of duty, although he remains a possibility to re-sign with Edmonton.
Fulfilling their biggest need with a relatively inexpensive but effective Ryan or Letestu would allow GM Jim Rutherford to be a player in the Evander Kane sweepstakes. The belief is Rutherford is also seeking a winger with scoring punch for the Pens' top two lines.
Kane, the mercurial Sabres winger, remains atop the Trade Bait board for the fourth consecutive week – and his first-year GM Jason Botterill served as Rutherford's assistant in Pittsburgh.
Letestu, Ryan and Ottawa's Jean-Gabriel Pageau are the only three NHL centres on the board, which is dominated by left wingers.
Two players – Sabres netminder Robin Lehner and Blackhawks defenceman Cody Franson – dropped off the board to make room for Ryan and Soshnikov.
For Soshnikov, it's simply a numbers game. He clearly isn't ahead of any of the Leafs' current regulars, as evidenced by the three games he's played since his contract created a call-up in November, and he may not be ahead of some others in Toronto's pipeline. The Maple Leafs are also one of three teams at the 50-contract limit.
There were plenty of other minor trend movements for others on the board. Here is TSN Hockey's Top 30 Trade Bait, whose raking seeks to blend prominence of players with likelihood of a trade:
The Top 30
| Player | Pos | Age | 17-18 Cap Hit | GP | G | PTS | Past 17-18 | Clause |
| --- | --- | --- | --- | --- | --- | --- | --- | --- |
| 1. Evander Kane, BUF | LW | 26 | $5.25M | 50 | 16 | 36 | UFA | |
| 2. Mike Green, DET | RD | 32 | $6M | 49 | 5 | 26 | UFA | NTC |
| 3. Patrick Maroon, EDM | LW | 29 | $1.5M | 47 | 13 | 26 | UFA | |
| 4. Mike Hoffman, OTT | LW | 28 | $5.19M | 48 | 12 | 30 | 2 years | M-NTC |
| 5. Thomas Vanek, VAN | LW | 33 | $2M | 50 | 14 | 36 | UFA | |
| 6. Max Pacioretty, MTL | LW | 29 | $4.5M | 50 | 16 | 31 | 1 year | |
| 7. Michael Grabner, NYR | LW | 30 | $1.65M | 49 | 21 | 26 | UFA | |
| 8. Alex Galchenyuk, MTL | LW | 23 | $4.9M | 50 | 12 | 28 | 2 years | |
| 9. Zack Smith, OTT | LW | 29 | $3.25M | 34 | 3 | 12 | 3 years | M-NTC |
| 10. Ryan McDonagh, NYR | LD | 28 | $4.7M | 45 | 2 | 24 | 1 year | M-NTC |
| 11. James Neal, VGK | LW | 30 | $5M | 49 | 22 | 34 | UFA | M-NTC |
| 12. Mark Letestu, EDM | C | 32 | $1.8M | 48 | 8 | 16 | UFA | |
| 13. Rick Nash, NYR | LW | 33 | $7.8M | 50 | 15 | 25 | UFA | M-NTC |
| 14. Ian Cole, PIT | LD | 28 | $2.1M | 38 | 2 | 9 | UFA | |
| 15. Jordan Kyrou, STL | C/RW | 19 | $894K | 0 | 0 | 0 | 3 years | Slide |
| 16. Aaron Dell, SJS | G | 28 | $625K | 22 | 2.51 | .917 | UFA | |
| 17. Derek Ryan, CAR | C | 31 | $1.45M | 48 | 11 | 26 | UFA | |
| 18. Andrew Shaw, MTL | C/RW | 26 | $3.9M | 43 | 10 | 19 | 4 years | |
| 19. Jean-Gabriel Pageau, OTT | C | 25 | $3.1M | 44 | 7 | 16 | 2 years | |
| 20. Erik Gudbranson, VAN | RD | 26 | $3.5M | 32 | 1 | 3 | UFA | |
| 21. David Perron, VGK | RW | 29 | $3.75M | 43 | 12 | 42 | UFA | M-NTC |
| 22. Jack Johnson, CBJ | LD | 31 | $4.35M | 50 | 2 | 7 | UFA | |
| 23. Nick Holden, NYR | LD | 30 | $1.65M | 45 | 3 | 9 | UFA | |
| 24. Nikita Soshnikov, TOR | RW | 24 | $736K | 3 | 0 | 0 | RFA | |
| 25. Petr Mrazek, DET | G | 25 | $4M | 16 | 3.01 | .906 | RFA | |
| 26. Nic Petan, WPG | C | 22 | $863K | 6 | 0 | 0 | RFA | |
| 27. Blake Comeau, COL | RW | 31 | $2.4M | 47 | 9 | 21 | UFA | |
| 28. Sam Reinhart, BUF | RW | 22 | $3.54M | 50 | 10 | 20 | RFA | |
| 29. Dion Phaneuf, OTT | LD | 32 | $7M | 46 | 3 | 15 | 3 years | M-NTC |
| 30. Tyson Barrie, COL | RD | 26 | $5.5M | 35 | 4 | 28 | 2 years | |