Dermott's stock rising ahead of Leafs training camp
Whether he's blasting through the neutral zone with the puck on his stick, or animatedly directing traffic in the defensive zone, Travis Dermott frequently demands to be noticed. And his stock as one of the Maple Leafs' best defensive prospects has never been higher than it is with just days to go before training camp.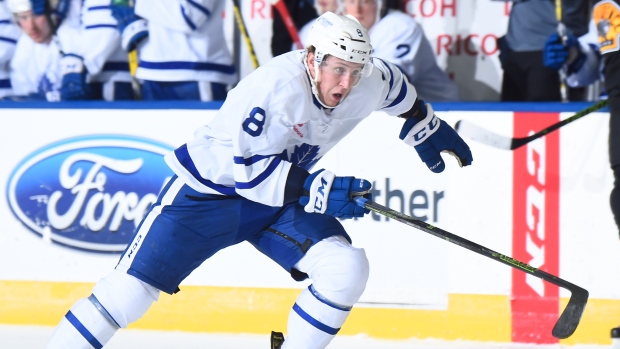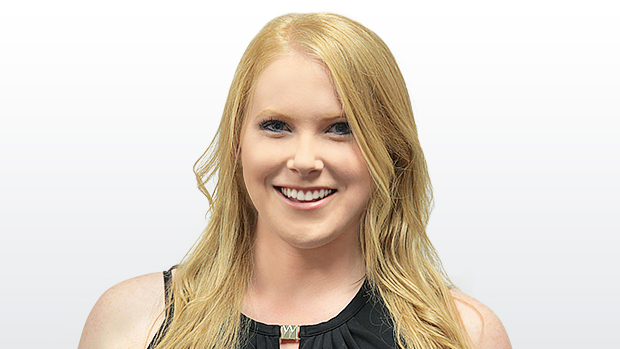 TORONTO – Travis Dermott has a way of making himself seen on the ice.
Whether he's blasting through the neutral zone with the puck on his stick, or animatedly directing traffic in the defensive zone, Dermott frequently demands to be noticed. And his stock as one of the Maple Leafs' best defensive prospects has never been higher than it is with just days to go before training camp.
But before he makes the pilgrimage to Niagara Falls with the rest of the club, Dermott skated in his first rookie tournament game Sunday afternoon, a 4-3 shootout loss to the Ottawa Senators. Dermott missed the Leafs' opener on Friday due to illness but jumped back in with some impressive early shifts, shaking off the rust before more important tests ahead.
"I came out here with the mindset of trying to get my legs back underneath me and get the feel of the game back," Dermott said post-game. "Leading into camp, I just wanted to get the first game out of the way, [try] to make my good plays and make some mistakes. I knew I was going to make some and I did. I can work on some stuff but there was also some stuff that I was happy with."
The Leafs are seemingly pretty pleased with him too. Joining the Toronto Marlies for his first professional campaign last year, Dermott had a strong season, posting five goals and 19 assists in 59 games. Back in May, Leafs general manager Lou Lamoriello hinted in a conference call with media that there was "one [Toronto Marlies defenceman] in particular" they were eyeing to make a move to the NHL. Connecting the dots to Dermott is hardly reaching; he was among the Marlies best players despite an injury in the fall that held him out for weeks.
Asked about the comment, Dermott said last week he didn't read anything into what Lamoriello said, but was determined to prove he could be that guy.
"I think any player here is going to say they want to make the Leafs, that's everyone's goal," Dermott explained Sunday. "I'm going to go out there and play my hardest and try to get a spot but nothing is for sure in this organization or the whole league so we'll see what happens."
If his rookie tournament performance was any indication, the Newmarket native's summer spent in the Leafs' facilities is already paying off. Dermott is consistently reliable in the defensive zone, makes good decisions with the puck and thinks the game as quickly as he moves up and down the ice. While he stands at 5-foot-11, 207 pounds, Dermott doesn't play anything close to small. Teammates have likened him in the past to a "bowling ball" and he proves it with an almost fearless physical edge in his game.
"He really learned to use the skill sets that he has," said head coach Sheldon Keefe. "He kills a lot of plays early and he's very evasive. As he learned how to use his body and learned to use the limited time and space that you have at the pro level, he learned to make plays through that."
The crispness of Dermott's overall game stands out among his peers; now Dermott needs to elevate it even further to reach the next level.
"Some of his stick positioning and defending, those kinds of things when he hasn't closed the space is one area," Keefe said of Dermott's next steps. "But that doesn't present itself very often because he is tight, he closes the gap real quick, so that's a real positive for him. He's got a bright future ahead, he's going to continue to work and I know he's excited to get going in camp."
Dermott was decidedly not thrilled with himself when the Marlies' season ended in May with a Game 7 playoff loss to the Syracuse Crunch. At the time, Dermott said if he continued to play like he did over that series (one assist, minus-one), he wouldn't be ready for the NHL come fall. Whatever negative feelings he harboured then are seemingly a thing of the past, with all attention turned to what's coming next.
"I think it's just confidence," Dermott said of the difference in him from last year. "Getting that AHL year under my belt, getting confident in my play and knowing what I can do instead of being the shy little rookie [and just] reacting to how other guys are playing. Hopefully I can take that confidence into camp this year and go forward."
The Leafs finished the rookie tournament 0-2 (they fell 5-2 to the Montreal Canadiens on Friday), but there were a few players, along with Dermott, who still made their mark in the losing efforts.
Mason Marchment: The son of former NHL defenceman Bryan Marchment definitely has an element of his father's physicality in his game, as evidenced by a few bone-rattling hits in this tournament, but his growing offensive skill set is emerging more and more. The 6-foot-4, 200 pound winger has always had a nose for getting to the net, and set up a few quality scoring chances – and Trevor Moore's goal on Sunday – from his perch in front of the crease. There's room for improvement in his skating and explosiveness, but few players stood out for Toronto over the course of the tournament as much as Marchment. The 22-year-old is currently signed to an AHL contract.
Projection for 2017-18: Marlies
Carl Grundstrom: Billed as the next Leo Komarov, Grundstrom is a blossoming forward in his own right. He scored just once in the tournament, but his hard shot is lethal - and impressively accurate. Grundstrom never shies away from asserting himself in front of the net, like he did muscling past the Ottawa defence Sunday and backhanding a nice shot on goaltender Kevin Baille that he barely swatted away. The 19-year-old doesn't have a lot of experience taking faceoffs but can (and did in the tournament), adding to his value as a versatile winger able to be deployed in all situations (just like Komarov).
Projection for 2017-18: As a second round draft pick out of the Swedish Hockey League, Grundstrom either has to make the Leafs this season or return to the SHL; the AHL is not an option. Given the Leafs organizational depth on the wing already, a return to Sweden seems most likely.
Martins Dzierkals: A standout at last season's rookie tournament, Dzierkals picked up where he left off with another strong showing. He was the Leafs' leading scorer, with two goals in two games, and along with Grundstrom was their most consistent offensive threat. Dzierkals is relentless when it comes to sniffing out pucks and doesn't quit on a play, attributes that made him more than a point-per-game player in junior. Now 20 and having exhausted his eligibility in the CHL, Dzierkals will have to prove his size (5-foot-10, 172 pounds) won't hold him back as a next season – he signed a one-year AHL contract in August.
Projection for 2017-18: Marlies
Timothy Liljegren: Unquestionably the most improved player for Toronto over the course of two games, Liljegren put a difficult debut on Friday behind him and settled down on the team's top defence pairing Sunday with Dermott. Playing alongside Dermott suited Liljegren, and he was much calmer in his decision-making with the puck. That ability he has to quarterback the power play and find the open seams over both games was noticeable; on Sunday he showed great patience at the point that ultimately led to Moore's goal. Liljegren's confidence seemed to go up as Sunday's game wore on and that's when his elite speed and puck-moving abilities shone through.
Projection for 2017-18: Marlies