Despite contract, Theodore eyes VGK spot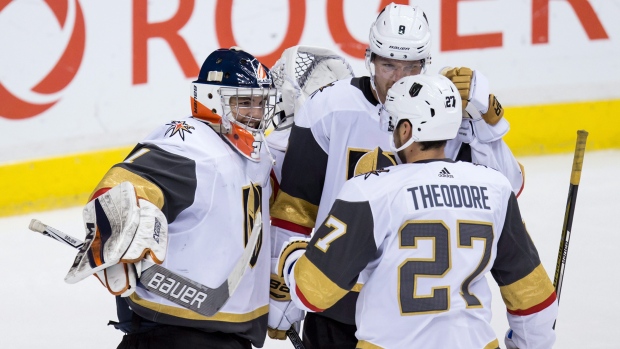 Shea Theodore has one thing working against him as he vies for a spot on the crowded Vegas Golden Knights blueline - his contract.
As TSN Hockey Insider Pierre LeBrun noted on Tuesday's Insider Trading, Theodore is the only waiver-exempt defenceman of the 10 on the roster with NHL experience. LeBrun noted that despite arguably being the team's best blueliner, Theodore's contract could leave him starting the season in the AHL as the Golden Knights attempt to move defencemen on the trade market.
LeBrun said if Theodore makes the opening-night roster, the 22-year-old could debut on the team's top pairing.
Theodore told the Las Vegas Review-Journal he's aware of his status as a player on an entry-level contract, but his focus is simply on making the roster.
"I'm here to play the best hockey I can and make the team," Theodore said. "In the back of my head, I know about the waiver exempt option, but you have to come in with a glass half-full mindset. I'm here to make the team and do what I can to stick on the blue line. That's all I can do.
"I'm not shy to the business side of it. I dealt with that for two years in Anaheim going between (the Ducks and AHL). But when I'm playing well, I know can play against anyone."
Theodore was traded to the Golden Knights from the Anaheim Ducks during the expansion draft in exchange for Vegas selecting Clayton Stoner off the Ducks roster.
He appeared in 34 games with the Ducks last season, posting two goals and adding seven assists. He scored two goals and posted eight points in 14 playoff games.
A first-round pick of the Ducks in 2013, Theodore has appeared in 53 games at the NHL level.