Deveaux claims self-defence for on-ice attack in Sweden
Andre Deveaux was simply protecting himself when he violently attacked an opposing player prior to a Swedish league playoff game in March, the former NHL enforcer said Friday.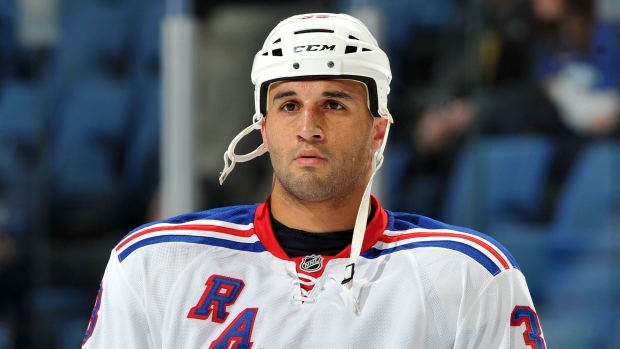 TORONTO - Andre Deveaux was simply protecting himself when he violently attacked an opposing player prior to a Swedish league playoff game in March, the former NHL enforcer said Friday.
In his first public comments since the incident, Deveaux told reporters he went after Per Helmersson during the pre-game warm-up, delivering a two-handed slash to the defenceman's ankle, because he had been threatened by players on Helmersson's team, VIK Vasteras HC.
Helmersson had checked Deveaux into the boards from behind in the previous game between the two teams, resulting in Deveaux sustaining a concussion. No penalty was called on the play.
"I'm out there with a serious injury and guys are telling me they're going to do it again," said Deveaux, who was playing for Rogle BK. "At some point, my safety has to become a priority.
"I didn't want to be five years down the road rolling around in a wheelchair regretting that I should've done something. I just didn't want to get hurt again, I cannot take that chance."
Deveaux said the Vasteras players' comments went beyond pre-game chirping.
"I've been around the block, I know the difference between chirping and threatening," said the 31-year-old Bahamian-born Canadian. "It starts out where guys are saying, 'Oh, look who's up?' or 'Look who's back?' and then it goes from that to every time I go by the red line, 'Maybe today you're going to off on a stretcher,' or 'You won't see me coming either?
"What's the alternative? Do I wait for that, hope that doesn't happen? I have a family, I'm in a foreign country and no one seems to care."
Deveaux didn't apologize.
"I am not proud of what I did and I understand there are consequences," he said. "However, I'm not sorry for protecting myself when no one else would."
Rogle BK has released him and reports out of Sweden said a warrant had been issued for his arrest. Deveaux said Swedish prosecutors are deciding whether charges should be laid.
The Swedish Ice Hockey Association suspended Deveaux until Feb. 15, 2016, a decision he is appealing.
Officials at Rogle BK and Vasteras did not immediately respond to emails from The Canadian Press seeking comment.
Deveaux was accompanied by his wife Anya Nordstrom, who is expecting their first child. Deveaux already knows how he'll explain the incident to his son when the time comes.
"I can assure you that one of the things I will teach my son is that two wrongs don't make a right," Deveaux said. "But I will also teach him about fairness, which is something I haven't received."
Deveaux has spent most of his career in the minors. In 31 NHL games for Toronto and the New York Rangers, he recorded zero goals, two assists and 104 penalty minutes. In just 20 games with Rogle, he collected 67 penalty minutes, along with six goals and three assists.
Deveaux showed video of Helmersson hitting him from behind and driving him head-first into the boards, which Deveaux said caused him to lose consciousness. Deveaux also spoke out against Swedish media for not reporting his concussion.
Deveaux said he wasn't trying to hurt Helmersson, adding he slashed him on the skates. However video of the incident also showed Deveaux jumping on Helmersson and punching him.
"The contact I made with my hockey stick was to Helmersson's skate," he said. "This was intentional so as to not cause him harm.
"He continued to play, even finishing warmups with his team and played the next two games. To put it simply, what happened to me was considerably worse."
Deveaux said he was examined by a team doctor after the Helmersson hit and not allowed to return to the game, but he was never told he'd suffered a concussion.
"We're in playoffs and players play injured all the time," he said. "If it was explained to me how serious my injuries were, I could guarantee you I wouldn't have been out there.
"I'm not a doctor, I'm a hockey player. I may be facing repercussions for playing those games for life."
Deveaux said he's unsure if he'll be able to resume playing hockey.
Nordstrom said the concussion has changed her husband, adding that he's had trouble sleeping and focusing and had impaired speech.
"As we continue to weather this challenge we only ask for fair treatment, we simply ask all sides of this story be considered," she said.