Dion Phaneuf's complicated legacy in Ottawa
The veteran defenceman became the first Senators player to be roasted in public for wanting to stay in Ottawa, Ian Mendes writes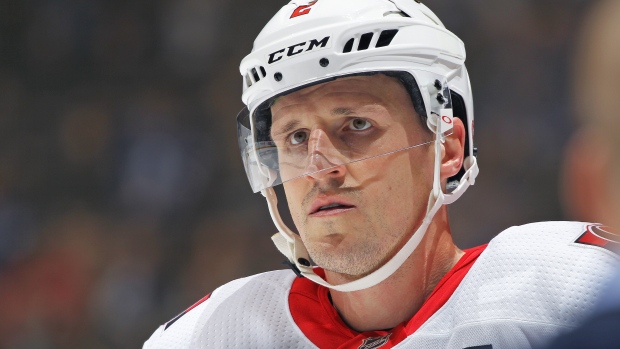 When the Ottawa Senators acquired Dion Phaneuf from the Toronto Maple Leafs in February of 2016, the deal was immediately met with skepticism from both fan bases.
The Senators were able to shed a pair of unpopular contracts in Jared Cowen and Colin Greening, while the Leafs managed to pawn Phaneuf's hefty dollars and term on to the Senators – a contract many thought was unmovable.
In hindsight, it's obvious that the Maple Leafs got everything they wanted out of the trade from their perspective. They got out from a massive contract that was clearly an impediment to their plan for a significant rebuild. And while they had to absorb contracts for players like Cowen, Greening and Milan Michalek, it was essentially a case of short-term pain for long-term gain.
Trying to gauge whether or not the Senators came out ahead in the Phaneuf deal is a little more complicated.
It's clear now that the Phaneuf deal was the start of the Senators aggressive push into a 'win-now' mode under Pierre Dorion. While the deal was consummated with Bryan Murray as the club's general manager – Murray actually hammered out the details of the transaction in a 90-minute face-to-face meeting with Lou Lamoriello in his Canadian Tire Centre office – assistant general manager Dorion was kept in the loop the entire time.
At that point, the succession plan was essentially in place. Murray knew that he would be handing over the keys to Dorion at the end of that season.
In the months that followed, Dorion started pushing all of his chips into the middle of the table with an aggressive approach designed to create a Stanley Cup window during Erik Karlsson's prime years. The logic was simple: We've got Karlsson for three seasons on a cap hit of $6.5 million dollars, so why not be aggressive in building a roster that could compete for a championship in that time frame?
After the Phaneuf trade, the Senators sacrificed youth for experience on a number of occasions. They traded Mika Zibanejad to the New York Rangers for Derick Brassard – also tossing in a second-round draft pick in the deal. They moved prospect Jonathan Dahlen to the Vancouver Canucks in exchange for Alex Burrows – only sealing the deal after agreeing to a two-year contract extension with the veteran winger.
And just a few months ago, Dorion finally landed his white whale, ending his 18-month pursuit of Matt Duchene in a deal with Colorado. In addition to trading Kyle Turris in that transaction, Dorion also surrendered the club's first-round pick from 2017 in Shane Bowers, as well as a future first-round pick that must be given to Colorado either this year or next.
The Senators season has since fallen off a cliff, causing Dorion to swiftly change his course of action. Based on owner Eugene Melnyk's recent statement – in which he announced a three-year contract extension for Dorion – it now appears as though the club has a mandate to shed salary and put more of an emphasis on developing younger talent.
The Phaneuf deal is likely the first domino to fall, as the club will save north of $5 million in real dollars over the next few seasons. Those savings could increase if the club opts to buy out the contract of Marian Gaborik this summer, although it's unclear which route they will take at this point. We could get our first clue later this week if the Senators make Gaborik a healthy scratch for their games against Buffalo and the Rangers.
An injury to Gaborik down the stretch would most certainly complicate the buyout process, so if the Senators are thinking about using that option, they would be best served to bubble wrap the injury-prone Gaborik for the next eight weeks.
In any event, hardly anyone is thinking that Gaborik is the answer to what ails this club. Gaborik – who turned 36 on Wednesday – has scored just 29 goals over parts of his last three seasons. If the mandate is to get younger, faster – and ostensibly cheaper – Gaborik does not check any of the boxes.
So where does this all leave Phaneuf's legacy in Ottawa – especially when you consider they didn't get much in return for him other than a little salary relief?
The answer to that question is complex.
The club made it all the way to the Eastern Conference final in Phaneuf's only full season in Ottawa. Phaneuf logged more than 23 minutes per night in 100 games last season – which included 19 playoff contests.
A cynic would argue that the Senators reached the conference final in spite of Phaneuf and not because of him. But regardless of what side of the fence you sit on, it's undeniable that Phaneuf ate a lot of meaningful minutes for a team that went deep in the playoffs.
What's interesting is that after the long playoff run, the Senators went to Phaneuf last summer and asked him to waive his no-trade clause for the purposes of being exposed in the Vegas expansion draft. Phaneuf declined – which he was well within his rights to do – and the club ended up losing Marc Methot to the Golden Knights.
Many fans criticized Phaneuf's refusal to waive his no-trade clause, personally blaming him for the loss of Methot. They argued that the Golden Knights would never have touched him because of the term and dollars left on his deal, but that was not a risk Phaneuf was willing to take.
Ironically, Phaneuf became the first player to be roasted in the public for wanting to stay in Ottawa. That statement speaks volumes about his complicated legacy in this market.
When Phaneuf arrived in town two years ago, he came with a reputation for being standoffish and abrasive. Yet the Phaneuf we saw in this city was the polar opposite of the reputation that preceded him.
He was beyond courteous to the media and always the first player willing to speak after disheartening losses. He took a large portion of the leadership burden off the shoulders of Karlsson inside the locker room – a fact the captain himself would readily admit.
In the community, Phaneuf did more than anybody will ever realize, but that was by his own design. He often bought tickets for disadvantaged fans and would personally greet them after home games, but he never wanted any credit for it. Phaneuf wrote personal cheques to charitable organizations in this city with only one explicit stipulation – "You can't tell anybody about this."
The stories of Phaneuf's countless kind acts in this city are well known to those who have crossed paths with him.
On Wednesday morning, yet another story was passed along about Phaneuf's first season in Ottawa. The Senators players and their wives ended up going for dinner at a restaurant on Preston Street. In the process, they ended up having the waitress ask a group of customers to move their table so the players could all sit together.
Only one player came over to thank those regular patrons for moving their seats to accommodate the Sens players and not surprisingly, it was Phaneuf. When that group went to pay their bill, the waitress informed them that Phaneuf had taken care of it for them – and they were free to order some more drinks if they liked.
Phaneuf will probably cringe at the idea of these stories being floated out there about him, but they are certainly a part of his legacy in Ottawa.
But to many fans, the heartwarming tales of generosity could not outweigh the performance on the ice when measured against his annual $7 million salary. Phaneuf's ability to still be a top-four defenceman was questioned by many and this season as he saw ice time dip to a career low – albeit he was still averaging 20 minutes per night.
The pairing of Phaneuf and Cody Ceci became the target of fan anger and resentment, with critics arguing their performance didn't merit their significant time on ice under Guy Boucher. The situation with Phaneuf couldn't be classified as toxic, but it was hard to look 18 to 24 months into the future and see a scenario in which Phaneuf was a key part of this team.
In the end, the Phaneuf era in Ottawa perfectly bookmarks the club's shift in philosophy. When they acquired him in 2016, it was done with an eye towards building a veteran-laden team that could complete immediately for a Stanley Cup. By moving him on Tuesday night, it seemingly has started the process of jettisoning older players and contracts in an attempt to construct a younger roster.
In what could be a case of life coming full circle, perhaps the Ottawa Senators of 2018 are like the Toronto Maple Leafs from two years ago – moving Phaneuf's contract in the attempt to jumpstart a rebuild.