Dodgers lead, Red Sox rising in MLB Power Rankings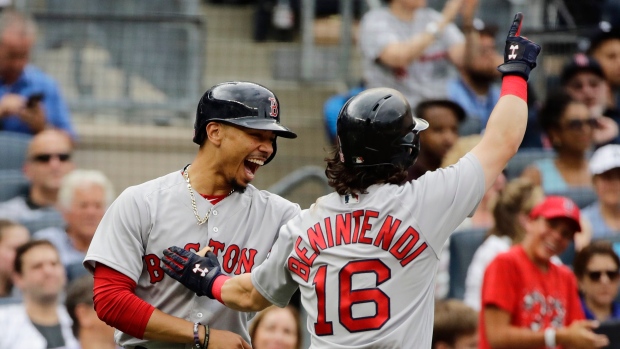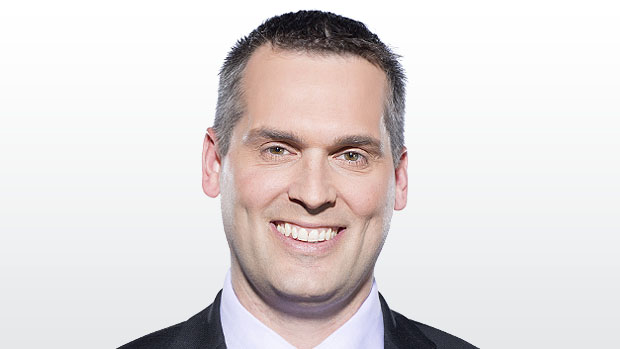 The Los Angeles Dodgers are pulling away from the rest in the TSN.ca MLB Power Rankings.
The Boston Red Sox are making a move, jumping from nine to two, the St. Louis Cardinals climb from 13 to nine, and the Milwaukee Brewers, having added second baseman Neil Walker from the Mets, go from 14 to 11.
Heading the other way, the Washington Nationals slip from two to five after Bryce Harper lands on the disabled list. Injuries have decimated the Seattle Mariners' pitching staff, knocking them down from 12 to 19.
The Toronto Blue Jays keep hanging around on the edge of the playoff race, and are up one spot, from 19 to 18.
LOS ANGELES DODGERS
RECORD: 84-34 THIS WEEK: 1 LAST WEEK: 1
RS: 604 RA: 391 DIFF: +213
OPS: .796 ERA: 3.10
The Dodgers aren't slowing down, not even a little bit. They have won 18 of the past 21 games, leaving the rest of the league behind.
Key Injuries: LHP Scott Kazmir (hip), LF Andrew Toles (knee), 1B Adrian Gonzalez (back), LHP Clayton Kershaw (back), RHP Brandon McCarthy (blisters).
BOSTON RED SOX
RECORD: 68-51 THIS WEEK: 2 LAST WEEK: 9
RS: 573 RA: 481 DIFF: +92
OPS: .745 ERA: 3.65
The Red Sox have only lost two of the past 13 games, pulling away in the American League East and rookie 3B Rafael Devers has hit the league like a thunderbolt, hitting six home runs and posting a 1.078 OPS in his first 17 games.
Key Injuries: RHP Steven Wright (knee), LHP David Price (elbow), 2B Dustin Pedroia (knee).
HOUSTON ASTROS
RECORD: 73-46 THIS WEEK: 3 LAST WEEK: 3
RS: 682 RA: 525 DIFF: +157
OPS: .847 ERA: 4.23
There was some criticism of the Astros not doing enough before the non-waiver trade deadline, and they've stumbled to a 4-10 record since. Some pretty big names out of the lineup right now, too.
Key Injuries: SS Carlos Correa (thumb), CF George Springer (quad), RHP Lance McCullers (back).
NEW YORK YANKEES
RECORD: 63-55 THIS WEEK: 4 LAST WEEK: 5
RS: 607 RA: 494 DIFF: +113
OPS: .776 ERA: 3.79
Injuries to the pitching staff put some pressure on the Yankees, and RF Aaron Judge has a .712 OPS with 49 strikeouts in 30 games since the All-Star break. That Home Run Derby, man.
Key Injuries: 1B Greg Bird (ankle), 2B Starlin Castro (hamstring), RHP Michael Pineda (elbow), DH Matt Holliday (back), RHP Masahiro Tanaka (shoulder), RHP Luis Cessa (ribs).
WASHINGTON NATIONALS
RECORD: 71-46 THIS WEEK: 5 LAST WEEK: 2
RS: 631 RA: 506 DIFF: +125
OPS: .810 ERA: 4.00
The Nationals have won five of six, but that injury list is getting awfully long and adding Bryce Harper to it is a pretty big deal. The good news is that Harper should be able to return this season.
Key Injuries: CF Adam Eaton (knee), LF Jayson Werth (foot), SS Trea Turner (wrist), RHP Joe Ross (elbow), RHP Stephen Strasburg (elbow), RF Bryce Harper (knee).
CLEVELAND INDIANS
RECORD: 65-52 THIS WEEK: 6 LAST WEEK: 6
RS: 564 RA: 449 DIFF: +115
OPS: .770 ERA: 3.63
On a five-game winning streak, the Indians have allowed just seven runs in those five games.
Key Injuries: RHP Cody Anderson (elbow), RF Lonnie Chisenhall (calf), LF Michael Brantley (ankle).
ARIZONA DIAMONDBACKS
RECORD: 66-53 THIS WEEK: 7 LAST WEEK: 4
RS: 585 RA: 480 DIFF: +105
OPS: .767 ERA: 3.61
Losing seven of 10 knocks the Diamondbacks down a bit, and the next nine on the road does make it more challenging to turn it around.
Key Injuries: RHP Shelby Miller (elbow), LF Yasmany Tomas (groin), SS Nick Ahmed (hand), LHP Robbie Ray (concussion), SS Chris Owings (finger).
COLORADO ROCKIES
RECORD: 66-53 THIS WEEK: 8 LAST WEEK: 8
RS: 612 RA: 568 DIFF: +44
OPS: .774 ERA: 4.62
One of the best stories of the season, RHP Chad Bettis returned from cancer treatments to throw seven shutout innings against Atlanta.
Key Injuries: LHP Tyler Anderson (knee), 1B/LF Ian Desmond (calf).
ST. LOUIS CARDINALS
RECORD: 61-58 THIS WEEK: 9 LAST WEEK: 13
RS: 554 RA: 505 DIFF: +49
OPS: .762 ERA: 3.86
The Cardinals had won eight in a row, before back-to-back losses, but they are healthy and have closed to within 1.5-games of the Cubs in the NL Central.
Key Injuries: None.
CHICAGO CUBS
RECORD: 62-56 THIS WEEK: 10 LAST WEEK: 7
RS: 563 RA: 512 DIFF: +51
OPS: .765 ERA: 3.95
The Cubs are 5-8 in the past 13 games, which has allowed the Cardinals to close the gap, and a couple of injuries dings the starting lineup.
Key Injuries: SS Addison Russell (foot), C Willson Contreras (hamstring).
MILWAUKEE BREWERS
RECORD: 62-59 THIS WEEK: 11 LAST WEEK: 14
RS: 558 RA: 542 DIFF: +16
OPS: .757 ERA: 4.15
The Brewers don't seem to have the pitching to be a playoff contender, but they aren't giving in; they've added 2B Neil Walker, and his .784 OPS, to bolster the lineup.
Key Injuries: RHP Chase Anderson (oblique), C Jett Bandy (rib), LHP Brent Suter (shoulder).
TAMPA BAY RAYS
RECORD: 60-61 THIS WEEK: 12 LAST WEEK: 10
RS: 523 RA: 532 DIFF: -9
OPS: .741 ERA: 4.05
The Rays have lost eight of 11, which drops them to 1.5-games out of a playoff spot. They're among seven teams within two games of the second wildcard spot in the American League.
Key Injuries: SS Matt Duffy (Achilles), RHP Matt Andriese (groin), CF Kevin Kiermaier (hip), RHP Alex Cobb (toe).
L.A. ANGELS OF ANAHEIM
RECORD: 61-59 THIS WEEK: 13 LAST WEEK: 15
RS: 512 RA: 518 DIFF: -6
OPS: .704 ERA: 4.15
It does seem more than a little surprising that the Angels are somehow in a playoff spot at this point in the season – they have the worst OPS in the American League despite having the best player in baseball. But, they're getting healthier and that's going to give them a chance to finish strong.
Key Injuries: RHP Garrett Richards (biceps), RHP Alex Meyer (shoulder).
KANSAS CITY ROYALS
RECORD: 60-59 THIS WEEK: 14 LAST WEEK: 11
RS: 534 RA: 552 DIFF: -18
OPS: .731 ERA: 4.37
The Royals' midseason surge has stalled, and they have lost 11 of the past 16 games. They are still in the playoff hunt, but they are chasing.
Key Injuries: RHP Nathan Karns (arm), RF Paulo Orlando (shin), RHP Trevor Cahill (shoulder).
TEXAS RANGERS
RECORD: 58-60 THIS WEEK: 15 LAST WEEK: 17
RS: 585 RA: 565 DIFF: +20
OPS: .751 ERA: 4.42
The Rangers are getting healthy and have won five of the past six games, and one of their most dangerous weapons is a guy hitting .208; 3B/1B Joey Gallo has 34 home runs and a .890 OPS.
Key Injuries: None.
BALTIMORE ORIOLES
RECORD: 59-61 THIS WEEK: 16 LAST WEEK: 16
RS: 569 RA: 612 DIFF: -43
OPS: .760 ERA: 4.88
Orioles starting pitchers have a 5.50 ERA. How can they possibly contend for a playoff spot with those arms?
Key Injuries: SS J.J. Hardy (wrist).
PITTSBURGH PIRATES
RECORD: 58-61 THIS WEEK: 17 LAST WEEK: 18
RS: 496 RA: 536 DIFF: -40
OPS: .709 ERA: 4.18
It hasn't been easy for LF Starling Marte to get up to speed after his 80-game suspension. He has a .630 OPS in 39 games.
Key Injuries: 3B Jung-Ho Kang (personal), RF Gregory Polanco (hamstring).
TORONTO BLUE JAYS
RECORD: 57-62 THIS WEEK: 18 LAST WEEK: 19
RS: 509 RA: 588 DIFF: -79
OPS: .728 ERA: 4.53
A 13-8 record in the past 21 games keeps the Blue Jays on the fringe of the wildcard race – 3.5-games out – and that's apparently close enough that they want to hang on to RHP Marco Estrada.
Key Injuries: 2B Devon Travis (knee), RHP Aaron Sanchez (blister), SS Troy Tulowitzki (ankle), C Russell Martin (oblique).
SEATTLE MARINERS
RECORD: 60-61 THIS WEEK: 19 LAST WEEK: 12
RS: 565 RA: 582 DIFF: -17
OPS: .742 ERA: 4.49
The Mariners have lost five of six and the latest injuries to the pitching rotation may be a little too much to overcome.
Key Injuries: LHP Drew Smyly (arm), RHP Hisashi Iwakuma (shoulder), RF Mitch Haniger (face), RHP Felix Hernandez (shoulder), LHP James Paxton (pectoral).
MINNESOTA TWINS
RECORD: 59-58 THIS WEEK: 20 LAST WEEK: 20
RS: 544 RA: 601 DIFF: -57
OPS: .738 ERA: 4.76
The Twins won't go away, winning seven of the past nine games, but their run differential – to say nothing of their pitching staff – suggests trouble.
Key Injuries: LHP Hector Santiago (back), RHP Phil Hughes (thoracic outlet syndrome), LHP Adalberto Mejia (arm).
MIAMI MARLINS
RECORD: 57-61 THIS WEEK: 21 LAST WEEK: 21
RS: 553 RA: 570 DIFF: -17
OPS: .758 ERA: 4.58
The Marlins have won five of six, and have new owners coming. Seems relatively positive, but it also appears that they will at least consider moving RF Giancarlo Stanton, who they put on revocable waivers, who has slugged 18 homers in the past 27 games.
Key Injuries: LHP Wei-Yin Chen (arm), RHP Edinson Volquez (knee), 3B Martin Prado (knee), 1B Justin Bour (oblique).
CINCINNATI REDS
RECORD: 50-70 THIS WEEK: 22 LAST WEEK: 27
RS: 559 RA: 659 DIFF: -100
OPS: .763 ERA: 5.28
Since the All-Star break, 1B Joey Votto has a .507 on-base percentage. Over that same time period, Mike Trout is next best at .480.
Key Injuries: RHP Anthony DeSclafani (elbow), LHP Brandon Finnegan (shoulder), RHP Bronson Arroyo (shoulder), RF Scott Schebler (shoulder).
SAN DIEGO PADRES
RECORD: 53-66 THIS WEEK: 23 LAST WEEK: 26
RS: 462 RA: 610 DIFF: -148
OPS: .705 ERA: 4.74
The Padres aren't terribly exciting, but have a 13-12 record in the past 25 games, which is certainly respectable. The star of the second half has been 2B Cory Spangenberg, who has a 1.030 OPS in 30 games, but the Padres in general are hitting better, with a .781 OPS as a team since the break.
Key Injuries: LF Alex Dickerson (back), RHP Christian Friedrich (lat), RHP Jarred Cosart (elbow), SS Erick Aybar (foot).
OAKLAND ATHLETICS
RECORD: 53-67 THIS WEEK: 24 LAST WEEK: 25
RS: 531 RA: 632 DIFF: -101
OPS: .740 ERA: 4.75
The A's traded 1B Yonder Alonso to Seattle, but 23-year-old 1B Matt Olson is doing just fine, thanks, mashing four home runs in the past five games.
Key Injuries: RHP Andrew Triggs (hip), C Josh Phegley (oblique).
ATLANTA BRAVES
RECORD: 53-64 THIS WEEK: 25 LAST WEEK: 22
RS: 528 RA: 591 DIFF: -63
OPS: .730 ERA: 4.66
Veteran C Kurt Suzuki has belted 12 home runs in 55 games. The last time he had more was when he hit 14 in 2011.
Key Injuries: 3B Adonis Garcia (finger), LF Matt Kemp (hamstring), SS Johan Camargo (knee).
DETROIT TIGERS
RECORD: 53-66 THIS WEEK: 26 LAST WEEK: 23
RS: 573 RA: 619 DIFF: -46
OPS: .756 ERA: 5.02
Detroit's pitching has fallen off in the second half, posting a 5.43 ERA since the All-Star break, but RHP Justin Verlander has a 2.72 ERA in seven starts over that time.
Key Injuries: LHP Daniel Norris (groin).
NEW YORK METS
RECORD: 53-64 THIS WEEK: 27 LAST WEEK: 24
RS: 548 RA: 605 DIFF: -57
OPS: .759 ERA: 4.89
The Mets have had virtually no pitching, but can take some encouragement from the production of LF Michael Conforto and 3B Wilmer Flores, who have a .977 and .967 OPS since the All-Star break, respectively.
Key Injuries: 3B David Wright (back), RHP Noah Syndergaard (oblique), RHP Jeurys Familia (blood clot), RHP Matt Harvey (shoulder), RHP Zack Wheeler (arm), RHP Seth Lugo (shoulder).
SAN FRANCISCO GIANTS
RECORD: 48-73 THIS WEEK: 28 LAST WEEK: 28
RS: 484 RA: 591 DIFF: -107
OPS: .683 ERA: 4.51
The return of Kung-Fu Panda hasn't met with immediate results; Sandoval has a .576 OPS in his first nine games back with the Giants.
Key Injuries: RHP Johnny Cueto (blister), 1B Brandon Belt (concussion), 2B Joe Panik (concussion).
PHILADELPHIA PHILLIES
RECORD: 43-74 THIS WEEK: 29 LAST WEEK: 29
RS: 464 RA: 569 DIFF : -105
OPS: .715 ERA: 4.57
23-year-old rookie RF Nick Williams has been on a roll, posting a .905 OPS with 24 RBI in the past 29 games.
Key Injuries: RHP Clay Buchholz (forearm), RHP Vince Velasquez (finger), RF Aaron Altherr (hamstring).
CHICAGO WHITE SOX
RECORD: 45-71 THIS WEEK: 30 LAST WEEK: 30
RS: 500 RA: 587 DIFF: -87
OPS: .725 ERA: 4.71
The White Sox gutted their pitching staff, so they have lots of hopes for 23-year-old Reynaldo Lopez, who gets to take a regular turn down the stretch.
Key Injuries: CF Willy Garcia (concussion), 3B Matt Davidson (wrist).
Scott Cullen can be reached at scott.cullen@bellmedia.ca