Does Homan deserve a Team Canada spot at Scotties?
An exemption cleared the way for Jennifer Jones and her team to return to the Scotties Tournament of Hearts as Team Canada next year. A case can be made that Rachel Homan's rink should have the chance to wear the red and white at the women's national curling championship as well.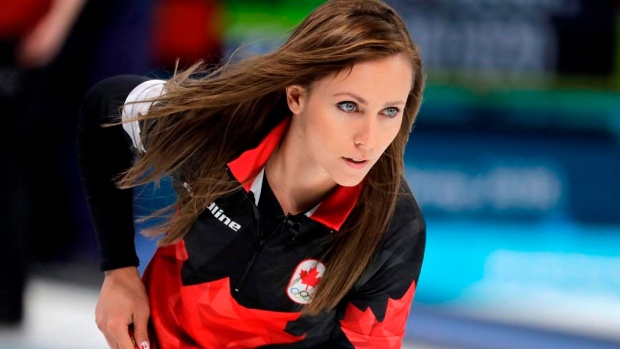 An exemption cleared the way for Jennifer Jones and her team to return to the Scotties Tournament of Hearts as Team Canada next year.
A case can be made that Rachel Homan's rink should have the chance to wear the red and white at the women's national curling championship as well.
Jones won the 2018 Scotties last season to secure a 2019 berth as defending champion. But only two members of the team that won last February in Penticton, B.C., would be returning, leaving Jones one short of the minimum.
Jones skipped a Team Manitoba lineup that included lead Dawn McEwen, second Jill Officer and Shannon Birchard at third. Birchard was a substitute for vice-skip Kaitlyn Lawes, who didn't play because she was preparing to play in the mixed doubles competition at the Winter Olympics.
Officer, who recently stepped away from competitive curling, has been replaced by Jocelyn Peterman this season while Lawes returned to the Jones rink after the Games.
Curling Canada said it would craft a rule exemption to allow Jones to play as Team Canada at the Feb. 16-24 Scotties in Sydney, N.S., with a federation official explaining that a team should not be penalized because a player was representing their country at an international event.
Homan, meanwhile, won the Scotties in 2017 and normally would have returned as Team Canada in 2018. But since her team of third Emma Miskew, second Joanne Courtney and lead Lisa Weagle won the Olympic Trials, they were unable to return to the Scotties because of the scheduling conflict with the Pyeongchang Games.
"I think there are some similarities in those two scenarios and I know that both team scenarios either have been looked at or are in the process of being looked at with the intention of finding a fair and equitable solution," said Curling Canada high-performance director Gerry Peckham.
Michelle Englot replaced Homan as Team Canada at the 2018 Scotties, which moved to a 16-team format last season with the addition of a wild-card play-in game. The two highest-ranked teams who played in provincial/territorial championships were eligible to earn the final berth and become Team Wild Card.
One potential solution for 2019 would be to drop the play-in game for one year and give Homan's team a 'Canada 2' entry, since like Lawes, they were unable to compete at the Scotties due to international commitments.
However, that could remove a big-name draw from the Jan. 27-Feb. 3 Ontario championship. It would also upend a wild-card qualification formula that was agreed upon by member associations and a play-in game that proved to be quite popular.
Peckham has said there is flexibility to adjust event-based rules, but there are several stakeholders to consider.
"The predominant rationale being should there be a punitive consequence to a player that is brought about by a conflict in schedules that had nothing to do with the player and everything to do with those in charge of organizing those events?," Peckham said from Ottawa in a recent interview.
"So I think if you take a mindset where you're not seeking a punitive consequence, where you're trying to find a fair and reasonable solution either for an athlete or a team that was representing their country, then in theory that should lead you down a pathway where you wouldn't be all that challenged to simply do the right thing."
The issue was not raised at Curling Canada's recent annual general meeting. A spokesman confirmed Tuesday that the subject is "on the radar and being discussed" by federation staff but there are "no firm answers yet."
Lawes won mixed doubles gold in Pyeongchang with John Morris while Homan's team did not reach the podium. It was the first time that mixed doubles was on the Olympic program.
ICE CHIPS
The Canadian Curling Hall of Fame welcomed three new members at Curling Canada's recent national curling congress in Ottawa.
Peter Inch of London, Ont., Patricia Ray of Ottawa and the late David Beesley of Toronto were the 2018 inductees.
Inch, who helped organize the 2006 Scotties and 2011 Tim Hortons Brier in his hometown, was elected to Curling Canada's board of governors in 2013 and served as chair for the 2016-17 season.
Ray spent 29 years as the federation's chief operating officer and served as interim chief executive officer on three occasions.
Beesley, who died last January, was a longtime national sponsorship sales director for Curling Canada and was instrumental in the creation of the Series of Champions events.
———
Curling Canada has unveiled a revamped assistance program that will see curling centres offered low-interest loans by the organization to help them with long-term sustainability.
The loans would provide capital for items like roofing, chillers, compressors, lighting, warm-area renovations and curling stones.
"We've known for a long time that Canada's curling centres need our support to remain healthy and viable, and we're extremely happy to be in a position to offer this assistance," said Curling Canada CEO Katherine Henderson.
The plan was finalized last week.
The federation also elected Maureen Miller of Yellowknife as chair of the board of governors while Amy Nixon, Donna Krotz, Paul Addison and Sam Antila were elected to the board.
———
Team Hasselborg and Team Gushue are the early leaders in the season-long race for the Pinty's Cup after victories in the opening Grand Slam event of the season.
Anna Hasselborg guided her Swedish team to the Elite 10 women's title in Chatham-Kent, Ont., over the weekend while Brad Gushue skipped his St. John's team to the men's crown.
The Pinty's Cup is awarded annually to the men's and women's teams who have accumulated the most bonus points over the course of the season. Hasselborg and Gushue earned 12 points apiece, three more than the finalists and five more than the semifinalists.
Bonus points are available at the remaining Slams through the Apr. 9-14 Players' Championship in Toronto. First-place payouts will be $75,000 per team of the $300,000 total pool.
———
Follow @GregoryStrongCP on Twitter.