Donaldson's winning dash reflects Jays' aggressive mentality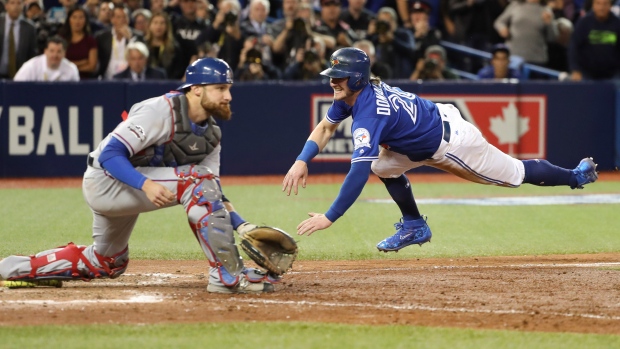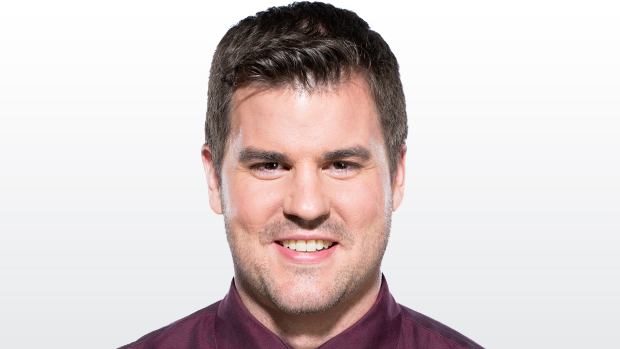 TORONTO – There were times during the Toronto Blue Jays' September swoon when they made some head-scratching base running gaffes. Runners on second would try for third on ground balls to their right; they would get thrown out. There was the odd, ill-advised first-to-third attempt on a base hit.
Some were brain farts, others were mistakes of aggression. Sometimes there's a fine line between the two but as the offence struggled and it became clear that players were trying to generate anything they could, they defended their actions by saying they wanted to err on the side of being aggressive. Passivity, even if it was the safer option, was death.
So, perhaps appropriately, it came to pass that an act of aggression on the base paths resulted in the game-winning run in Game 3 of the American League Division Series against the Texas Rangers on Sunday.
Josh Donaldson, standing on second base after a leadoff double in the 10th inning of a 6-6 game, scored on Russell Martin's fielder's choice ground ball to short. That grounder would have been an inning-ending double play had second baseman Rougned Odor's throw not one hopped first baseman Mitch Moreland; the ball scooted far enough away from Moreland that Donaldson, who'd rounded third, raced for home and beat the throw.
That play is all aggression and instinct. If Donaldson is thrown out, you live with it. He was trying to make the play to win the game. He did. The result: Jubilation.
"It's pretty tough," Jose Bautista said of Donaldson's read. "You don't know how far the ball is going to trickle away from the first baseman but obviously a great job on him by being heads up and taking a huge risk. It's like any risky situation in life, if you succeed you have great payoff."
"That's the mentality of this group; we have an aggressive, confident mentality," Marcus Stroman said. "A lot of people counted us out in September but we stayed true to ourselves and we achieved what we knew we were capable of."
TRAVIS UPDATE
The perfect scenario unfolded for the Blue Jays with regard to the Devon Travis injury situation. The Jays beat Texas to advance and Travis, who manager John Gibbons said was available only in an emergency situation for Game 3, wasn't used.
Suffering from a bone bruise in his right knee, Travis took a cortisone injection on the off day Saturday. Typically, the point of injection feels worse before it feels better and Travis was in considerable pain on Sunday.
The hope is the cortisone settles and Travis, with days now to rest and receive treatment, will be available for Friday's start of the American League Championship Series.
There was strong consideration given to replacing Travis with Ryan Goins. Had the Blue Jays made the move, Travis would have been ineligible to return until the World Series.
BAUTISTA'S ROOTING INTEREST
It's not often an athlete will admit to wishing for one team's success over another. Jose Bautista did, though, after the Blue Jays' clinching victory over Texas.
Cleveland and Boston were rained out on Sunday and will therefore play the third game of their series on Monday afternoon. Cleveland leads 2-0 and can clinch at Fenway Park.
"Hopefully the Indians win (Monday) and they have the same break because I think that's one of the things that gave us a little bit of an edge over Texas, playing meaningful games down the stretch instead of sitting back and enjoying the finish of the season after clinching it early," Bautista said. "Hopefully Cleveland wins (Monday) because if that series goes five games I think we'd like to get some sort of game-type situations going. I don't know if we'll get some simulated games just to stay sharp."
The American League Championship Series will open on Friday either at Cleveland's Progressive Field or in Boston at Fenway Park.
SHAPIRO SWEATING BULLETS
Blue Jays President and CEO Mark Shapiro, who spent more than 20 years in the Cleveland organization, admitted his rooting interest in the club's division series against Boston - a rooting interest which will disappear should Cleveland advance to play the Blue Jays.
If you think fans are the only ones who bit their nails and fret over every pitch, rest assured these games are tortuous for teams' front offices. Shapiro was ecstatic after the victory but he was sporting the wear and tear like anyone else who'd been watching.
"It's not easy," Shapiro said. "The only way I can explain it to you is it's excruciating but it's what you live for. You want to feel like the games are painful; you want to feel like they're meaningful."