Dorion: 'Next six months' will be critical for Senators
Ottawa Senators GM Pierre Dorion issues an apology for his trade deadline remarks about departing star Mark Stone, reaffirms that 'the worst is behind us' and re-establishes that he's in firm control of the team's hockey operations dept., Ian Mendes writes.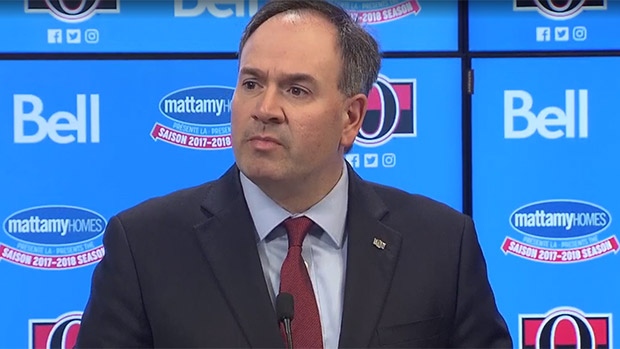 On February 25th – mere hours after trading Mark Stone to the Vegas Golden Knights – Pierre Dorion made a comment that bewildered his entire fan base.
"Today is one of the proudest days I've had in the NHL," Dorion said at the time. "Whatever people want to call this situation, we did well. I as GM of the Ottawa Senators [am] proud of what we've done today."
Dorion was alluding to the fact that he had just acquired Erik Brannstrom from the Golden Knights, but many in this market interpreted his comment as being completely tone deaf – as the fan base was forced to watch another beloved star player leave town.
On Tuesday, making his first public statements in more than a month, Dorion apologized to the Senators fan base for his inflammatory comment at the trade deadline.
"I probably know that I alienated some fans when I said my proudest day as general manager is when we traded Mark Stone. I probably have to apologize for that," admitted Dorion. "I think the scout in me was talking too much and I have to remember that I'm the general manager here."
The last part of Dorion's comment – that he's still the general manager in Ottawa – was a theme he echoed multiple times during his 30-minute season-ending press conference with reporters on Tuesday. Team owner Eugene Melynk raised a lot of eyebrows when he seemed to put Dorion on the hot seat during a recent radio interview in Ottawa.
"The next six months are going to be critical for Pierre Dorion and his team and the whole operations to get their act together in a big way," Melnyk told 580 CFRA in an interview on March 22.
The comment from Melnyk, coupled with the fact the organization was openly seeking a senior management person to join the hockey operations staff, left many wondering if Dorion was on thin ice in Ottawa.
On Tuesday, Dorion dismissed any questions surrounding his job security and firmly established that he will remain at the top of the hockey operations department for the foreseeable future.
"Eugene said that in the next six months that we need to get our act together. And I agree totally with that," Dorion said. "The next six months, and I'd even put the next year, are pivotal for this organization."
The general manager went on to lay out a short- and medium-term plan for the hockey club and suggested they could be back in the playoff mix as early as next season.
"We're in phase two of the rebuild," Dorion proclaimed. "The worst is behind us and we as a hockey group feel passionate about that. I know there have been some tough times, but we feel the good times are ahead. Next year, we need to start contending for the playoffs. Two years from now we need to be a playoff team. Three years from now we need to be a team that contends in the playoffs. And those are the words from the general manager. It has to be like that. This year was a tough year, but I really feel like the worst is behind us. And maybe I'm too positive and maybe I'm too blunt, but I really feel strongly about these statements."
The top priority now for Dorion appears to be to find a full-time head coach, after Guy Boucher was relieved of his duties six weeks ago. While many speculated that the new senior person in hockey operations would have a hand hiring Ottawa's next bench boss, Dorion quickly put that rumour to rest with an authoritative statement.
"As far as the coaching, I have the full autonomy to hire the coach – whoever that may be," he said.
Dorion said he would likely interview a half-dozen candidates in person, including Marc Crawford who finished the campaign with a 7-10-1 record in 18 games as the interim head coach. The Senators general manager said he will meet with Crawford and the coaching staff on Tuesday, but that was not considered a formal interview for the job.
"I think Marc did a really good job, but at the same time we owe it to our fans and our players that we hire the best available coach. With his experience, he's definitely going to be a candidate for us," Dorion said of Crawford's candidacy. "We have a younger group of players, so we're looking for a good teacher. We're not going to ask the coach if he knows what Fortnite is, but it's important that he can relate to the players."
Of note, he said the club has not even decided on a firm title for what the new senior management position will be, but it certainly didn't sound like a demotion was imminent for Dorion.
"We don't know who that person will be and we don't know what title he will have. We're excited that we're going to have someone who is experienced and we can throw ideas at," Dorion said. "Adding that extra voice is just going to make us a better organization."
Dorion also went a step further, acknowledging that the past 12 months have not been easy for Senators fans, as the fan base has watched star players such as Stone, Erik Karlsson, Matt Duchene and Ryan Dzingel get shipped off to various teams as part of the rebuilding effort.
"We feel that we're ahead of where we were last year in this rebuild. I know with what we've done over the last 12 months it's not the sexiest thing to see, but I know we've acquired so many picks and prospects that we're going to be a good team," added Dorion.
The Senators are expecting an influx of young talent to join the roster next season, as prospects such as Drake Batherson, Alex Formenton, Logan Brown and Brannstrom will all have legitimate shots to make the opening night roster. That means Dorion and the Senators will not be aggressive on the free agent market – although that does not come as a surprise to anybody.
"If we feel we need [to] add one veteran we might look at it, but don't expect us to be too busy on July 1," Dorion said.
Dorion also left the door open for a contract extension for Cody Ceci, who has become a polarizing figure for some fans in this marketplace. Ceci and the Senators had a contentious contract negotiation last summer, which concluded with a bitter arbitration hearing. Eventually, Ceci was awarded a one-year deal at $4.3M, but he's once again a restricted free agent and the Senators appear open to the possibility of bringing the rearguard back for another season.
"We feel that Cody Ceci – slotted in the right spot – can be a very good player," Dorion said. "If we slot him in the right spot, he's someone we'd like to keep around."
The general manager also seemed keen to keep another pending restricted free agent in Anthony Duclair, who scored eight goals in 21 games after being acquired for Dzingel from Columbus.
"We're happy with Anthony's play. He showed he can produce at the NHL level, but we have to make sure it's the right fit here," added Dorion.