Dorion preaching patience, trust to suspicious fan base
In the wake of three more star players departing, the trust between the Ottawa Senators and their fan base has eroded to its lowest point in franchise history, Ian Mendes writes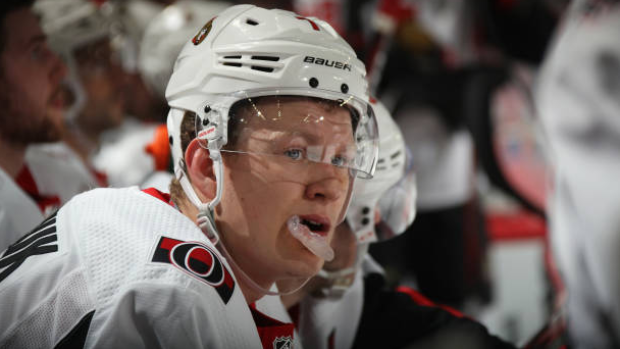 Pierre Dorion walked into the TSN 1200 studio at Canadian Tire Centre on Monday evening with a confident stride in his step that belied his awkward predicament.
The Senators general manager was just forced to trade three star players in 72 hours, a task few general managers in professional sports have ever had to execute in such a tight window. Yet Dorion was smiling ear-to-ear and brimming with self-assurance as he entered the room.
"Today is one of the proudest days I've had in the NHL," he said in one of his first remarks during his interview. It was an intriguing comment considering he dealt Mark Stone, one of the most popular players in franchise history, a couple of hours earlier.
Dorion's cheerful demeanour had nothing to do with the departure of Stone. Instead, he was already fawning over 19-year-old prospect Erik Brannstrom, the centrepiece of the deal coming back from the Vegas Golden Knights.
"Trust me, long-term this guy is a star. We have never traded for a player of this calibre," Dorion gushed. "Unfortunately Mark Stone didn't want to sign, but we got an outstanding return here. Whatever people want to call this situation, we did well. I, as GM of the Ottawa Senators, am proud of what we've done today."
The operative word in Dorion's statement is trust. As it stands now, the trust between the fan base and the organization has eroded to its lowest point in the 26-year history of this franchise.
Even more telling is the fact that the players don't seem to have any trust in the direction of the organization either. It's a damning indictment of the Senators current situation that they couldn't convince Stone to sign a long-term contract extension over the course of several months, but Stone had no hesitation in hammering out an eight-year deal with the Golden Knights in about the amount of time it takes to have a pizza delivered.
Dorion alluded to the fact that money and contract structure from the Senators weren't the deciding factors in Stone's departure – or the exits of Matt Duchene and Ryan Dzingel.
"I don't think money at all was an issue. I think the fact of where our team is headed was the biggest factor in them not signing here," Dorion said.
Simply put, the Senators were unable to convince any of their big stars to stick around for the rebuild, even though they made aggressive and lucrative contract offers to all of them.
Most teams have the luxury of a hometown discount where star players will take a little less money to stay in an environment they enjoy. It seems as though the Senators have crossed some sort of bizarre threshold where they actually have to pay a hometown premium – maybe even more than market value – to try and convince superstars to stay.
Make no mistake about it, the Senators stated publicly that their No. 1 priority was to try and sign these players. Anything short of that needs to be viewed as a major disappointment. So now the Senators have to shift to PR spin mode, trying to justify the series of blockbuster trades they were forced to make.
In a vacuum, Dorion did quite well in these deals. The scouting reports on Brannstrom are highly favourable and he does project out to be a top-end defenceman. Instead of getting quantity – like the return for Erik Karlsson – Dorion held out for quality in this deal. There is every reason for Sens fans to hope this turns out to be a one of those Jarome Iginla-for-Joe Nieuwendyk trades that leaves everybody happy. A current star is traded for a future one, leaving both sides satisfied.
In moving Dzingel and Duchene to Columbus, Dorion received a first-round pick, two second- round picks and highly rated prospect Vitaly Abramov. If Duchene re-signs with the Blue Jackets, the Senators would be compensated with another first-round pick.
"We've never had this number of picks. We've had this number of prospects. We're early on in the rebuild," explained Dorion. "We're asking our fans to be patient. We're asking our fans to trust us."
But if you're a Senators fan, your default emotion these days is suspicion. This is an organization that went all-in on Duchene in November of 2017 and then abruptly changed course towards a rebuild only three months later. That started a scorched-earth policy that has stripped the roster completely bare. Only five players remain from the squad played in Game 7 of the Eastern Conference Final less than two years ago: Zack Smith, Jean-Gabriel Pageau, Bobby Ryan, Cody Ceci and Craig Anderson.
Some of the most popular players in franchise history –Stone, Duchene, Dzingel, Karlsson, Kyle Turris, Derick Brassard, Mike Hoffman and Marc Methot – have departed since that Chris Kunitz double-overtime goal in Game 7 in Pittsburgh. The latest purge of star talent out of Ottawa in such a condensed window has drawn comparisons to the Montreal Expos, who were best known for jettisoning superstars in the 1990s.
"It's not easy because you're seeing players that you're married to leave," Dorion said of the mass exodus of popular players. "But at the same time, it's like, 'Get a new girlfriend. Get married to new players.' You can grow with them."
But the Sens organization needs to be sensitive to the fact that the fan base here is in a state of mourning. They're not looking to start a long-term relationship with a new player because they've just had their hearts broken for the umpteenth time. They're looking to vent their frustrations and engage in collective group therapy. While the cupboard is relatively well-stocked for the future, fans need a chance to grieve the departures of some of their favourite players before they fall in love again with these prospects.
Sure, Senators fans can grow with Thomas Chabot, Brady Tkachuk and Brannstrom. But what happens when those young stars come up to unrestricted free agency and need a big contract? Will they join the endless parade of stars who have left Ottawa over the past few years? Right now, Senators fans are conditioned to think that their favourite player is going to eventually walk out the door, so it's not worth putting anybody's name and number of the back of a jersey.
Dorion, however, is adamant that the bleeding has stopped.
"In this rebuild, all these players are staying. You heard the commitments from Mr. Melnyk himself. When those players get to their prime, we will be spending to the cap for that amount of time," said Dorion.
But you'll excuse Senators' fans if they wait until Chabot puts his name on an eight-year contract extension before they believe that statement.