Dorion's first hire will be huge
Ottawa's new general manager knows he's under pressure to end the revolving door behind the Senators' bench, Ian Mendes writes.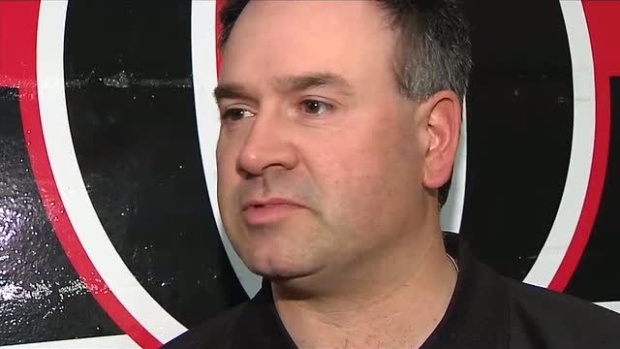 Back in December, when he was receiving copious amounts of criticism for his handling of winger Mike Hoffman, Dave Cameron had a message for all the armchair head coaches in Ottawa.
"Like I've said, I don't know when – and I hope it's not real soon – but this job will be available again. Just apply," Cameron said wryly on Dec. 10.
Four months later, that comment is dripping with irony as the head coaching job in Ottawa is available again after Cameron and his assistants were officially relieved of their duties on Tuesday morning.
Perhaps Cameron shouldn't have tempted fate with such a comment, given the history of head coaches in this town. Once considered to be a goalie graveyard, Ottawa has made a distinct switch to burying head coaches in recent years. Consider: Cameron had only been on the job for about 16 months and yet still coached more games for the Senators than John Paddock and Craig Hartsburg combined.
Even Paul MacLean – who guided the team to two straight playoff berths in his first two seasons – was let go only 109 games after winning the Jack Adams Award as coach of the year.
With the firing of Cameron, the hockey world is rolling its collective eyeballs, saying "here we go again" in Ottawa. The divorce rate with head coaches and the Senators mirrors most Hollywood marriages and the job behind the bench has become a punchline in NHL circles. New general manager Pierre Dorion is out to change that perception, acknowledging that his relationship with the new head coach will be vital moving forward.
"The GM and coach are like husband and wife. If you want to have success, you have to work together," explained Dorion. "Sometimes, they are hard conversations, but for any team to have success you have to be on the same page – GM and coach."
Dorion admitted he had a hard time sleeping on Monday night, knowing he had to break the news to Cameron on Tuesday morning. While there might be a few more sleepless nights as he tries to find the perfect candidate as a head coach, Dorion said he's up for the challenge and is well aware that he cannot afford to make a mistake with his first hire. Bryan Murray had a few mulligans in his attempt to find the right coach, but the prevailing thought is that Dorion needs to hit this one out of the park.
"Whoever that person is, I hope they are here for a long time," said Dorion. "I know there's going to be pressure with every decision I make, but this is going to be a big one. This is huge."
The obvious question in Ottawa is whether owner Eugene Melnyk is willing to step up and pay a top coaching candidate. Boston Bruins coach Claude Julien, for example, is making $2.5 million. If he becomes available this off-season his price tag might be higher than that sum. Factor into the equation that the Senators will still be paying Cameron and MacLean next season and there are more than a few whispers that Ottawa may not be able to afford a top candidate.
Dorion shot down the suggestion that an internal budget would be a significant hurdle to landing a new head coach saying, "Mr. Melnyk has made it very clear to me that we will have the resources to hire the best coach available."
The preference is clearly to have someone with a track record of NHL success on his resume, but Dorion also admitted that he could be open to a candidate with limited experience if he's the perfect fit. In addition to Julien, names like Marc Crawford, Guy Boucher and Mike Yeo have already started churning in the rumour mill in Ottawa. And while a coach like Randy Carlyle has a Stanley Cup ring with Anaheim from 2007, it's unlikely he would be brought into Ottawa given his previous relationships with players like Clarke MacArthur, Bobby Ryan and Dion Phaneuf.
At this point, Dorion said he would like to name a new head coach at some point before the NHL Draft in Buffalo at the end of June.
Dorion spent about 12 hours at the rink on Monday, conducting exit interviews with the players, finally leaving the building around 9 p.m. He asked the coaching staff to stay away from the building, knowing that their future was hanging by a thread. The general manager wanted to hear directly from the players and offered them the opportunity to speak frankly about the situation in Ottawa.
During his press conference, Dorion was asked about the revolving door of head coaches in Ottawa and how much responsibility the players should have in seeing seven different head coaches in the span of less than 10 years.
"The players are part of this too," answered Dorion. "I don't want to repeat myself here, but you can't fire 23 players."
In Ottawa, unfortunately, that's a story we know all too well.