Dorion tight-lipped as pressure mounts ahead of trade deadline
Ottawa Senators general manager is facing multiple important roster decisions in a condensed window, Ian Mendes writes.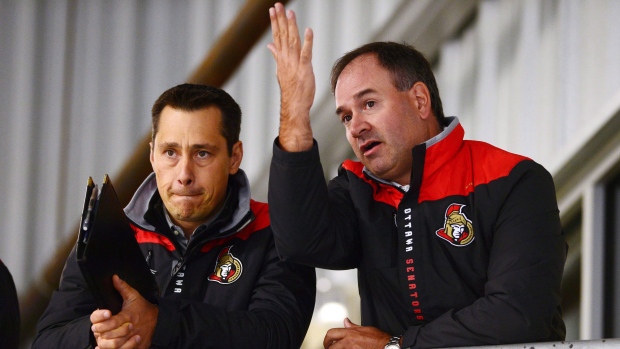 With less than three weeks to go until the NHL trade deadline, Pierre Dorion knows that time is running short.
In that condensed window, the Ottawa Senators general manager has to figure out how to sign his top three scorers – Mark Stone, Matt Duchene and Ryan Dzingel – to lucrative contract extensions. Failing that, Dorion may be forced to trade all three of the pending unrestricted free agents.
On Tuesday, Dorion admitted he probably can't take things right up to the 3 p.m. ET deadline on Feb. 25 when it comes to negotiations with his pending UFAs.
"I don't think it would be ideal to take it to 3 p.m. (on deadline day), but we have a good idea of what time frame we need to have contracts done by," Dorion told TSN 1200 on Tuesday.
Tuesday's interview was Dorion's first on-the-record conversation about the status of his UFAs and the upcoming trade deadline in several weeks. There has been a concerted effort from the Senators – both from the management and players involved – to lock down any chatter surrounding the status of the UFAs.
Stone, for example, has refused to give any detailed answers in the past month when asked about his situation by reporters.
Dorion is reading from the same tightly scripted playbook, doing his best to try put a cone of silence over negotiations that have clearly reached a critical juncture.
"Obviously, we're not going to deny that we've met with agents. Pat Brisson (Duchene's agent) was in town yesterday. When it comes to our UFAs and the three bigger guys, we've had conversations with all three agents. From there, we've done a good job keeping things private," Dorion said. "Negotiations are still going on and we hope to have them signed at some point in time. For now, we're going to keep things private between the players, the agents and ourselves."
Dorion was asked about the external perception that Stone and Duchene were prioritized ahead of Dzingel. The feeling from many observers is that the Senators will deal with Stone and Duchene first – then circle back to Dzingel after those first two situations are resolved.
Dorion, however, declined to give specifics on his approach to simultaneously negotiating with three key players.
"Internally, we have our opinions on the values of all three players. And we hope to keep all three players," he said.
One player who doesn't appear to be headed anywhere at the trade deadline is netminder Craig Anderson. There has been some low-level chatter about the potential of moving Anderson to a club that needs goaltending help at the deadline, but Dorion seemed to pour cold water on that notion when asked directly about Anderson's future with his club.
"Craig Anderson definitely fits in here," Dorion said. "He's had a great year. Unfortunately, he got hurt and we missed him a lot. Craig fits in our plans here. He's a cornerstone in nets for us and one of the key players here."
Dorion did indicate that he would reassess the goaltending situation in the off-season and that Marcus Hogberg and Filip Gustavsson could be ready to challenge for NHL jobs soon. Their future may hinge on the health of Mike Condon, who appears to still be part of the goaltending plan moving forward.
Condon – who is recovering from a hip injury and hasn't played an NHL game since October – has started taking shots and moving in his crease this week. The plan is to get him back into game action before the end of this regular season.
"We're hopeful that by March he'll be playing games," Dorion explained. "Obviously, he'll start off in Belleville. It's been a long and arduous process, but he's definitely progressing in the right direction."
The Senators are currently sitting in 31st place overall in the NHL standings – a tough pill to swallow since they don't own their own first-round pick by virtue of the Duchene trade with Colorado in November of 2017. Dorion had the option of giving the Avalanche their first-round pick in 2018, but opted to defer that until the 2019 draft, selecting Brady Tkachuk fourth overall last summer.
The rationale from the club at the time is that they finished in 30th place in 2017-18 and this season the club would improve in the standings. However, they have moved down a spot, placed in the precarious position of now having the best odds of selecting first overall in 2019 without actually holding that pick.
"There's no doubt that we feel very comfortable in the decision we made to draft Brady Tkachuk," Dorion said. "Brady Tkachuk has come in here and done everything we've wanted."
Unless they get a first-round pick via a trade, the earliest the Senators could be picking in the 2019 Draft is the 32nd pick overall. If that is the scenario for Dorion, he says he's comfortable with the type of player that might be available in that spot.
"It's a good draft. It's not the deepest draft in certain spots. But we feel that drafting early in the second round, we'll get a very similar player as you'd get somewhere in the first round," he said.
With the club sitting in last place, plenty of scrutiny has come in the direction of the coaching staff. Guy Boucher and his associates Marc Crawford and Martin Raymond are all in the final year of their contracts. Dorion didn't feel comfortable Tuesday giving a detailed assessment of his coaching staff with 30 games left in the regular season.
"I don't think it's the right thing to do – a public evaluation of a coach mid-season," Dorion said. "All we can tell you is that this coaching staff has come in and worked hard. They've developed our younger players and given our older players some direction. For me, I don't think it's fair to give Guy a public evaluation during the season."
Dorion felt the club could compete for a playoff spot when the calendar flipped to December, but a barrage of injuries sidetracked the club. He said losing Thomas Chabot, Duchene and Anderson for one simultaneous stretch in December was catastrophic for the team, saying "the magnitude was higher than we expected."
The general manager believes that despite the poor showing in the standings, some of his younger players have progressed and will potentially benefit down the road from dealing with the adversity that comes along with being in last place.
"You look at how many young kids we've put in the lineup and how many young kids have progressed. Look at Thomas Chabot, Colin White, Brady Tkachuk," he said. "Of course people are going to point to the wins and losses and say,
'You haven't progressed,' but we feel that it might not show in the points. But our younger players are gaining valuable experience for when we're on the cusp of making the playoffs or in the playoffs because they've gone through tough times."