Dorion will need to prove he was the right choice for GM
Sunday morning was not the time for Pierre Dorion to get on a podium and start telling Ottawa Senators fans how things were going to drastically change under his watch. Despite a solid resume, the new general manager of the Senators will need to prove he just wasn't the cheap decision, writes TSN Radio's Ian Mendes.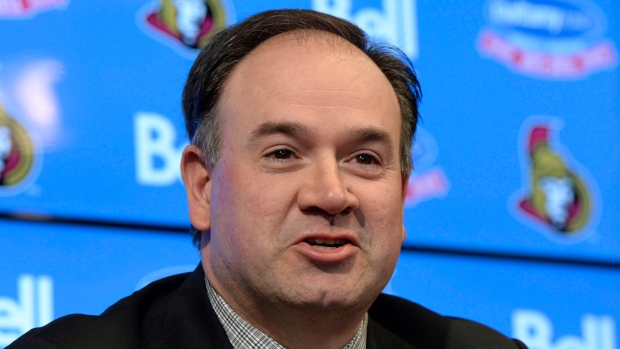 Sunday morning was not the time for Pierre Dorion to get on a podium and start telling Ottawa Senators fans how things were going to drastically change under his watch.
Instead, Sunday's press conference was more about honouring his predecessor and mentor Bryan Murray. Dorion was emotional when speaking about Murray's influence on his life and career as a father figure. The Orleans native has waited his whole life to become a general manager, but it was clear as he spoke on Sunday morning that he wishes the circumstances of inheriting the position in Ottawa were different.
The 73-year-old Murray cited a number of factors – age, health and timing – in the explanation of why he was stepping aside. But simultaneously, he admitted that he wished he wasn't leaving after a season in which the Senators missed the playoffs.
It's not that he's left Dorion a complete mess to clean up; but the picture in Ottawa is murky at best. Who is going to coach this team? What happens with Mike Hoffman? Do Alex Chiasson and Patrick Wiercioch deserve qualifying offers? Can Clarke MacArthur play next season? Will they pursue a top-six forward? Are Thomas Chabot and Colin White ready to step into the NHL next season?
These are all questions Dorion needs to address by the time training camp opens in the fall, but instead of laying out a clear blueprint today, he merely spoke in generalities. Dorion offered up comments like these:
"I wasn't hired here to get the team into the playoffs, but to succeed in the playoffs."
"We need to learn the lessons from this past season and never repeat them in the future."
"There will be some hard conversations tomorrow as the on-ice product has to be better."
Dorion didn't offer up his clear vision and mandate for the team, because it would be disrespectful to Murray. Sunday was about allowing Murray to say goodbye and Dorion to thank him for his influence. And the club wanted its fans to know a firm succession plan was in place and the hockey operations department wasn't spinning in chaos as the club missed the post-season.
And now comes the hard part.
Dorion's actions will speak louder than any answer he could have given at a podium. He will need to fight the perception that he's merely a cheap, internal replacement as general manager – even though his resume reads like someone who deserves this position. If you opened up this job to outside candidates, Dorion's credentials would stand against anybody else looking to become a general manager. But still, there is a segment of the Ottawa fanbase who believe Dorion is merely Bryan Murray 2.0 – an assistant general manager who should also take some of the blame for the team's recent shortcomings.
But doubters of this promote-from-within approach, should recall that Ottawa has let a pair of really valuable assistant general managers walk out the door in recent years in Tim Murray and Peter Chiarelli. Both seem to have found their stride as general managers and there's no reason to think Dorion can't follow in their footsteps.
The internal hiring process also worked for the Red Wings, who promoted Ken Holland from his role as assistant general manager back in 1997 to the general manager title that he still holds today. Holland's resume before getting the top job in Detroit read a lot like Dorion's, with a three-year stint as assistant general manager and a seven-year post as the Red Wings director of amateur scouting. Dorion started his tenure in Ottawa as the club's chief amateur scout.
But in Ottawa, the circumstances are different because there is a perception that things are always done on the cheap. The promote-from-within strategy hasn't worked well in the past few years – especially when it comes to coaches. John Paddock, Cory Clouston – and some could argue Dave Cameron – have all struggled to be long-term solutions behind the bench after being elevated from lesser roles within the organization. So you can forgive Sens fans if they have a bitter taste in their mouths about internal hirings.
The 43-year-old Dorion, however, will come into the position with a fresh perspective. Those who are skeptical about the organization's embracing of analytics will be happy to know that Dorion is more than open to the concept of advanced stats. He's in constant contact with an analytics person he hired on a freelance basis to look at the team starting midway through last season. And it would be shocking if he didn't use more of the advanced stats and analytics information in his decision-making process moving forward.
Dorion also has a wealth of fresh scouting experience in his back pocket, having seen a large number of players with his own eyes over the past few seasons. If he wasn't in Ottawa, there was a good chance Dorion was at a rink in Sweden checking out a potential prospect. Dorion's ability to recall information about various players he has seen in person is uncanny and his first-hand knowledge of talent will undoubtedly be one of his greatest strengths. When you look at the 30 active general managers in the NHL right now, there's a good chance that nobody has seen more games with his own eyes than Dorion in the past five years.
He's been an integral part of the Senators NHL drafts since 2008, helping the club land the likes of Erik Karlsson, Mark Stone, Mike Hoffman, JG Pageau, Mika Zibanejad and Zack Smith among others. His scouting and drafting skills would have to be considered his greatest assets.
In what might have been his crowning achievement as assistant general manager, Dorion somehow managed to convince an arbitrator to give Mike Hoffman only $2 million for this past season. That is generally regarded as one of the best awards ever in favour of a team in NHL arbitration history. His negotiating skills cannot be questioned, as he also did the lion's share of work getting contract extensions done with the likes of Marc Methot and Craig Anderson – both of whom signed reasonable long-term deals. With all of the negotiating he's done on behalf of the Senators, the contact list on his iPhone is just as impressive as anybody else in the business.
If Murray had one fatal flaw in Ottawa, it was his ability to find the right head coach. The constant carousel must have been maddening to Murray, who himself enjoyed unparalleled success in his two seasons in Ottawa. In many ways, Murray was maybe looking to find the perfect clone of himself; someone who could handle the game and make the same decisions he would behind the bench. Instead, it led to years of a fruitless search and a constant revolving door as Senators head coach. Dorion won't come to the position with the same experience as Murray, who was one of the most successful head coaches in NHL history. And perhaps this shift could help the Senators finally find the long-term solution behind the bench.
So the message to Senators fans is simple: Dorion will come to the table with new ideas – but today just wasn't the right day to unveil them.