Dreger Report: Heat on the Habs
There might not be another team in the NHL that draws more attention when they're losing than the Montreal Canadiens, TSN Hockey Insider Darren Dreger writes.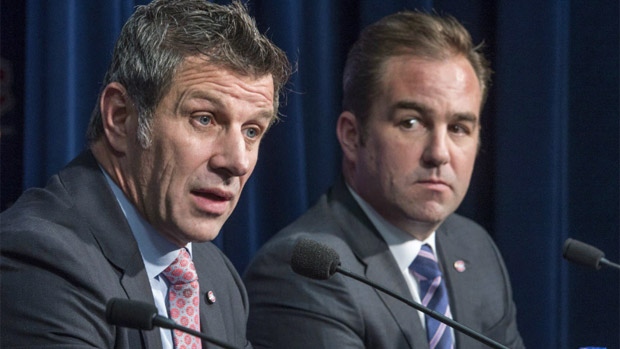 There might not be another team in the National Hockey League that draws more attention when they're losing than the Montreal Canadiens.
Everyone has a theory. Everyone has a fix.
From firing general manager Marc Bergevin to trading captain Max Pacioretty, pretty much every knee-jerk reaction to Montreal's painful start has crossed my desk in the past week.
Unless my read on Habs' ownership is off, and those close to the Molson clan aren't as close as they think, it's highly unlikely we'll see any dramatic change in management during the season.
As for trading Pacioretty, even though he's not scoring goals, he is a proven goal scorer, supported by 30-plus goals in five of his last six seasons. If the Habs sink to a point where their captain is put on the block, the lineup of willing trade partners eager to take him will be long.
Montreal isn't at that point. Yet.
What's more likely is the Canadiens return to form. If Carey Price starts standing on his head on a nightly basis and Pacioretty fine-tunes his nose for the net, it will reduce the heat in Montreal down to a slow boil, which is the norm in a market with high expectations and a fan base that demands results.
Sour Senator?
Did anyone else notice the headshake and sour look on Erik Karlsson's face Thursday night when he took his place on the bench, absent from Ottawa's starting three in overtime?
Sens coach Guy Boucher is a very defensive coach and could probably see another one slipping away as Ottawa gave up a 4-2 lead in the third period to the New Jersey Devils. However, in just his second game back from injury, Karlsson had a hand in three of the four Senators goals and looked eager to further his heroics in overtime.
Instead, he watched the Devils' John Moore fire home the game winner 1:20 into the extra frame, leaving the Sens winless in their first four games at home.
Granato on Marleau's milestone
Patrick Marleau played in his 1,500th NHL game this week.
Undoubtedly, Marleau was swamped by messages from friends, family and ex-teammates, congratulating him on a remarkable milestone.
Among the many to reach out to the 38-year-old Maple Leafs forward was Tony Granato, head coach of the NCAA Wisconsin Badgers and a former NHL player who helped welcome Marleau into the league as an 18-year-old in San Jose in 1997-98.
"He had so much speed...We all just said, 'Wow' when he first stepped on to the ice," Granato recalls of Marleau's rookie season. "As an older player you're looking for kids to step in and raise the energy level and Patty certainly did that.
"He was so respectful. He was quiet and didn't say much. He just smiled and quietly did his thing. He was a pro right out of the gate."
Nicknames in hockey are common and often spun from first or last names, but Granato and Gary Suter, another Sharks veteran in 1997, strayed from the norm. Instead of just sticking with Patty, Marleau's nickname was Jack.
"We called him Jack because of his energy," Granato said. "It was just a little thing to bring him into the group and it helped get us all fired up. He would get jacked up before each game. It just stuck."
Although his birth certificate suggests Marleau is now in the twilight of his career, Granato has high praise for Toronto luring him east. In part, because of the influence he will have on Auston Matthews and the Leafs young stars on and off the ice, but also because his hockey sense and talent level remain high.
"He skates so well...he's so smart. He's always been an honest player and one of those guys you want to play with and you want to see do well," Granato said. "He's the real deal."
Song in his heart
Gord Downie's passing this week hit hard. Arguably Canada's most valuable player, Downie succumbed to cancer, leaving our country in mourning. The outpouring of profound loss has been incredible. The hockey community has been deeply impacted, and not just by those proud to be Canadian.
Matt Lashoff is an American hockey player who clearly feels a connection to Downie and the Tragically Hip, a connection he believes was made in 2003 when he joined the OHL's Kitchener Rangers. However, Lashoff's appreciation of The Hip goes deeper than simply the background music in a dressing room.
"The Hip kind of defined my life throughout my professional hockey career," Lashoff told The Dreger Report. "That was the one thing that was always a constant – The Hip's music. It was always there."
Lashoff spent time in Boston, Tampa Bay and Toronto trying to establish an NHL career that just never took off. In many ways, The Hip and hockey are contributing to the next exciting step in Lashoff's life.
At 31, the former first-round draft pick is contemplating his next move in hockey. Scouting, coaching, player development – Lashoff is open to anything and says he's had discussions with teams about his future.
But for the moment his days are filled by chasing around his two children, a five-year-old and three-year-old, and making music.
For a number of years Lashoff would finish his playing season and then spend a few days each month of the summer in Nashville, working with writers and artists developing what became much more than a hobby.
"Songwriting was always my outlet," Lashoff said. "Writing or strumming on the guitar – that was always the thing that kind of got me through a bunch of stuff."
Songwriting has been his release and means of unwinding when the twists and turns of trying to find his way in pro hockey were hard to manage. Lashoff says, ballpark, he's probably written close to 150 songs.
He's a gifted writer and talented musician who was affected by the senseless massacre in Las Vegas. Rather than sit quiet, Lashoff joined the chorus of support for "Vegas Strong" by writing and recording Stronger Together, with some of the proceeds from the song directed to the VGK Foundation.
"The core of the whole thing is to help people out," he said. "I think that's also the core of the song, and whether it's the vibe or lyrically, if it helps somebody get through something that's gold in my mind."