Dreger Report: Likelihood of more video review; what's in store for Mike Green?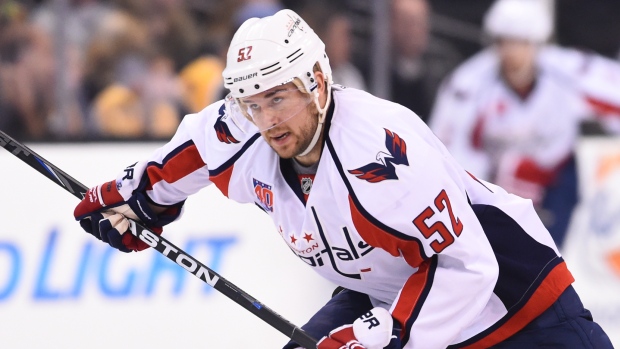 Criticizing NHL officiating is like picking low-hanging fruit. Every night we can assemble a collection of video replay evidence to shine a spotlight on missed or questionable calls.
Such is the life of an NHL official.
However, Thursday night in Pittsburgh featured an oddity - a very rare example of a minor penalty being rescinded.
A case where something appeared to happen actually didn't and at least one of the two officials assigned to this game was 100 per cent sure it didn't.
As our video shows (click here to watch the video), L.A. Kings forward Jarret Stoll was tagged for tripping as Pittsburgh's Brandon Sutter went down inside the blue line. Stoll argued the call, but was swiftly directed to the penalty box by Greg Kimmerley who eventually waived Stoll out of the box after consulting with fellow referee Steve Kozari.
It's clear a mistake was made and this isn't the first time on-ice officials have rescinded a penalty. However, a similar scenario almost always includes a high-sticking infraction when a teammate has caused the foul, as recognized by one of the game's four officials.
This wasn't that case. This was a tripping call the Penguins might argue shouldn't have been called back.
As it turns out, Pittsburgh won the game and this isolated play had no impact on the outcome. However, while NHL officials shouldn't be beaten down for getting it right, some around the league worry about the precedent of this overturned call from now on.
The game's decision makers have worked hard at protecting the aspect of human error when it comes to NHL officiating. Of course, it's the goal of every official to 'get it right,' but those opposed to additional video review believe the discretion of the officials is traditionally an important piece of the fabric of the game.
Perhaps a blown call in Wednesday's game between the Detroit Red Wings and Washington Capitals (click here to watch the video) raised the level of sensitivity in the NHL's officiating department.
The Wings beat the Caps 4-2 after having a Drew Miller goal disallowed based on goaltender interference, though it was clear via video replay that Braden Holtby simply fell while scrambling to get back to his crease.
This one should have been called back.
It's unreasonable to overreact and suggest these examples are going to force NHL general managers to re-write the rulebook. But it's likely these same GMs will take a much closer look at it the next time video review or a coach's challenge is tabled for discussion.
There's always a next time.
Educating On Ebola
To no surprise, the National Hockey League has an Infectious Disease Committee and recently sent an email to all clubs primarily related to the Ebola outbreak. But it also included steps and precautions to be taken to avoid certain infectious flu viruses, particularly during the fall flu season.
By the sounds of things inside the St. Louis Blues' dressing room, this memo was received a tad late. An infectious bacteria that leveled several of the Blues players continues to plague the team, causing sore throat symptoms and swelling described as similar to the mumps.

The flu is nothing new and annually makes its rounds throughout the NHL, but those impacted by this bug in St. Louis say they've never seen anything like it.
Green-er Pastures?

We're just over four months until the NHL trade deadline, so there's plenty of time for the Washington Capitals and veteran defenceman Mike Green to work on a contract extension. However, with the offseason signings of blueliners Matt Niskanen and Brooks Orpik, many believe Green may be viewed as the odd man out given the $6.08 million cap space he takes up.

Sources say to date, there's been little to no contract discussions with Green - who is averaging close to 20 minutes per game and ranks fourth in that category behind John Carlson, Matt Niskanen and Brooks Orpik.

"Mike is playing exceptionally well this season under Barry Trotz and is a very valuable part of our team and our organization," Capitals GM Brian MacLellan told The Dreger Report. "Per club policy, we don't comment on player negotiations, but we are very happy with the way Mike is playing right now."
Based on his experience and the high value placed on a quality defenceman with a right-handed shot, trade speculation surrounding Mike Green will most definitely intensify.

And count the Detroit Red Wings among those teams with interest.

Have a great weekend and look forward to the next edition of Insider Trading, Tuesday on SportsCentre and TSN.ca.