Dreger Report: Subban isn't going anywhere
P.K. Subban and Michel Therrien not being on the same page isn't a newsflash. But as TSN Hockey Insider Darren Dreger writes, to suggest the Montreal Canadiens have officially grown tired of him is a considerable leap.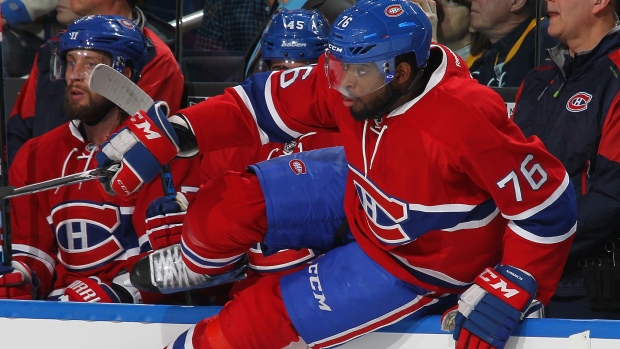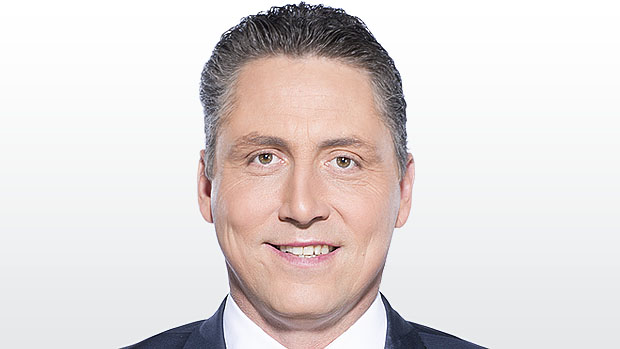 P.K Subban lost an edge in the offensive zone in an attempt to execute a high risk play and was subsequently benched and called out by his coach Michel Therrien.
And that play - along with Therrien's post-game reaction - provided quality material in a debate that isn't quite ready to fade.
Almost every ex-NHL player-turned analyst lashed out at Therrien on Thursday for singling out Subban on a goal that cost the Montreal Canadiens a much-needed win over the Colorado Avalanche because of a calamity of errors, starting with Subban's faux pas.
The fact that Therrien reached his boiling point with his star defenceman on Wednesday night is a clear indication that coach and player are not on the same page, even though both insist their relationship is strong.
That's not a newsflash. But to suggest the Montreal Canadiens have officially grown tired of one of the most talented defencemen in the league is a considerable leap.
P.K Subban isn't going anywhere.
He's not being shopped and the Habs aren't calling around to see if there's a market for the $9 million dollar star. And if calls are being received from rival GMs hoping to loot the train wreck that's the Canadiens' season, Marc Bergevin isn't listening.
Perhaps things change in the future - maybe as early as the summer if the Habs continue to slide - but the sense is there will be other changes considered (and likely made) before thinking of moving Subban out of Montreal.
Sure, we may revisit this story in the months and years ahead. But as of right now, Subban's immediate future in Montreal isn't in jeopardy.
A first for everything...
For the first time in his NHL coaching career, Winnipeg Jets head coach Paul Maurice was ejected from a game in Thursday's 6-5 shootout loss to the Tampa Bay Lightning.
Maurice could also face a league fine, which will be determined by NHL Vice President and Director of Hockey Operations Colin Campbell.
As the video in TSN's Jets regional coverage shows, Maurice was furious when Lightning defenceman Anton Stralman escaped a penalty after tagging both Nikolaj Ehlers and Bryan Little.
But what's believed to have pushed him over the edge just prior to the start of the third period was the stare down that took place between the veteran coach and referee Francois St. Laurent, mere minutes after Maurice learned Little may have suffered a significant neck injury.
Maurice was fuming and was worried about his player. And while the language he was using may not be fit for family viewing, did St. Laurent incite Maurice by engaging him further rather than ignoring the Jets bench and dropping the puck?
In fairness, the video we see of St. Laurent appearing to smirk just prior to puck drop was after Maurice was ejected. However, it's likely that St. Laurent - and perhaps the entire NHL officiating team - will be reminded to be aware of their body language during such an emotionally-charged incident.
Despite what most believe, NHL officials are challenged internally on a weekly basis and are held accountable through video clips (the good and the bad) sent out over the course of the week. While St. Laurent won't face the same immediate financial penalty Maurice may be charged with, it will be reflected on his record and may cost him playoff assignments and earnings if the league believes he is at fault in any way.
On The Hunt
There's always a place in The Dreger Report for a late bloomer in the world of hockey.
Moose Jaw Warriors forward Dryden Hunt is far from over the hill, but the 20-year-old is undrafted and (aside from a test drive with the Carolina Hurricanes in 2014) hasn't earned a ton of NHL interest.
Until now.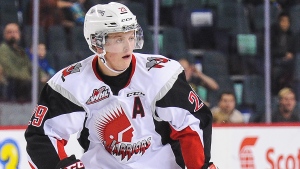 With hat tricks in four of his last five games, Hunt has taken the Western Hockey League by storm and interest from NHL teams is on the rise. As ridiculous as his current streak might be, the overage winger leads the WHL with 45 goals and 93 points in 58 games.
At least four NHL clubs have expressed an interest in signing Hunt to a three-year entry level contract, including at least one Canadian team. His hockey sense, skill and competitive nature are among the qualities NHL scouts say Hunt is noted for.
With lots of time remaining in the season, Hunt's pro stock will rise - along with the list of teams willing to give this free agent junior star a legitimate shot at the National Hockey League.
We're just over a week away from TradeCentre and the NHL trade deadline - stay with Insider Trading, SportsCentre, That's Hockey, TSN Radio and TSN.ca for the latest. Talk to you soon.