Dreger: 'Seems likely' Sens will trade Turris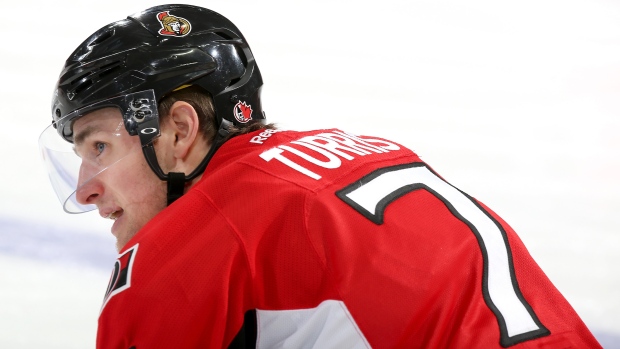 The Ottawa Senators have been unwilling to meet Kyle Turris' ask for a long-term extension and TSN Hockey Insider Darren Dreger believes the two sides are headed for a split.
Dreger reported Thursday the two sides opened extension talks over the summer, but the Senators don't want to sign the 28-year-old into his mid-30s. Dreger notes a trade is not imminent, but "seems likely" to take place before the trade deadline.
"There has been a fair bit of dialogue between Senators management and the agent who represents Kyle Turris, dating back to early July or late June." Dreger said. "Kyle Turris wants to commit long-term to the Ottawa Senators, we're talking about a seven or eight-year term. So far, the Sens haven't been willing to do that, so they cannot allow an important piece like Kyle Turris to walk out as an unrestricted free agent.
"The issue is, how do you replace him?"
Turris is currently the team's top-line centre, playing between Zack Smith and Mike Hoffman. He was a minus-2 in Thursday's season opener, logging 22:36 of ice time - the highest among Ottawa forwards and third most on the team.
Turris scored a career-high 27 goals and posted 55 points in 78 games with the Senators last season. He scored four goals and added six assists while averaging 21:19 of ice time per contest in 19 playoff games.
Selected third overall in 2007 by the Arizona Coyotes, Turris was traded to the Senators in 2011 for David Rundblad and a second-round pick.
He owns 114 goals and 265 points in 396 games since joining the Senators and owns three 20-goal seasons.
Turris is entering the final season of a five-year, $17.5 million ($3.5 million AAV) contract extension signed in 2012. According to CapFriendly, the Senators have $59 million in salary committed to the 2018-19 season with Turris, Mark Stone, Cody Ceci, Johnny Oduya, Chris Wideman and Fredrik Claesson all up for new deals.