Drogba will not play on turf to start season
Montreal Impact striker Didier Drogba will miss Sunday's regular-season opener against the Vancouver Whitecaps because of ongoing knee problems linked to artificial turf.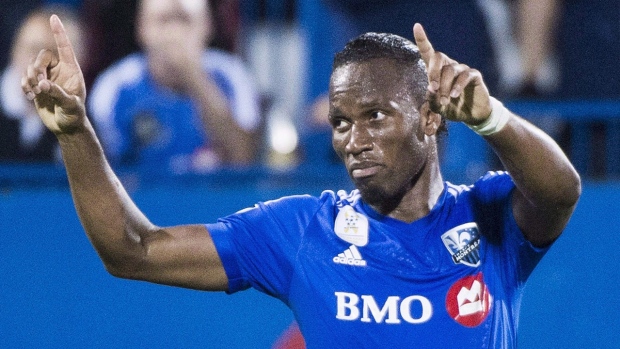 MONTREAL - Didier Drogba wants Montreal Impact fans to know that his sole focus this year is to help the team play well and win a championship.
The Ivory Coast striker found himself on the defensive Thursday as he was questioned about his commitment to the Major League Soccer franchise.
"Believe me, if my head were still at Chelsea, I would be at Chelsea," he said of his former Premier League team, which was involved in a tug-of-war for his services this year.
One thing is clear, however: Drogba won't be able to show the Impact faithful for at a least a few weeks just what it means to play in front of them for a second straight season.
He has been ruled out of Montreal's season-opener in Vancouver on Sunday because of lingering knee issues and will probably also miss its first home game March 12 against the New York Red Bulls.
Both of those are on artificial turf, which is not kind to Drogba's knees, and Impact technical director Adam Braz is hoping the star will be fit enough to make his season debut on grass in Dallas on March 19.
Braz denied that Drogba, who will turn 38 next month, has become a source of division since hooking up with the team last month and that Chelsea and the Impact were embroiled in a power struggle.
"Not at all," Braz told reporters just before Drogba's media availability. "That couldn't be further from the truth.
"He's been a pleasure to have in the group since he joined us in Tampa. It's simply a matter of not taking a risk. The season is long. There are 34 games. It's unfortunate, with our scheduling, that the first four out of five games are on turf.
"We know that if we manage him correctly, he'll be good to go the rest of the season and be healthy at the end when things count."
Drogba is looking for a place to practise on natural grass over the next few weeks.
"I would love to train here, I would love to train in Montreal," he said. "For me, it's better if I don't have to move from here."
Montreal will be hoping Drogba has the same impact on the team as he did last year when he scored 11 goals in as many regular-season games and had the fans buzzing with his incisive play as well as his skill from dead-ball situations.