Dual offer sheets the way to land RFA talent
There's long been debate in the NHL about the merits of the offer sheet, which allows general managers to offer contracts to restricted free agents of another team. Some suggest it is dirty pool, and others suggest it's an inefficient way to procure talent. Travis Yost looks at how making offers on two players can force a team into tough decisions.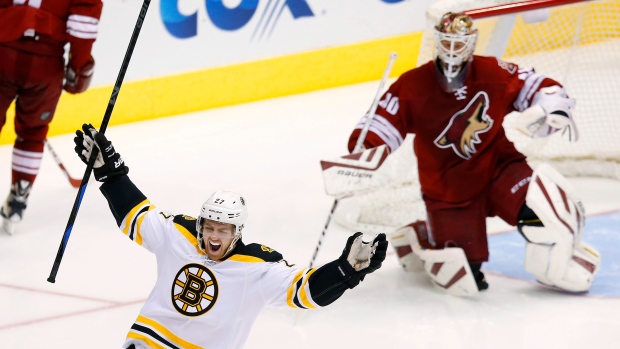 There's long been debate in the NHL about the merits of the offer sheet, which allows general managers to offer contracts to restricted free agents of another team. Some suggest it is dirty pool, and others suggest it's an inefficient way to procure talent. Though the first part will always be up for debate, I wholeheartedly disagree with the second. The issue with offer sheets is not only how they have been employed, but the players they have targeted.
For years now, I – and others, firstly and most notably Derek Zona of Copper and Blue – have written about the utility of 'dual offer sheets'. The theory isn't to target one player via offer sheet at the highest-end of compensation (where compensation is purposely poisoned to deter), but rather two quality restricted free agents on the same cap-troubled or dollar-poor team who would presumably carry different levels of compensation. Under the CBA, the dual offer sheet is allowable, so long as the team has the draft picks at their disposal as dictated under Article 10.4.
The NHL recently released the salary brackets and associated compensation for offer sheets, outlined in the table below:
RESTRICTED FREE AGENT COMPENSATION
| Average Annual Value | Compensation |
| --- | --- |
| Under $1,205,377 | None |
| $1,205,377 - $1,826,328 | Third-Round Pick |
| $1,826,328 - $3,652,659 | Second-Round Pick |
| $3,652,659 - $5,478,986 | First-Round Pick + Third-Round Pick |
| $5,478,986 - $7,305,316 | First-Round Pick + Second-Round Pick + Third-Round Pick |
| $7,305,316 - $9,131,645 | (2) First-Round Picks + Second-Round Pick + Third-Round Pick |
| $9,131,645 and above | (4) First-Round Picks |
You can see what I mean about the marquee talent offer sheets being toxic– if you want to sign a player in excess of $9.13MM annual, you have to not only accrue that salary, but fork over four consecutive first-round picks.
The idea of the dual offer sheet is to go after a team (perhaps a division rival – a team that wouldn't think about trading their RFA talent to you) that's really tight against the cap, or without the financial wherewithal to compete with a top-dollar offer. The targeted team also, obviously, needs two RFA talents worth offer sheeting. And, the offer sheets must carry separate forms of compensation.
You'll notice that the $1,826,328 - $3,652,659 (average salary of offer sheet) range requires a second-round pick compensation; the $3,652,659 - $5,478,986 range requires a first-round pick and a third-round pick compensation. This is the window where dual offer sheets work, allowing a team to go after two RFA players with a maximum combined average salary of $9.13-million.
Thanks in large part to a suffering Canadian dollar, there are grave concerns about next year's salary cap. Estimates have the number somewhere in the $71-million range, which is only a $2-million raise from the 2014-2015 season. This is going to create a massive financial bind for a number of teams, many of which have RFA talent that they're going to need to spend on. The player escalator issue also needs to be sorted out – if the players opt to not use the full 5%, that $71-million estimate could be higher than the actual number.
I've compiled some salary information for a number of teams who may be pressed against the salary cap next year, and have identified expected-to-be-paid RFA players perhaps worthy of offer sheet after some quick initial projections. They are as follows:
CAP CRUNCH
| Team | 2015-2016 Cap Space | Players Signed | RFAs to be Signed |
| --- | --- | --- | --- |
| MTL | $4.4MM | 20 | Galchenyuk |
| BOS | $6.5MM | 16 | Hamilton/Connolly/Spooner |
| CHI | $6.7MM | 14 | Kruger/Saad |
| L.A. | $7.2MM | 16 | Toffoli/Jone |
| NYR | $11.8MM | 15 | Stepan/Hagelin/Miller |
| DET | $15.1MM | 17 | Nyquist/Jurco/Smith |
Things may get a bit tight for the likes of Montreal, New York, and Detroit, but they should have ample cap space to sign all of their RFA talent and still be slightly active in free agency. And they can always trade a bigger contract to alleviate cap distress if necessary. These teams, of course, are subject to change – should they let their RFA talent remain unsigned and pick up some expensive talent in unrestricted free agency, then their situation becomes worth revisiting.
The highlighted teams – that's where things get a bit dicey. You'll see that the Bruins, Blackhawks, and Kings all have from $6-million to $7-million in available cap space, and are anywhere from seven to nine players away from a full roster. These are the teams prime for a dual offer sheet.
Let's start with the Boston Bruins first, and as a hypothetical, offer up a $3-million contract to Ryan Spooner and a $5-million AAV contract to Dougie Hamilton. The combined cap hit is already in excess of what the Bruins have at their disposal, and they only have 16-players signed through next season. You would think that Don Sweeney would like to retain both and jettison other contracts on the roster to accomplish just that, but it's not like teams are lining up around the league for any of Boston's bad contracts. At the very least, it would force Boston into a position where they have to trade off players in salary-retained deals or more impactful players to clear larger space. Or, alternatively: it would force Boston to consider something like parting ways with a player like Ryan Spooner in order to preserve the core and match Dougie Hamilton's offer sheet.
Los Angeles is another great example of a team that could be victimized by a dual offer sheet. Tyler Toffoli had 40 points in 57 games in his age-22 year. Martin Jones has a career .923 SV% in the NHL (34 GP), and never posted a SV% worse than .919 at the AHL level. Same methodology here: a prospective team could offer Martin Jones something like $2-million (or whatever number in the second-round pick compensation bracket they deem worthy), and Tyler Toffoli at $5.5-million. This would leave Los Angeles – a team with just $7.2-million in cap space and only 16-players signed – in a position in which they are weighing two contracts that eat into more than 100% of the available cap space. Again, barring a trade to alleviate this distress, they would be forced to consider letting one of the two walk.
In both of these examples, you would believe the team would work like maniacs to preserve the better of the two players. But that's what makes the dual offer sheet so beneficial – it allows you to poach mid-tier talent by forcing an organization to prioritize certain assets, rather than allowing them to simply retain all current talent.
There's one other team that I think the above situation applies to, though I didn't include them in the table. That's the Ottawa Senators. For a few years, the team has stuck to a mandate of being a 'mid-cap team' – willing to spend in spot situations, but never at or towards the salary cap. So, while they could have about $13-million in true cap space, it's likely that their actual available spending limit is much lower.
Ottawa has three very, very attractive RFA players in Mark Stone, Mike Hoffman, and Mika Zibanejad. Could approximately $9-million in offer sheets between two of those three players be poisonous enough to force Bryan Murray to consider other options? If I have the cap space and the assets, they're a team I'm considering targeting.