Dubnyk: No hard deadline for contract
Minnesota Wild goaltender Devan Dubnyk insists that there is no hard deadline to sign a new contract. The 29-year old posted career numbers after being traded to the Wild last January but could become an unrestricted free agent on July 1 if he has not signed a new deal.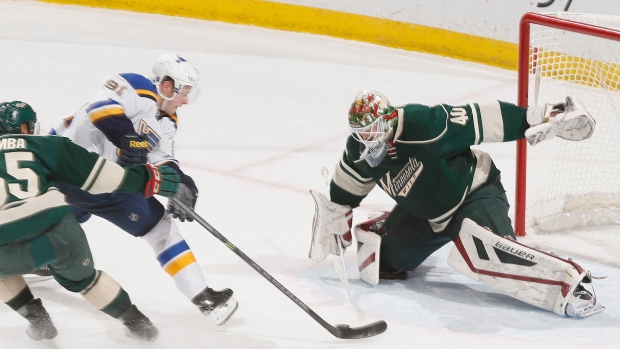 LAS VEGAS, Nev. - Devan Dubnyk's trip to Las Vegas with friends in June 2014 was fraught with uncertainty. A year later, there's still some uncertainty, but the goaltender is much more hopeful and optimistic about the future.
Dubnyk enjoyed a career revival in leading the Minnesota Wild to the playoffs. But with just over a week until he could hit the open market, he doesn't have a new contract and could be an unrestricted free agent July 1.
The 29-year-old, who's at the NHL awards as a Vezina and Masterton Trophy finalist, expressed little concern about getting a deal done. Agent Mike Liut and Wild general manager Chuck Fletcher are scheduled to meet later this week at the draft in South Florida, and Dubnyk said there's no hard "deadline."
"It's been a busy time and over the next week here we'll try to get something going," Dubnyk said Tuesday. "Not much has changed in that regard. I still want to be there, and it's still positive."
Dubnyk went 27-9-2 with a 1.78 goals-against average and .936 save percentage after Minnesota acquired him from the Arizona Coyotes in mid-January. The Wild were in 12th in the Western Conference at the time and finished in a wild-card spot.
Calling his time with Minnesota the most fun he's had playing hockey, Dubnyk also acknowledged that, given his age, there's a limited window to earn money in the NHL. He's especially sensitive to that after his experience last summer as a free agent following a season in which he was traded twice and finished in the minors.
Dubnyk can't believe it has only been a year since the Coyotes signed him to a US$800,000, one-year contract. He's reportedly looking for $5 million or more on a long-term deal with the Wild.
"You weigh both sides and you're standing in a good situation like that — as long as it's fair and it has to be fair, then you're going to do everything you can to make sure it happens," Dubnyk said.
On Thursday, Dubnyk and other pending free agents can start talking to other teams. Dubnyk maintained his focus is on staying with the Wild but didn't rule out Liut having other conversations if a deal isn't struck by then.
"You don't close doors," Dubnyk said. "We're not looking at something needs to be done by Thursday or drastic things are going to happen."
Asked about the possibility of going elsewhere, Dubnyk said that would be a concern if he's not signed by June 29 or so.
"For the longest time, I never thought about anything else," he said. "It hasn't gotten to that point yet. I'm still hoping we can do something with Minnesota and we can do something where it works for both sides."
It's his hope that since the salary cap was set at US$71.4 million, talks can move forward with the Wild. If not, Dubnyk will be one of the top free agents available in a weak class.
---
Follow @SWhyno on Twitter