Eagles move to No. 1 in NFL Power Rankings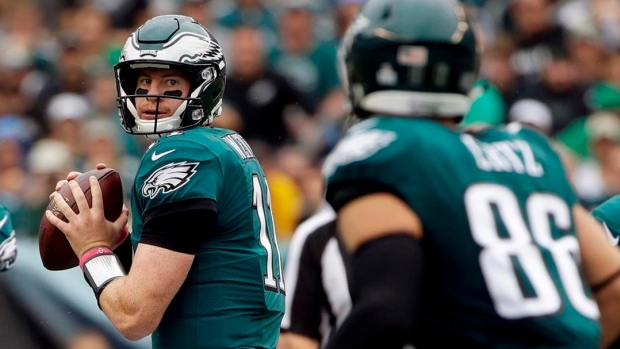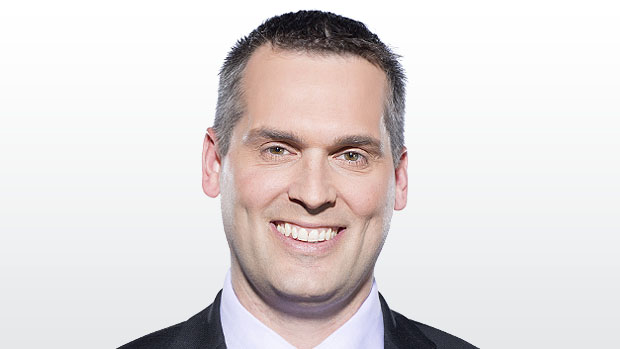 The Philadelphia Eagles take over the No. 1 spot in the TSN.ca NFL Power Rankings, ahead of the Kansas City Chiefs and Pittsburgh Steelers.
The New Orleans Saints and Tennessee Titans are among the teams making big moves up this week.
The Green Bay Packers, Jacksonville Jaguars, Tampa Bay Buccaneers and Detroit Lions are among those falling down the list this week.
PHILADELPHIA EAGLES
THIS WEEK: 1 LAST WEEK: 4 RECORD: 5-1
QB Carson Wentz has thrown more than 200 passes in the first six games and has 13 touchdown passes with just three interceptions. That's a big step forward from his rookie TD:INT ratio (16:14).
Key Injuries: CB Ronald Darby (ankle), LT Lane Johnson (concussion).
KANSAS CITY CHIEFS
THIS WEEK: 2 LAST WEEK: 1 RECORD: 5-1
The Chiefs fall out of top spot, but just barely, after a home loss to Pittsburgh. They had a really hard time moving the ball against the Steelers, though RB Kareem Hunt had his sixth straight game in which he put up more than 100 yards from scrimmage.
Key Injuries: RB Spencer Ware (knee), FS Eric Berry (Achilles), C Mitch Morse (foot), G Parker Ehringer (knee), WR Chris Conley (Achilles).
PITTSBURGH STEELERS
THIS WEEK: 3 LAST WEEK: 7 RECORD: 4-2
The Steelers bounced back from a shocking home loss to Jacksonville with an impressive win at Kansas City, with both Le'Veon Bell (191 yards from scrimmage) and Antonio Bryant (155 receiving yards) leading the way.
Key Injuries: RT Marcus Gilbert (hamstring).
NEW ENGLAND PATRIOTS
THIS WEEK: 4 LAST WEEK: 5 RECORD: 4-2
Falling behind the Jets and needing to come back to win by seven is not a shining example of the best the Patriots can offer.
Key Injuries: WR Julian Edelman (knee).
ATLANTA FALCONS
THIS WEEK: 5 LAST WEEK: 2 RECORD: 3-2
Up 17-0 at the half against Miami, the Falcons found a way to lose 20-17, and it seems that the offence is not quite the explosive machine that was operating last season.
Key Injuries: WR Mohamed Sanu (hamstring).
LOS ANGELES RAMS
THIS WEEK: 6 LAST WEEK: 9 RECORD: 4-2
Even with QB Jared Goff throwing for 124 yards, the Rams still earned a 27-17 win at Jacksonville. They have the good fortune of being able to hand the ball to Todd Gurley, who has 766 yards from scrimmage and seven touchdowns in six games.
Key Injuries: None.
CAROLINA PANTHERS
THIS WEEK: 7 LAST WEEK: 6 RECORD: 4-12
A home loss to the Eagles isn't the end of the world, but Cam Newton throwing three interceptions is the one troubling take-away from that game.
Key Injuries: TE Greg Olsen (foot), C Ryan Kalil (neck), S Kurt Coleman (knee).
MINNESOTA VIKINGS
THIS WEEK: 8 LAST WEEK: 10 RECORD: 3-2
So it looks like Case Keenum can handle the starting quarterback job, at least for the time being, and the Vikings are getting production from Jerick McKinnon, who helps offset the loss of Dalvin Cook.
Key Injuries: RB Dalvin Cook (knee), QB Sam Bradford (knee).
DENVER BRONCOS
THIS WEEK: 9 LAST WEEK: 8 RECORD: 3-2
A home loss to the Giants is a gut punch, but it does appear that starting QB Trevor Siemian will be available this week despite suffering a left shoulder injury in the loss.
Key Injuries: DE Jared Crick (back), WR Emmanuel Sanders (ankle).
SEATTLE SEAHAWKS
THIS WEEK: 10 LAST WEEK: 12 RECORD: 3-2
The Seahawks come out of their bye week to visit the Giants, which is quite the matchup for the vaunted Seahawks secondary against the depleted Giants receiving corps.
Key Injuries: RB Chris Carson (knee), DE Cliff Avril (neck), RG Luke Joeckel (knee).
NEW ORLEANS SAINTS
THIS WEEK: 11 LAST WEEK: 18 RECORD: 3-2
After the Saints got rid of Adrian Peterson, Mark Ingram gained 150 yards and scored two touchdowns on 30 touches in a 52-38 win against Detroit.
Key Injuries: LT Terron Armstead (shoulder).
WASHINGTON
THIS WEEK: 12 LAST WEEK: 17 RECORD: 3-2
Washington climbs even though they had a two-point home win against San Francisco. Kirk Cousins passed for 330 yards and RB Chris Thompson, who gained 138 yards, has been an unexpected playmaker.
Key Injuries: MLB Mason Foster (shoulder).
BUFFALO BILLS
THIS WEEK: 13 LAST WEEK: 14 RECORD: 3-2
The Bills are coming out of the bye week, and have a couple of home games against Tampa Bay and Oakland, tough enough opposition but winnable games too.
Key Injuries: WR Jordan Matthews (thumb), OLB Ramon Humber (thumb), CB E.J. Gaines (groin), TE Charles Clay (knee).
TENNESSEE TITANS
THIS WEEK: 14 LAST WEEK: 25 RECORD: 3-3
Getting Marcus Mariota back is obviously a big deal for the Titans, but another big game from RB Derrick Henry (145 yards and a touchdown on 20 touches) against Indianapolis shows some other potential in this offence.
Key Injuries: SS Jonathan Cyprien (hamstring), WR Corey Davis (hamstring).
MIAMI DOLPHINS
THIS WEEK: 15 LAST WEEK: 21 RECORD: 3-2
Rallying for a win at Atlanta is a quality win for the Dolphins, but Jay Cutler has passed for 407 yards, total, in the past three games, so it's fair to wonder if they can keep this up.
Key Injuries: QB Ryan Tannehill (knee).
GREEN BAY PACKERS
THIS WEEK: 16 LAST WEEK: 3 RECORD: 4-2
There is almost no way to overstate the value that Aaron Rodgers brings to the Packers, and the drop from Rodgers to backup Brett Hundley may warrant falling even further than this move to the middle.
Key Injuries: LT David Bakhtiari (hamstring), DT Mike Daniels (hip), QB Aaron Rodgers (collarbone).
DALLAS COWBOYS
THIS WEEK: 17 LAST WEEK: 16 RECORD: 2-3
With every new day, there is a new development in the Ezekiel Elliott case but, at some point, he's going to have to serve his time because there's no way the league lets it go.
Key Injuries: MLB Anthony Hitchens (knee), CB Nolan Carroll (concussion).
ARIZONA CARDINALS
THIS WEEK: 18 LAST WEEK: 23 RECORD: 3-3
So maybe Adrian Peterson isn't necessarily finished yet. He rushed for 134 yards and two touchdowns in his first game for Arizona, and that gives the Cardinals some hope for optimism.
Key Injuries: RB David Johnson (wrist), WR John Brown (quadriceps), OLB Markus Golden (knee), ILB Deone Buccanon (ankle).
HOUSTON TEXANS
THIS WEEK: 19 LAST WEEK: 22 RECORD: 3-3
Had a 33-3 lead on Cleveland before a couple of fourth-quarter touchdowns made the final score more respectable for the Browns. The injuries on defence are a concern, but Houston's suddenly explosive offence is interesting.
Key Injuries: DE J.J. Watt (leg), OLB Whitney Mercilus (pectoral), TE C.J. Fiedorowicz (concussion), RG Jeff Allen (ankle), ILB Brian Cushing (suspension), CB Kevin Johnson (knee).
JACKSONVILLE JAGUARS
THIS WEEK: 20 LAST WEEK: 13 RECORD: 3-3
Even with rookie RB Leonard Fournette still looking like a game-breaker, the Jaguars need more from QB Blake Bortles if they are going to establish some consistency from week to week.
Key Injuries: WR Allen Robinson (knee).
DETROIT LIONS
THIS WEEK: 21 LAST WEEK: 11 RECORD: 3-3
The Lions had fallen behind 45-10 at New Orleans before closing the gap in the second half. But, that lopsided result coupled with an increasing list of injuries results in a big move down.
Key Injuries: MLB Jarrad Davis (concussion), OLB Paul Worrilow (knee), WR Golden Tate (shoulder), S Glover Quin (concussion), WR Kenny Golladay (hamstring).
BALTIMORE RAVENS
THIS WEEK: 22 LAST WEEK: 20 RECORD: 3-3
A home loss to the Bears is a real warning sign for the Ravens. They should be better than this, shouldn't they?
Key Injuries: RB Danny Woodhead (hamstring), RB Terrance West (calf), RG Marshal Yanda (ankle), DE Brent Urban (foot), TE Benjamin Watson (knee).
TAMPA BAY BUCCANEERS
THIS WEEK: 23 LAST WEEK: 15 RECORD: 2-3
The final score was close in Arizona, but Tampa Bay was down 31-6 before mounting a furious late rally.
Key Injuries: S T.J. Ward (hip), MLB Kwon Alexander (hamstring).
OAKLAND RAIDERS
THIS WEEK: 24 LAST WEEK: 27 RECORD: 2-4
Maybe QB Derek Carr came back too soon, but the Raiders' performance wasn't great against the Chargers and they've been among the biggest underachievers so far.
Key Injuries: CB David Amerson (concussion).
CINCINNATI BENGALS
THIS WEEK: 25 LAST WEEK: 24 RECORD: 2-3
Can the Bengals rally from their 0-3 start? They have won a couple in a row and this week's game at Pittsburgh could be really pivotal.
Key Injuries: TE Tyler Eifert (back), CB Adam Jones (back), CB Dre Kirkpatrick (shoulder).
L.A. CHARGERS
THIS WEEK: 26 LAST WEEK: 26 RECORD: 2-4
Melvin Gordon gained 150 yards and scored two touchdowns in a 17-16 win at Oakland, giving the Chargers their second straight win. A positive sign for a team that has the talent to do better than their current record indicates.
Key Injuries: None.
NEW YORK JETS
THIS WEEK: 27 LAST WEEK: 19 RECORD: 3-3
It's not as though the Jets should be disappointed with a seven-point loss to New England, but New York's limitations are evident when they play higher level teams.
Key Injuries: RB Bilal Powell (calf).
INDIANAPOLIS COLTS
THIS WEEK: 28 LAST WEEK: 28 RECORD: 2-3
Competitive for three quarters at Tennessee, before ultimately losing by a couple of touchdowns, and the big news of the week is that Andrew Luck suffered a setback in his recovery.
Key Injuries: QB Andrew Luck (shoulder).
CHICAGO BEARS
THIS WEEK: 29 LAST WEEK: 29 RECORD: 2-4
Even with Mitch Trubisky throwing for 113 yards, the Bears still earned an overtime win at Baltimore, thanks to Jordan Howard running for 167 yards on 36 carries.
Key Injuries: WR Cameron Meredith (knee), WR Kevin White (collarbone), ILB Jerrell Freeman (pectoral, concussion), RG Kyle Long (ankle), CB Prince Amukamara (ankle).
NEW YORK GIANTS
THIS WEEK: 30 LAST WEEK: 31 RECORD: 1-5
The Giants are on the board with a win, which makes all kinds of sense after their receiving corps was obliterated by injuries.
Key Injuries: WR Odell Beckham Jr. (ankle), WR Brandon Marshall (ankle), WR Dwayne Harris (foot), Olivier Vernon (ankle).
SAN FRANCISCO 49ERS
THIS WEEK: 31 LAST WEEK: 30 RECORD: 0-6
Turning to rookie C.J. Beathard at quarterback may have some long-term value to the team but, in the short term, the 49ers are probably even worse.
Key Injuries: OLB Reuben Foster (ankle).
CLEVELAND BROWNS
THIS WEEK: 32 LAST WEEK: 32 RECORD: 0-6
Going back to rookie DeShone Kizer at quarterback, after a one-week benching, doesn't suggest that the Browns have a well-defined plan at the position.
Key Injuries: WR Corey Coleman (hand).
Scott Cullen can be reached at scott.cullen@bellmedia.ca