Easy to see why Pens' Rick Tocchet on head coaching short lists
The last thing Sidney Crosby did before heading back to the Penguins' hotel on Saturday morning before Game 3 was chat with assistant coach Rick Tocchet in the bowels of Bridgestone Arena. TSN's Frank Seravalli has more on the highly coveted assistant.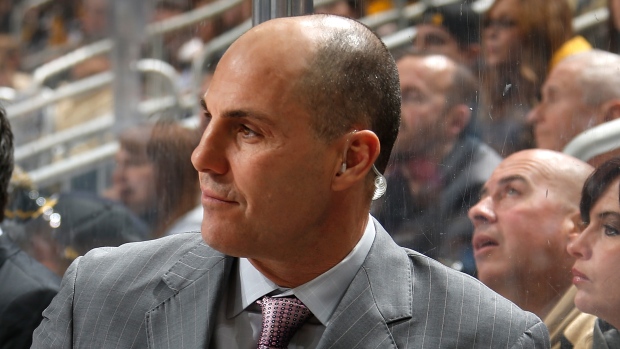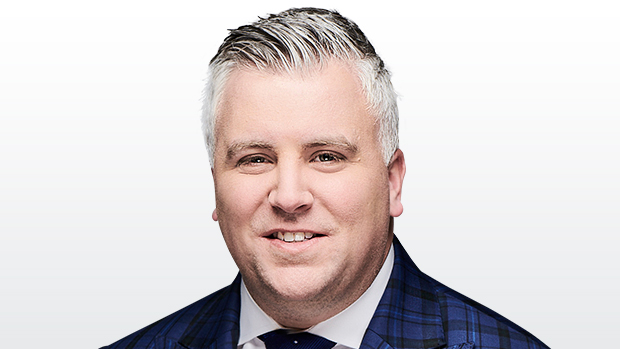 NASHVILLE, Tenn. — The last thing Sidney Crosby did before heading back to the Penguins' hotel on Saturday morning before Game 3 was chat with assistant coach Rick Tocchet in the bowels of Bridgestone Arena.
Tocchet's presence around Pittsburgh's stars is a common thread. The spotlight may be on head coach Mike Sullivan, but it's apparent that Tocchet is one of the men that makes the defending Stanley Cup champions go behind the scenes.
The more time you spend around the Penguins, it's easy to see why Tocchet has been linked to the short list of head coaching candidates this summer.
Both the Sabres and Panthers have kept their vacancies through the Stanley Cup Final to wait for the opportunity to interview Predators assistant Phil Housley and Tocchet, who of course worked with new Buffalo GM Jason Botterill in Pittsburgh.
"He's an intense guy," Crosby said. "He brings a lot of passion to the game. Just with him being a former player, with the game he [played], an offensive guy, a bit of an edge. He's not that far removed from the game. I think that's something as players we can all relate to."
Tocchet said Saturday he's never had more fun coaching than his last two years with the Penguins, but admitted he'd like "another kick" at being a head coach. His parts of two seasons in Tampa Bay from 2008-10 were marred organizational dysfunction around him.
"If a situation arises, I'd love a shot at it," Tocchet told TSN. "Listen, there's a lot of great coaches out there. Every year, it seems, there's a flavour of the year coach - whether it's a guy in the minors or an assistant that's winning.
"I think I'm a good coach. I can work with anybody chemistry-wise. If it works out, it works out. If it doesn't, it doesn't. I'm lucky in the situation I'm in, this is the best job other than being a head coach, being with Mike and the Penguins."
Part of the story of these Stanley Cup Final head coaches has been second (or third) chances. When Peter Laviolette was asked about what it meant to become just the fourth head coach ever to take three different teams to a Final, he laughed.
"I think it just means I've been fired a lot," Laviolette deadpanned.
Sullivan went almost a full decade between coaching the Bruins and getting another shot with the Penguins last December. He still hasn't lost a playoff series yet (7-0).
During those nine years between head jobs, the only coach that Sullivan served under not named John Tortorella was actually Tocchet in Tampa Bay. Tocchet went 53-69-26 (.446) after replacing Barry Melrose, who lasted just 16 games.
"We became close in Tampa," Tocchet said of Sullivan. "We had a tough time. It sucks when you don't make the playoffs. It sucks when it's a dysfunctional situation. The thing 'Sully' helped me with, every day he would say 'Hey, listen, keep working, let's work with the young guys.' I learned a lot from the situation, but I also learned a lot from 'Sully.' He's a really organized guy. Every day he pushed us to have a purpose. He just gave me a little confidence coming to the rink every day."
Tocchet was brought in by Penguins GM Jim Rutherford in 2014 - his first NHL job since being fired by the Lightning in 2010 - on a suggestion from owner Mario Lemieux, to work for Mike Johnston. It made for a seamless transition when Sullivan replaced Johnston a couple months in.
"The thing with 'Sully' is he gives you full autonomy on a lot of stuff," Tocchet said. "He'll say 'Go sit down with these three guys, or talk to that guy.' He delegates, lets us do our work. He's the boss, but he's not a control freak."
That autonomy allowed Tocchet to develop a close relationship with a lot of the Penguins. He has a way with stars, treating them the same as he would rookie Jake Guentzel. He worked under Wayne Gretzky in Phoenix, calls Lemieux one of his closest friends in the game. He was the one who said Crosby was playing too much around the perimeter when he struggled to a career-worst start to the 2014-15 season.
Phil Kessel said last week that Tocchet is his "favourite assistant coach of all time that I'm ever played for," tall praise from a player that's lived through seven different coaching regime changes in his decade in the NHL. Tocchet helped nurture 19-year-old Steven Stamkos to a 51-goal season.
"He just gets it," Kessel told the Buffalo News. "He understands what it's like to play the game, to be a player. He makes it fun. If he gets that opportunity, it would be unbelievable for him. I don't want to see him go, right? Because he's a great guy and a great coach."
Tocchet admitted coaching the NHL has changed, even since he was in Tampa Bay. He said coaching is a "partnership now your players."
"Ten or 15 years ago, you could tell a guy to do something and he was scared, so he went and did it," Tocchet said. "Now, you can't scare players in this league. The old days, what a coach said goes. You didn't talk to your players. Communication is huge now. They want answers, they want to be accountable. There's different ways to make them accountable.
"You almost make them say it. You don't have to tell them what they're doing wrong. They can see it. That's the secret to it."
Tocchet is one of only five players in NHL history to finish his career with 400 goals and 2,000 penalty minutes, joining the likes of Brendan Shanahan and others. He netted 440 goals and 2,972 PIM - and is the all-time leader in Gordie Howe hat tricks (18).
Some may discount him for being a tough guy, or bring up his "character" because of a gambling scandal that earned him probation from NHL commissioner Gary Bettman for a season. That's long in the past, before he even coached in Tampa Bay.
Tocchet has an easiness about him, an ability to get along with and relate to every guy in the room, that can't be quantified. He's someone that Crosby said he "show me something" in the Xs and Os department, but also give Kessel a shot of confidence at the same time. It's time for a second chance.
"He's an invaluable part of our staff," Sullivan said. "I think he's one of the all-time warriors of the game … I think he's a great student of the game. He has a good analytical eye … He has some great relationships with some of the players on our team. I think our players have a lot of respect for him and what he brings to the table."
Contact Frank Seravalli on Twitter: @frank_seravalli