Eight Canadians welcome new year on PGA Tour
Bob Weeks takes a closer look at the eight Canadians who will whack it around the Waialae Country Club in Honolulu.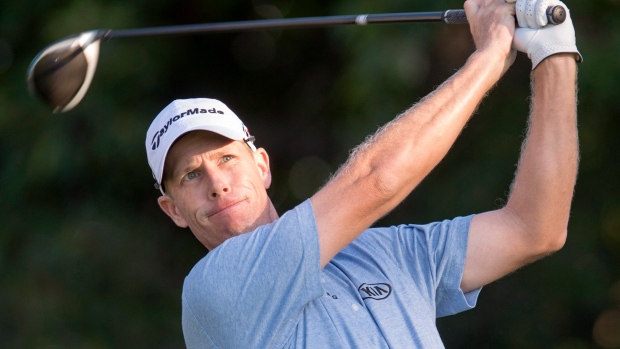 Eight Canadians head to the tee in Hawaii today to start the Sony Open – the ­year's first full-field tournament. That equals the most at a PGA Tour event outside of Canada, a record that was set earlier this season at the Safeway Open.
There's a variety of veterans and newbies who will whack it around the Waialae Country Club in Honolulu.
Here's a look at each of those eight players:
Adam Hadwin
The highest-ranked Canadian is coming off a season that he described as disappointing despite the fact that he finished 36th on the FedEx Cup standings.
Hadwin has slipped to 70th on the Official World Golf Ranking and wants to climb that list so he can gain exemptions into the majors and World Golf Championship events.
To do that, he's focused on improving his putting. Last year he finished 88th in Strokes Gained: Putting, down from 15th the year before.
Hadwin may also have an eye on his next start at the Desert Classic, where he's finished tied for third, second and tied for sixth in his last three starts. It's the place where he posted his round of 59 in 2017.
Best Sony finish: T67
--
Nick Taylor
Taylor is hoping to get off to a fast start this season so he won't have to put on an end-of-season grind to retain his playing privileges.
The 30-year-old played eight straight weeks, ending the regular season with a final-round 63 at the Wyndham Championship to stay inside the top 125 on the FedEx Cup standings.
Like Hadwin, an improved putter would go a long way towards helping Taylor get back to the winner's circle where he was in 2015. He's finished 169th, 147th and 126th in Strokes Gained: Putting the last three seasons.
Best Sony finish: T68, 2015
--
David Hearn
Playing with limited status on the Tour this year after finishing 138th on the FedEx Cup points list last year, Hearn has put in an off-season of hard work to get his game back on track.
He got into this week's event from the alternate list, something he'll need to get used to as he tries to make the best of every start. More consistency with his driver will help the veteran who hasn't finished a year on the positive side of Strokes Gained: Off The Tee since 2011.
Best Sony finish: T10, 2012
--
Mackenzie Hughes
To be blunt, last year was an awful one for Hughes on the golf course.
He missed 17 cuts in 28 starts and his only highlights may have been getting paired with Tiger Woods at the Players Championship and finishing tied for eighth at the RBC Canadian Open.
Off the course, however, it was a wonderful year as Hughes and his wife, Jenna, welcomed their first child into the world.
The two events may be related as Hughes adjusted to life as a father. He also worked through some modifications with his swing although he abandoned those later in the year to return to his tried method of play.
On the greens, Hughes needs to return to the form of 2017 that saw him finish 11th in Strokes Gained: Putting. Last season, he wound up 152nd in that category. Simply put, Hughes is too good not return to form.
Best Sony finish: T27, 2017
--
Corey Conners
Conners showed flashes of brilliance in his rookie season on the PGA Tour, with legitimate chances to win several times. However, his final-round scoring average ranked 160th on the Tour last season.
Playing with limited status this year, the Kent State grad got off to a great start to the season with a runner-up finish at the Sanderson Farms Championship in October. He also Monday qualified for this week's event in Hawaii.
With enough confidence, this could be a breakout year for Conners.
Best Sony finish: T39, 2018
--
Ben Silverman
A rookie campaign on the PGA Tour last year left Silverman in 136th spot on the FedEx Cup rankings. He finished his year with a push, however, ending the Web.com Tour finals in a tie for third.
His weakness statistically was hitting greens and short game, but he also went on a search for more distance, which may have hampered his play.
As a rookie, last year's performance was also partly due to the learning curve of playing new courses on the PGA Tour. A fast learner, Silverman has the game and the smarts to make this a much better year.
Best Sony finish: Missed cut, 2018
--
Roger Sloan
Sloan returns to the PGA Tour for the first time since 2015. He believes this time he's better prepared for what awaits him.
As a rookie, he made the mistake of trying to hit the ball longer rather than trusting the game that got him to the top rung in golf.
One of the hardest workers on his overall game – mental and physical – he hopes he can play what he calls "Roger Sloan golf" this year and show off what he believes he's capable of.
Best Sony finish: 67th, 2015
--
Adam Svensson
One of the most talented young Canadian players to come along in a while, Svensson has the ability to light up a scoreboard as few can.
Last year on the Web.com Tour, he had 15 rounds of 67 or better. He also won one tournament and had four other top-10 finishes.
Still a bit of a work in progress as a professional, the 25-year-old has lots of game but may need more help managing his work ethic and his practice habits.
Best Sony finish: Never played