Energized Ryan in a zone for Senators
The veteran winger riding a seven-game point streak in one of his most productive stretches in a Senators sweater, Ian Mendes writes.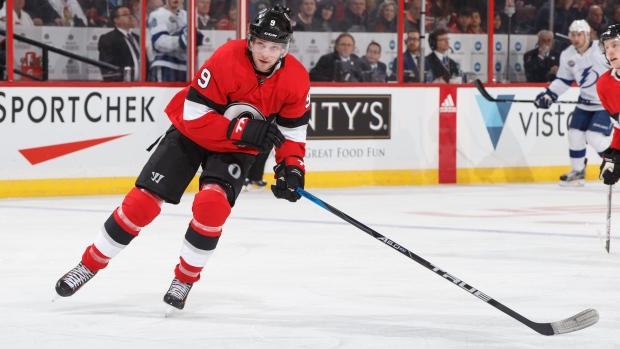 On Thursday night in Los Angeles, television cameras inside the Staples Center caught Bobby Ryan sitting on the Ottawa Senators bench and singing along to a song being played inside the arena during a stoppage in play.
Ryan, however, has no recollection of his karaoke moment being caught on live television.
"I don't remember the song or what it would have been. But for me that's just being carefree," Ryan told TSN.ca on Monday morning. "When I'm at my best, I think I'm aggressive and moving my feet. I'm doing both those things right now and maybe that leads to singing – I don't know."
That Ryan doesn't recall singing along to the song – 24k Magic by Bruno Mars – illustrates just how dialled in the Senators winger has been in recent games. The 31-year-old veteran is currently riding a seven-game point streak in one of his most productive stretches in a Senators jersey.
"He's been really good for a long time now," said Senators head coach Guy Boucher. "He's playing hard, he's motivated. He's coming to the rink with tons of enthusiasm. When you're 'on' on a regular basis, it's rare you don't get the results that come with it."
A potential turning point in Ryan's season may have come when he dropped the gloves and fought Kyle Turris in a memorable fight with his ex-teammate on Dec. 17. Since then, Ryan has collected 10 points in his last 11 games – as compared to a stretch of just two points in the nine games leading up to the fight with Turris.
"My energy level has been good and that's a big thing for me," Ryan said. "Through the season you go through some highs and lows and right now I feel great."
Boucher says Ryan has been a calming influence on the Senators power play, where he provides a veteran presence for the young players when he's handling the puck. The plan is for Ryan to be reunited with Matt Duchene and Ryan Dzingel for Wednesday's game against Colorado as Duchene returns from a three-game absence around the birth of his first child.
Ryan is well aware of his penchant for roller-coaster stretches of productivity, which have been a hallmark of his time in Ottawa. This seven-game point streak marks the second-longest streak he's had in a Senators jersey – eclipsed only by a nine-game point streak he posted in November of 2015.
"What's important to me is – how do you manufacture that every night?" asks Ryan. "Offensively, I'm playing with guys who are giving me looks in areas I like to be and they're finally going in."
For a player making $7.5 million, Ryan is surprisingly under the radar in Ottawa this season as he is caught in a unique situation. The Senators are currently an intriguing mixture of young talent – featuring the likes of Brady Tkachuk, Thomas Chabot and Colin White – combined with several key pending unrestricted free agents like Matt Duchene, Mark Stone and Ryan Dzingel.
Ryan doesn't fit into either group and as a result, he has received very little fanfare this season. Fittingly, his seven-game point streak has gone largely unnoticed by many – but it hasn't escaped the attention of his head coach.
"His mind is in the right place, his work ethic is there, his discipline is there," added Boucher. "Definitely, Bobby has been one of our better players for sure."
It was around this time last year that Ryan's name started to surface in the rumour mill around the NHL trade deadline. His name was connected to Erik Karlsson, as there was a belief that the Senators were potentially trying to attached Ryan's hefty contract to a deal involving their superstar defenceman.
As the trade deadline approaches this season, Ryan's name is no longer being dangled out there. But the names of some other players – such as Cody Ceci, Craig Anderson and Zack Smith – have all surfaced from time to time.
Given what he experienced around the trade deadline last season, Ryan says he's offered some advice for those who are hearing their names in trade speculation.
"I've talked to a few guys. Just don't take it personally. It's a business," said Ryan. "They have to do what's right by them and you have to do right by you. If your name is out there, you can't take it personally because when you do, that affects the rest of us."
The Senators could be major sellers around the trade deadline this season, as they are languishing at the bottom of the standings and could be selling off a number of key pieces – including the likes of Duchene, Stone and Dzingel if they can't hammer out long-term deals with the forwards.
As it stands now, Ryan says the team hasn't addressed the trade deadline and the distractions that come with it as a group – but that's likely to change in the weeks ahead.
"We're obviously going to have to address that in the room, it will come up at some point," Ryan said. "You can say, 'Hey let's not let that creep into the room and into the game.' But guys are going to leave, they're going to check Twitter and I've been guilty of that myself in the past. Just don't read into what you read – if that makes sense. Wait until you hear from the right people around you."