Enroth added to Team Sweden for World Cup
The Swedish Ice Hockey Association announced Friday that Toronto Maple Leafs goaltender Jhonas Enroth has been added to its roster for the World Cup of Hockey. Enroth replaces Buffalo Sabres goaltender Robin Lehner, who is injured.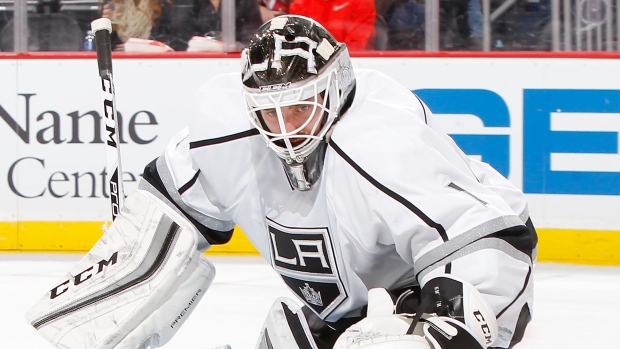 NEW YORK — With goaltender Robin Lehner still not fully healthy, Sweden replaced him on its World Cup of Hockey roster with Jhonas Enroth.
The Buffalo Sabres' starting goalie was bothered by a right ankle injury for much of last season that limited him to 21 NHL games. Lehner underwent surgery in March and had been working to get ready for the World Cup, which begins Sept. 17 in Toronto.
"We really wanted to give Robin the opportunity to recover from his injury from last year, but unfortunately it wasn't enough time for him to feel 100 per cent recovered," coach Rikard Gronborg said Friday in a statement released by the Swedish Ice Hockey Association.
Concussion problems held Lehner to 23 games in 2014-15, and he looked to be over those after the Ottawa Senators traded him to Buffalo at the 2015 draft. The 25-year-old injured his ankle early in the season opener and aggravated it in March.
It was not immediately clear when the Sabres expect Lehner to be back to 100 per cent.
"As Robin continues to progress during the off-season in his rehab from last season's ankle injury, he felt that it was best to withdraw from Team Sweden for the upcoming World Cup," Buffalo general manager Tim Murray said in a statement. "Robin felt it was important to continue his rehab in Buffalo to prepare for training camp. He has been working out both on and off the ice and we look forward to seeing him on the ice with our team next month."
Enroth, who spent last season with the Los Angeles Kings, recently signed a one-year deal with the Toronto Maple Leafs. He joins Henrik Lundqvist of the New York Rangers and Jacob Markstrom of the Vancouver Canucks as the goalies on Sweden's roster.
The 28-year-old has a 2.80 goals-against average and .911 save percentage in 147 career NHL games. Enroth was on the Swedish team that earned a silver medal at the 2014 Sochi Olympics, though he never appeared in a game. He started for Sweden at the 2013 and 2015 world hockey championships, winning gold in 2013 with a 1.15 GAA and .956 save percentage.
"With Jhonas we get an experienced goalie that we know can win games for Tre Kronor, with the 2013 World Championship performance fresh in mind," Gronborg said. "Even though he didn't get the amount of games he wanted last season in the NHL, he did deliver when called upon and had a very respectable save percentage."